Las Vegas Casino Stocks Battered During Monday Sell-off, Resort Reopenings Seem Distant
Posted on: April 20, 2020, 07:51h.
Last updated on: June 3, 2021, 03:10h.
Casino stocks fell along with US and global markets on Monday, as oil prices dropped below zero for the first time ever.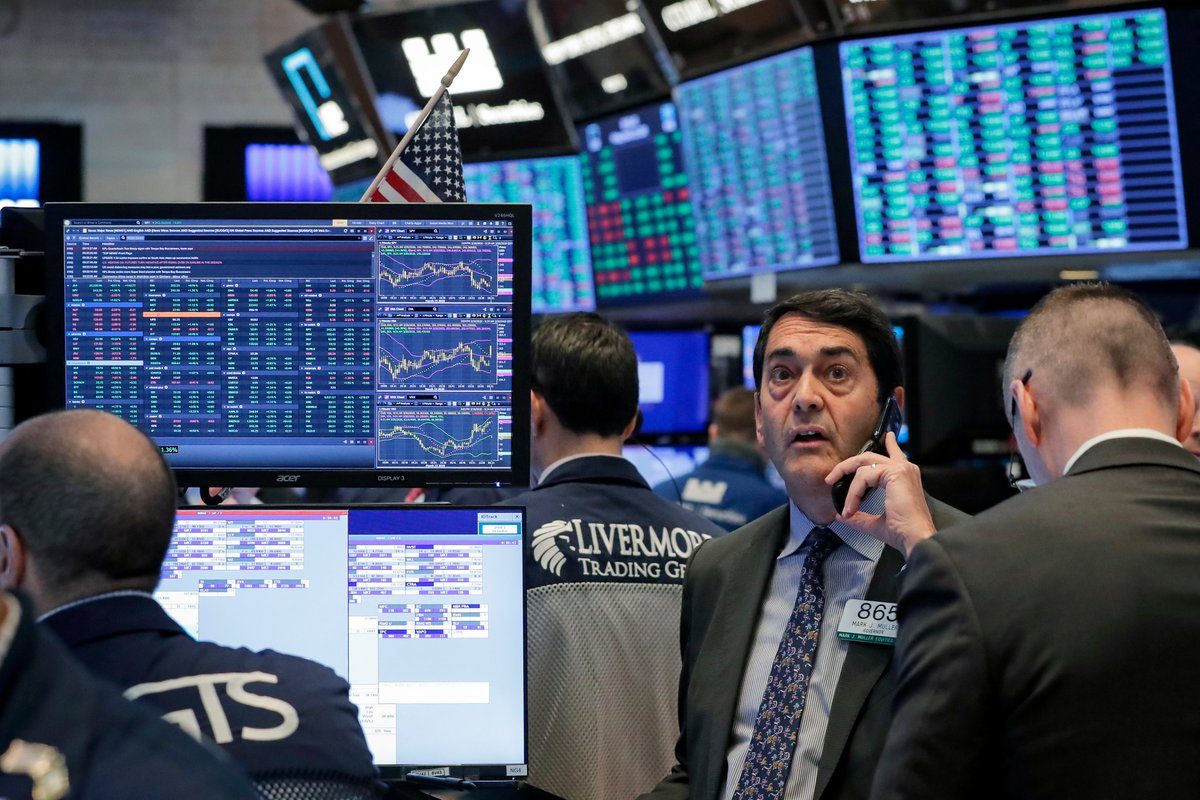 The Dow Jones Industrial Average (DJIA) dropped 592 points (-2.44 percent), and the Nasdaq 89 points (-1.03 percent). With the price of oil plunging 305 percent to -$36.73 a barrel, shares of Exxon and Chevron tumbled more than four percent. Both are components of the DJIA.
Shares of casino operators fell in accordance with the market sell-off, the ongoing coronavirus pandemic continuing to cause chaos and uncertainty around the world.
Monday Performances:
Las Vegas Sands -8.25 percent
Wynn Resorts -6.59 percent
Red Rock Resorts -5.12 percent
Boyd Gaming -4.45 percent
Eldorado Resorts -3.77 percent
MGM Resorts -3.7 percent
Penn National Gaming -1.42 percent
Caesars Entertainment -1.23 percent
The Vaneck Vectors Gaming ETF, a fund consisting of 42 companies engaged in domestic and international gaming industries, was down 2.29 percent. Sands makes up the largest percentage of the fund's assets at 15.53 percent.
Industry Uncertainty
Every commercial casino in the United States remains closed. When they might reopen is the gaming industry's burning question.
President Donald Trump's coronavirus task force unveiled its three-phase approach to reopening America last week. It's a guideline offered to states and governors to consider when beginning to lift their orders on the closure of schools and nonessential businesses.
The administration's criteria for entering phase one includes a downward trajectory of COVID-19 cases and influenza-like illnesses for 14 days, and hospitals having the capacity to accommodate patients, should a flare-up arise.
More than two dozen states currently meet that criteria, one being Nevada. Other notable states that have legalized commercial gambling that could soon enter phase one are Arkansas, Colorado, Indiana, Iowa, Mississippi, Missouri, Ohio, and South Dakota.
Nevada is, of course, the largest gaming market, and the one that is most critical to the battered casino operators and their respective share prices.
Nevada, Las Vegas Timeline
Wynn Resorts CEO Matt Maddox rolled out ideas Sunday as to how Nevada might begin to reopen its largest economic contributor, calling on Gov. Steve Sisolak (D) to lift his order on casinos in early May.
Among the company's recommendations are opening casino resorts with reduced occupancy, physical and social distancing measures in place, temperature checks of guests and employees, and no large gatherings. Everyone inside a casino would be required to wear a face mask.
Sisolak's order for all nonessential business to remain shuttered runs through April 30. The first-term governor and the state's response to coronavirus has been criticized by Las Vegas Mayor Carolyn Goodman (D) for what she's deemed to be "total insanity."
Over the weekend, Sisolak said he met with his medical and emergency response experts, and his administration is "reviewing the recommendations from the White House and making considerations for our state-specific reopening plan."
"I look forward to presenting these updates to Nevadans soon," Sisolak tweeted.