Lamar Odom Cocaine Charges No Slam Dunk for Nevada Brothel Brouhaha
Posted on: January 13, 2016, 03:33h.
Last updated on: January 13, 2016, 04:49h.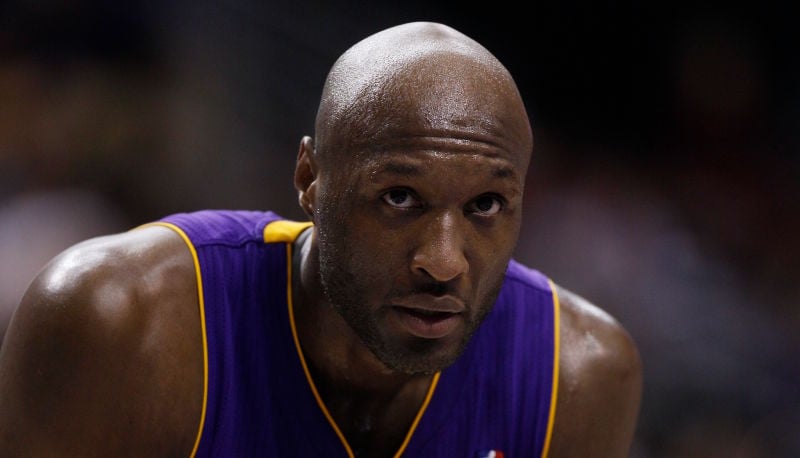 Lamar Odom will not face any legal ramifications for the incidents of October 13th of last year, in which the former NBA star was discovered unconscious with cocaine in his system at a legal brothel in the ironically named town of Crystal, Nevada.
On Monday, Nye County District Attorney Angela Bello said it would be difficult to prove that Odom used the illegal narcotic during his three days at Dennis Hof's Love Ranch, located in Nye, which neighbors adjacent Clark County, in which Las Vegas is located.
"Although the evidence showed Mr. Odom had metabolized cocaine in his system, he was not found in the possession of cocaine and it is unlikely it could [be] established beyond a reasonable doubt he actually ingested, or was impaired by, the drug during the time he was within the jurisdiction of Nye County," Bello said in a statement.
Prosecutors & Prostitution
Though prostitution is illegal in Clark County, it is legal in 12 of the remaining 16 counties in Nevada, including neighboring Nye. Just 60 miles from downtown Las Vegas, Nye is home to four legal brothels, including the Love Ranch, Odom's cathouse of choice in this matter.
According to Love Ranch owner Hof, Odom dropped $75,000 for a VIP suite with two companions during his October stay. Odom, who played in the NBA for nearly 15 years, was later discovered unconscious by some of the employees and was placed on life support.
His estranged wife, reality TV personality Khloe Kardashian, immediately came to his rescue. The third Kardashian sister has since tended to Odom assiduously, and the two have withdrawn their divorce papers so that she can assist him in making ongoing medical decisions.
Although not specified, it has come out that Odom does have ongoing health issues as a result of the incident and his subsequent coma, from which he eventually emerged.
The two have not reconciled their intimate relationship, and she has now apparently found love through another NBA star. Houston Rockets guard James Harden started dating Kardashian in 2015.
According to various reports, some of them stemming from the sometimes unreliable world of tabloids, Harden is allegedly upset that Kardashian is spending too much time focusing on Odom's recovery.
Vegas Blunders
Odom's 2015 troubles in Nevada wasn't the first time he's encountered difficulty in the Silver State. After deciding to attend college instead of going directly into the NBA from high school, the lanky ex-baller accepted a scholarship to play at the University of Nevada at Las Vegas (UNLV) in 1997.
The only problem was that the university's basketball coach helped him receive $5,600 in cash from a booster, and Odom was later barred from UNLV before he even played a game.
During that same time period, Odom was arrested for soliciting prostitution in Las Vegas.
Sometimes the old Las Vegas adage of "What Happens Here, Stays Here," simply doesn't hold true. Certainly not when you're on the Kardashian gravy train.