Lamar Jackson and Ravens Host Underdog Jets on Thursday Night Football
Posted on: December 12, 2019, 02:37h.
Last updated on: December 12, 2019, 03:46h.
Lamar Jackson and the Baltimore Raves are huge favorites for Thursday night's battle against the New York Jets.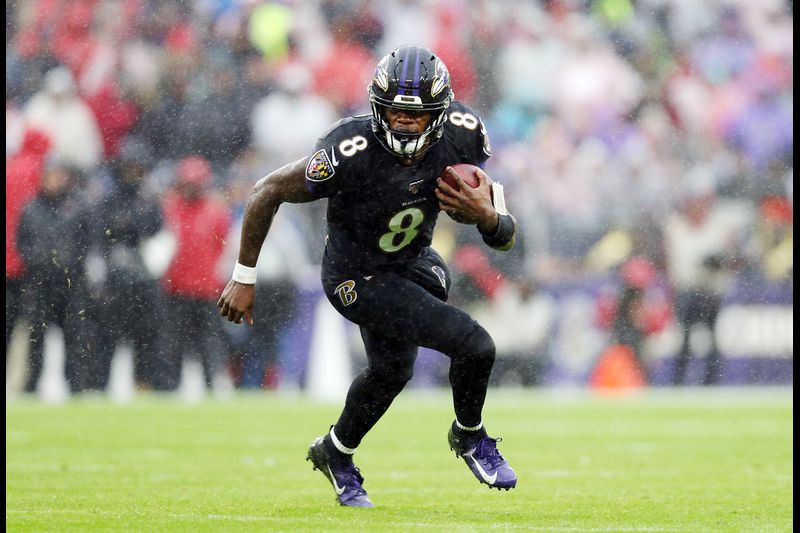 Jackson, the frontrunner for this season's NFL Most Valuable Player award, comes into the game at less than 100 percent. He injured a quadricep muscle while trying to throw a pass in Sunday's victory over Buffalo.
While the Ravens injury report lists him as questionable for Thursday, it did note he participated fully in the team's practice, and Jackson himself told reporters he planned on playing.
He's also noticed that defenses are trying to hit him low and take away some of his effectiveness in running with the football.
When I'm out on the edge, I kind of avoid it," Jackson told reporters. "But when I'm in the pocket trying to complete a throw, that's when nine times out of 10 they're going for my legs. I can't do nothing about it. I'm trying to complete that pass."
Jackson has a chance to break Michael Vick's season record for quarterback rushing on Thursday. But in addition to the injury, he'll also go against a Jets defense that's allowed just 78.8 yards per game on the ground. That's second-best in the league. The Ravens are the only offense in the NFL that's averaging more than 200 yards rushing per game.
However, there's a huge mismatch on the other side, as the Jets have one of the league's worst offenses, and it must go up against a Ravens defense that's sixth in total yards allowed.
The game kicks off at 8:20 pm and will be broadcast on Fox.
Bettors Giving the Points
William Hill and DraftKings list the Ravens as 17-point favorites. FanDuel offers Baltimore (11-2) at 16.5 points.
Despite that big number, bettors aren't shying away from the Ravens. According to oddsFire, 52 percent of the spread bets have been placed on the Ravens, and 64 percent on the money is on the Ravens as well.
On the moneyline, the Ravens odds are -1200. Despite the low return, 90 percent of the cash wagered is on the favorites. There are a few value seekers, though, as 51 percent of the straight-up bettors have bet on the Jets (5-8) for Thursday night at odds of +810.
Oddsmakers set the total for Thursday's game at 44.5 points. Over at FanDuel, 62 percent of the bets and 55 percent of the money are on the over.
Bell Back for New York
The Jets will have some good news for Thursday. Running back Le'Veon Bell is expected to return after missing last week's game due to an illness.
It's been a down year for the former Steelers star, who held out last year while trying to get a better contract. After rushing for more than 1,000 yards in three of his previous four seasons through 2017, Bell has just 589 yards in 12 games this year. His average gain per carry is just 3.2 yards, and he has yet to break off a big run of 20 yards or more this season.
However, he has been an effective receiver for quarterback Sam Darnold coming out of the backfield. He's caught 55 passes for 403 yards.