Kentucky Gov. Andy Beshear Hails Sports Betting Bill, Wants Casinos for Additional Education Funding
Posted on: January 14, 2020, 08:33h.
Last updated on: January 15, 2020, 09:09h.
On the night before Kentucky's sports betting bill gets its first hearing in the General Assembly, Gov. Andy Beshear told lawmakers he supports state Rep. Adam Koenig's proposal. But the new governor hopes the legislature would consider more gaming.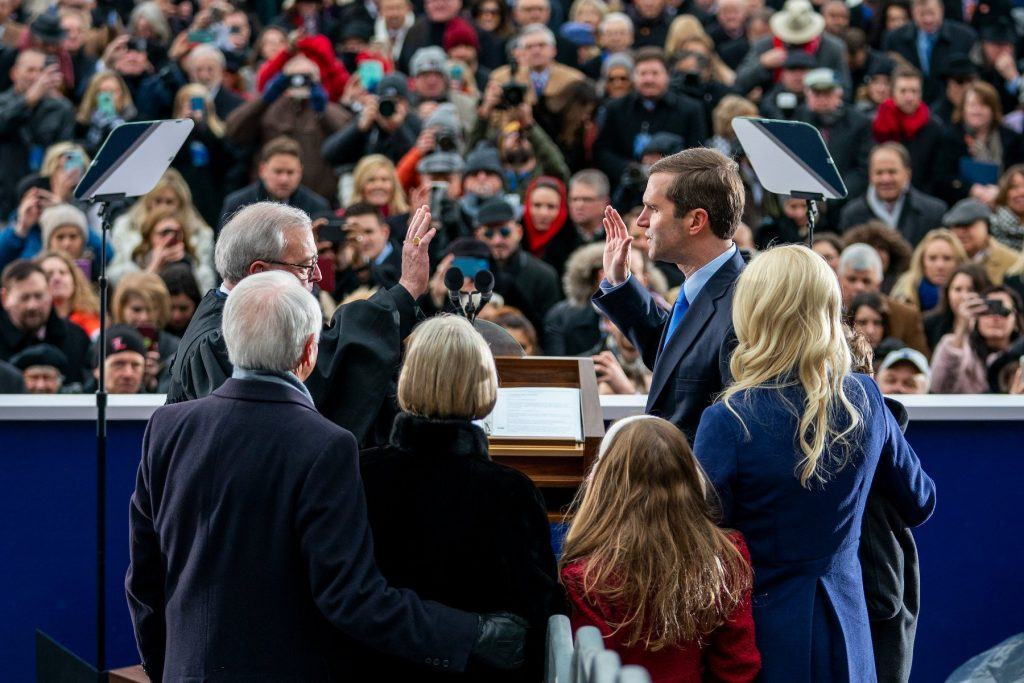 The comments in the State of the Commonwealth by Beshear, who won election in November and was sworn into office last month, came as no surprise. In his campaign against incumbent Republican Matt Bevin, Beshear made bringing casinos, sports betting, and other gaming options to the state a key part of his platform.
On Tuesday night, Beshear talked about increasing funding for education in the state, including giving each of the state's public school teachers a $2,000 raise. However, he said the state needs to find new revenue streams, and he pointed to Koenig's House Bill 137 as an opportunity to do that.
Kentucky has approximately 42,000 public school teachers. If the tax on sports betting revenue generates $20 million annually, then that would pay for about a quarter of that initiative.
Beshear also said he wanted to see the state restore funding to its higher education system.
A commitment to the future also requires that we create the new revenue to meet the growing needs of our state. And right now, we are watching more than $500 million in gaming revenue go across the border to states like Indiana, Ohio, and Illinois. It is time to stop that flow," the governor said.
With Republicans holding majorities in both chambers, Beshear noted that it was GOP lawmakers who have to expand gaming in states, including Indiana and Tennessee.
Republican leaders in the state Senate have spoken in support of sports betting. But they added that expanding beyond that doesn't have the votes in their chamber.
First Hearing Set for Wednesday
Koenig (R-Erlanger) told Casino.org after Beshear's speech that he appreciated the governor's recognition and support of the issue.
Koenig's bill will be the only one discussed in the state House Licensing, Occupation, and Administrative Regulations Committee hearing Wednesday morning in Frankfort. Koenig, who serves as the committee's chairman, is scheduled to testify, as is John Farris. Farris is a former Kentucky finance cabinet secretary and an economist who updated the economic impact study on the bill.
It's the same committee that passed Koenig's bill last year, but that proposal never made it to the House floor for a vote. The bill would allow horse tracks and the Kentucky Motor Speedway to have retail sportsbooks on site. Online sports betting would also be available in Kentucky, but bettors would first need to register at the brick-and-mortar location. Adults 18 and older would be able to bet, but the current version of the bill prohibits wagering on games involving in-state college teams.
Koenig has said he's willing to reconsider the ban on in-state teams. With no major professional sporting teams in Kentucky, such college teams as the Kentucky Wildcats and Louisville Cardinals have fan bases that rival major pro teams. However, just last week, a star Louisville player revealed he received a death threat after a poor performance against the archrival Wildcats.
The University of Louisville is investigating the threat. A UofL spokesman told Casino.org that the school is also reviewing Koenig's bill.
"Our primary concern is any impact it might have on our student-athletes," said John Karman, the school's director of media relations. "We're looking to see if and how our student-athletes might be affected."
In addition to sports betting, Koenig's bill also would legalize and regulate paid fantasy sports and online poker.
Opposition Mobilizing
As Beshear seeks to court Republican votes for expanded gaming, one Kentucky anti-gaming group is going on the offensive.
On its website, the Family Foundation of Kentucky claims HB 137 is unconstitutional in that it bypasses voter referendums it says are needed to approve new forms of gaming. The Kentucky Baptist Convention has passed an anti-gaming resolution, and the foundation is offering a flier against Koenig's bill its members can insert in church bulletins.
Martin Cothran, a foundation spokesman, said in a statement that efforts to circumvent the state constitution have been tried before, but never by Republicans.
"Republicans are normally proud constitutionalists, so we are surprised there are so many now willing to ignore constitutional restrictions on expanded gambling," he said. "We will be reminding conservative lawmakers of the importance of standing against (former House Speaker Greg) Stumbo-like attempts to void Kentucky's most important legal document."
Kentucky lawmakers heard testimony last month from gaming lawyer Daniel Wallach that the state does not need an amendment to the constitution for sports betting, because framers of the document discussed gaming more than a century ago and limited the ban to lotteries and games of chance.