Federal Judge Orders Oklahoma Tribes and Gov. Kevin Stitt Into Mediation Over Gaming Compacts
Posted on: February 10, 2020, 02:15h.
Last updated on: February 10, 2020, 02:54h.
Oklahoma tribes and Gov. Kevin Stitt (R) have been ordered by a federal judge to take their gaming compact revenue sharing dispute to mediation.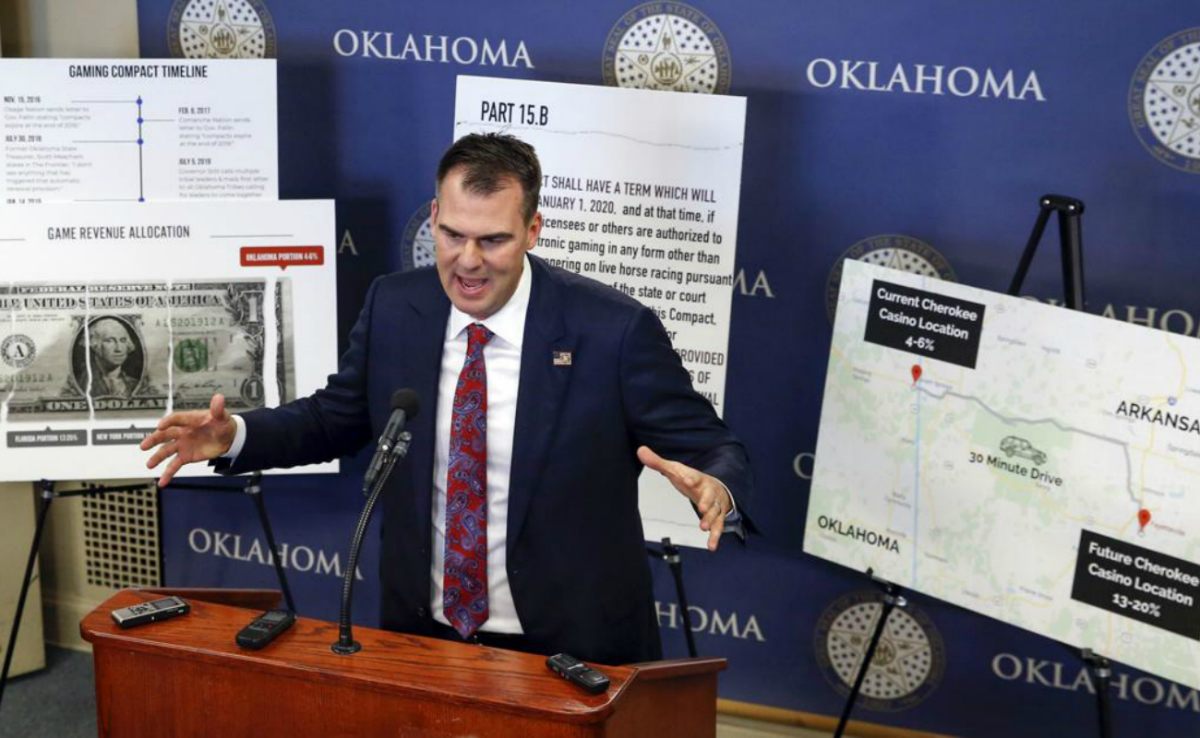 US Western District Court Chief Judge Timothy DeGiusti issued a four-page order Monday requiring five of the state's federally recognized tribes that filed a lawsuit against Stitt to enter into mediation with the governor.
Upon review of the case record, and having conducted a pretrial conference with counsel for all parties … the Court finds that negotiations within the framework of an early mediation proceeding provide a means for efficient initial case management in this matter," DeGiusti wrote.
Stitt's office and the Native Americans are to each submit three proposed mediators for consideration.
DeGiusti said in his order that once received, the court will act quickly to appoint a mediator. A March 31 deadline to resolve the matter completely or substantially was additionally ordered.
Legal Background
Stitt is on a controversial campaign seeking more money from Oklahoma's 35 federally recognized tribes that operate Class III casinos (slot machines and table games) through state compacts. The Republican argues the gaming compacts expired January 1 following a 15-year run.
The tribes say the legal agreements automatically renewed. In their legal argument, the nations point to the wording of their compacts.
"This Compact shall have a term which will expire on January 1, 2020, and at that time … the Compact shall automatically renew for successive additional fifteen-year terms," the compacts explain.
Stitt wants to increase the tribal gaming proceeds the state receives from the current four to six percent on slot machines and 10 percent on table games to at least 25 percent.
The state received nearly $139 million last year from tribal casinos. Eighty-eight percent of the gaming money is allocated for public education.
The federal lawsuit against Stitt was first brought by the Chickasaw, Choctaw, and Cherokee nations. The Citizen Potawatomi Nation and the Muscogee Creek Nation have since joined the challenge.
Touting Benefits
Oklahoma tribal leaders say they are willing to consider negotiating new gaming revenue sharing rates with Stitt (R). But he must first concede that their casino compacts renewed – not expired. "It's very important that renewal be acknowledged before we can move on to these other issues," Chickasaw Nation Gov. Bill Anoatubby explained.
In the interim, the tribes are hyping the large economic benefits their casinos and other business ventures have on the state.
United for Oklahoma, a coalition representing the state's Native Americans, says the sovereign nations provide a $13 billion annual economic impact. And since 2006, their state payments from gaming have exceeded $1.5 billion, with $1.3 billion going to education – "our most precious resource," United for Oklahoma declares.
If the mediator finds that the tribal compacts in fact did renew, Stitt could finally have his chance to negotiate an increased revenue sharing rate.
In a United for Oklahoma press release on the gaming controversy, the coalition explains, "We stand united in our willingness to have a fair and reasonable discussion on the exclusivity fee and rates once Governor Stitt acknowledges automatic renewal."
Similar Guides On This Topic