Joey Chestnut Top Dog for Nathan's Hot Dog Eating Contest, Oddsmakers Have Champ Heavy Favorite
Posted on: July 1, 2020, 10:32h.
Last updated on: July 1, 2020, 12:30h.
Joey Chestnut — the four-time defending champion of the Nathan's Famous Fourth of July International Hot Dog Eating Contest — is the betting favorite for this weekend.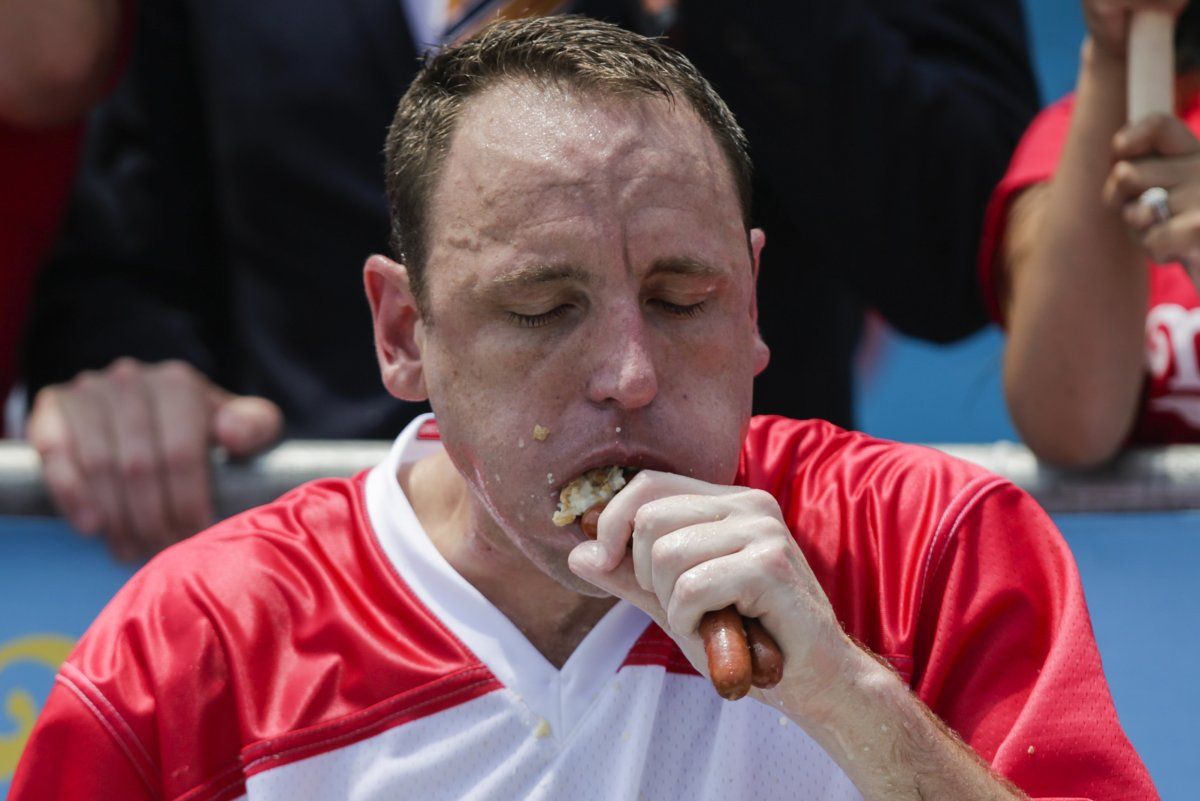 Unlike in 2019 — when New Jersey gaming regulators denied requests from oddsmakers to offer lines on competitive eating's most famous championship — the state's Division of Gaming Enforcement (DGE) is permitting betting on the Nathan's event in 2020. Gaming regulators in Colorado and New Hampshire have also approved the sport for wagering.
Today, DraftKings announced that it is an official partner of the 10-minute chow fest and it has Chestnut as the heavy favorite to make it five in a row.
Chestnut is at -1250, which is implied odds 92.59 percent. A $10 winning bet would return just 80 cents. "Any other participant" is at +650. A $10 wager would net $65.
Chestnut, a California resident, is the top-ranked eater in Major League Eating (yep, it's a thing). He's won the Nathan's event 12 times and is the most famous competitive eater since Takeru Kobayashi rattled off six Nathan's wins in a row from 2001-2006.
Chestnut holds dozens of competitive eating records, his most recent coming in February when he housed 32 Big Macs in 38 minutes.
Unlike a typical Independence Day, where thousands of people pack the corner of Surf and Stillwell avenues in Coney Island to watch the competitors devour hot dogs, this year's event will occur in a private location because of COVID-19. The event will be televised live on ESPN at noon ET on July 4.
Heavy Favorites
Chestnut isn't the only competitor expected to wolf down his competition. Miki Sudo of Connecticut is the top-ranked female competitive eater and six-time defending champion of the Nathan's women's division.
DraftKings has Sudo at -835 to win on July 4 (implied odds 89.3 percent). Any other female is at +500.
As for how many hot dogs the two favorites will eat in the 10-minute period, Chestnut's over/under is at 72.5 dogs. Sudo has an over/under of 40.5 dogs. In 2019, they respectively ate 71 and 31 hot dogs, but high heat was blamed for what they deemed as a rather unfulfilling performance.
In 2018, they ate 74 and 37 hot dogs. Chestnut's record is 74, and Sudo's 41. Being inside in a climate-controlled building could present an ideal environment for new records.
Hot Diggity Dog!
Casino.org punched the numbers regarding just how much food Chestnut and others are consuming during the Nathan's spectacle.
Each standard Nathan's hot dog has 160 calories, 15 grams of fat (6g saturated), and 550mg of sodium. One Nathan's bun has 130 calories, 1.5g of fat (1g saturated), 180mg of sodium, and 25g of carbohydrates.
So, last year, Chestnut took in 20,590 calories, 1,171.5g of fat (497g saturated fat), 51,830mg of sodium, and 1,846g of total carbohydrates.