Joey Chestnut, Miki Sudo Defend Nathan's Hot Dog Eating Contest Titles, Combined Scarf Down 102 Dogs
Posted on: July 4, 2019, 10:58h.
Last updated on: July 4, 2019, 11:21h.
Joey Chestnut, 35, and Miki Sudo, 34, have successfully defended their respective titles at the 2019 Nathan's Famous International Hot Dog Eating Contest.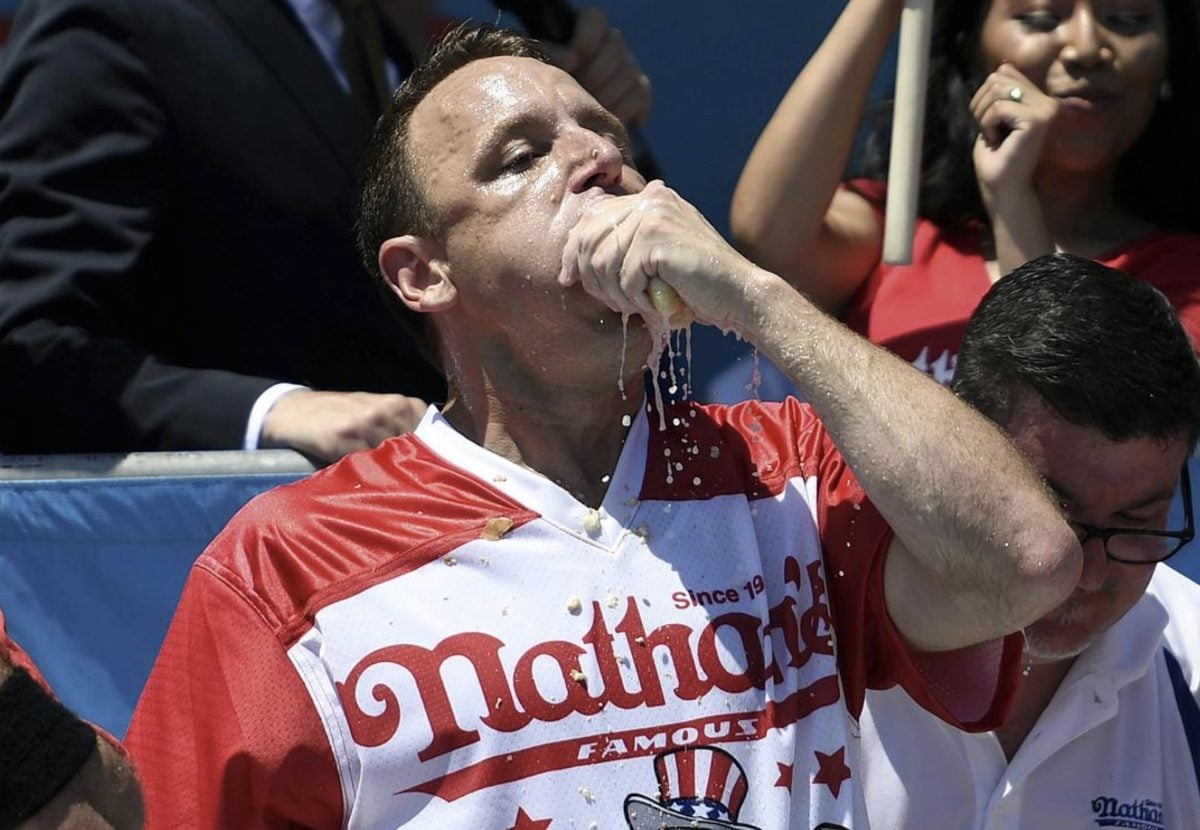 The annual Fourth of July event brought many of the world's best competitive eaters to Coney Island, New York. But after two 10-minute events for the male and female divisions, it was the defending champs who stood alone.
Chestnut woofed down 71 dogs and buns, while Sudo managed to get 31 franks down.
I was going for 75, I always love to get a new record," Chestnut said afterwards. "I came out fast and then I slowed down faster than I would've liked."
Online oddsmakers took wagers on the outcome, and had both Chestnut and Sudo heavy favorites. Joey was around -900 to win the male title. Bettors who took those odds won just $11.11 for every $100 wagered.
Sudo was even more heavily favored at -1000. Her victory returned a measly $10 per $100 bet.
A steamy July 4th made devouring the dogs difficult. Sudo blamed the heat for her underwhelming performance. "The heat just distracted me," she explained. "It was just really hot and I didn't do my training right."
Both winners receive Mustard Belts, as well as $10,000 each.
Betting Limits
The New Jersey Division of Gaming Enforcement (DGE), which oversees the closest legal sportsbooks to Coney Island, denied requests to allow oddsmakers to take wagers on the hot dog extravaganza. Though the gaming agency that regulates Atlantic City casinos and sports betting at two racetracks allowed bets to be made on the outcome of the Oscars, it didn't feel gambling on the Nathan's event was warranted.
Major League Eating (yes, that's a real thing) submitted a letter to the DGE following its ruling to reconsider. They didn't.
Chestnut's victory is his 12th Nathan's title, and fourth consecutive. July 4, 2019, marked Sudo's sixth consecutive win.
Chestnut's 71 dogs is three shy of the all-time high of 74, which he set last year. Sudo's 31 is 10 shy of her all-time best, and far behind the female record of 45 set by Sonya Thomas in 2012.
By the Numbers
One Nathan's hot dog has 160 calories, 15 grams of fat (6g saturated), and 550mg of sodium. One Nathan's bun has 130 calories, 1.5g of fat (1g saturated), 180mg of sodium, and 25g of carbohydrates.
That means Chestnut – in just 10 minutes – consumed 20,590 calories, 1,171.5g of fat (497g saturated fat), 51,830mg of sodium, and 1,846g of total carbohydrates.
Online sportsbooks have already released 2020 odds. And it comes as no surprise that Sudo is the women's favorite (-1050), and Chestnut the men's (-1500). The over/under on the men's winning total is at 71.5 hot dogs.