Cowboys Owner Jerry Jones Says Sports Betting Doesn't Jeopardize NFL Integrity
Posted on: December 18, 2017, 03:00h.
Last updated on: December 18, 2017, 03:14h.
Dallas Cowboys owner Jerry Jones says NFL Commissioner Roger Goodell's concerns that legalized sports betting jeopardizes the integrity of professional football are misguided.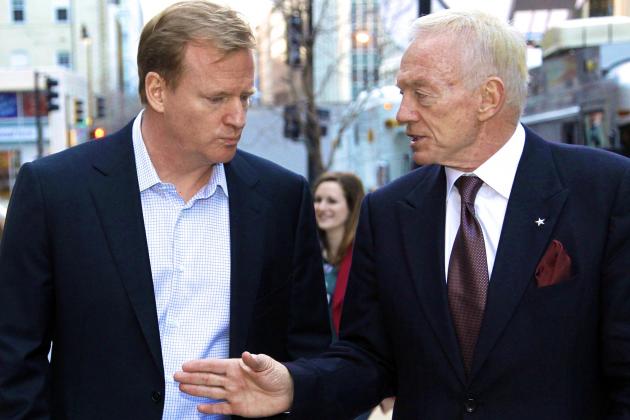 Jones took shots at the league's most powerful executive last Friday during his ESPN radio show. Goodell, who remains adamantly opposed to allowing casinos outside Nevada to take wagers on the outcomes of NFL games, says such activity could compromise the game.
Goodell's argument is that everyone from team executives and players, to trainers and even equipment personnel, could be at-risk of being approached by outside interests for inside knowledge on various issues.
Jones believes that thinking is flawed.
"Certainly, our game right now has a huge interest because of gaming," Jones stated on Dallas sports radio 105.3 The Fan. "That's there, that's real. We know it happens all over the world and that gaming is a big part of sport."
Jones admitted he shares Goodell's concern that the integrity of the NFL is paramount, but differs in assessing the potential risk legalized sports betting has on the league.
"I certainly feel like the thing that matters most is the integrity. The integrity of the competition. I don't think in any way that gaming compromises the integrity of the game," Jones concluded.
The US Supreme Court will soon decide whether the Professional and Amateur Sports Protection Act (PASPA) of 1992 violates the US Constitution due to the Tenth Amendment and anti-commandeering statutes. New Jersey appealed the high court after the NCAA, along with the NFL, MLB, NBA, and NHL, successfully blocked the state from allowing its horse racetracks and Atlantic City casinos from operating sportsbooks in 2011.
Jones vs. NFL
Jerry Jones opposed the league giving Roger Goodell a $200 million, five-year contract extension earlier this month. The Texan, estimated to be worth more than $5 billion, said there was no rush to re-up with Goodell. Jones felt the commissioner's handling of recent controversies, most specifically player protests during the singing of the national anthem, warranted a more thorough discussion.
His colleagues largely disagreed, and Goodell received a $10 million a year raise, with his annual pay now at $40 million.
Jones made more headlines this week after he expressed his sadness that Carolina Panthers owner Jerry Richardson was selling the team after sexual misconduct allegations about his behavior came to light. "I'm very sad," Jones declared. "Jerry is one of the really, really, really outstanding men of football."
If the allegations are true, that so-called outstanding man made inappropriate comments and advances to female staffers, and asked women if he could shave their legs and receive a foot rub.
No online or overseas oddsmakers are taking bets on who will become the next Panthers owner. However, celebrity Diddy tweeted yesterday, "I would like to buy the Panthers. There are no majority African-American NFL owners. Let's make history."
Forbes estimates Diddy's worth to be around $820 million. The Panthers are valued at $2.3 billion. NBA star Steph Curry replied to Diddy, "I want in!"