Japanese Financial Giant Nomura Eyes Yokohama's Casino Potential
Posted on: October 11, 2017, 01:00h.
Last updated on: October 11, 2017, 11:47h.
Japanese banking giant Nomura said this week that the cities of Osaka and Yokohama were the "prime-candidate" destinations for the country's planned new casinos.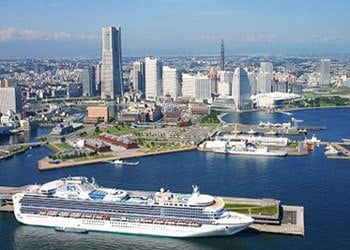 Nomura is particularly interested in the potential of Yokohama, where it is building a passenger ship terminal, complete with shopping mall and hotel in, via a public-private partnership called "Yokohama Pier9".
Japan's legislature, known as the Diet, passed its Integrated Resorts Promotion Bill in late 2016, paving the way for the creation of large scale casinos resorts. The bill gave the government a 12-month deadline to prepare a framework of regulation, laying down licensing requirements and introducing measures to protect problem gamblers. Lawmakers are also tasked with how many licenses to create.
But Prime Minister Shinzo Abe's decision to call a sudden, snap election will pushed back the regulation process by months and number of casinos that will be permitted is still unknown.
Yokohama Pier9
The group said that the development would put it in a strong position to cooperate with an international casino developer on a future project in Yokohama.
One thing lawmakers have agreed upon is that foreign casino companies wishing to build in Japan will need to partner with domestic companies as a joint enterprise.
"We think Nomura Real Estate Development building strong relationships with retail, warehousing, and port companies in Yokohama might be a foundation for participating in integrated resort projects in Yokohama in future," wrote Nomura analysts Daisuke Fukushima and Kentaro Maekawa in a memo.
Yokohama Pier9 will be composed of five stories filled with entertainment, retail and restaurant facilities and is scheduled to open in the spring of 2019. The project expects to benefit from the cruise ship boom among Chinese tourists, a key market for a future Japanese casino sector.
Analyst Sanford Bernstein recently reported that Japan is the most popular Chinese cruise destination, with cruisers now accounting for one in seven of all Chinese visitors to the country.
Osaka's Casino Dream 
Osaka, meanwhile, is the only city so far that has openly declared its desire to host a casino. It wants to partner with an international developer to build an integrated resort on Yumeshima, a reclaimed landfill island in Osaka Bay.
But first, the city would have to extend its subway system out to the island, an
operation that would cost an estimated $600 million, and its currently unclear who will
pick up this bill. 
Japan has the potential to be the second-biggest gambling market in the world, after Macau, and there have been calls to create an "Osaka Strip," mirroring Cotai and Las Vegas. But there are indications that the country's politicians may take a more conservative approach, adopting strict regulations that would result in a more modest market.