James Packer Crowns Australian Betfair as Latest Business Conquest
Posted on: March 20, 2014, 05:30h.
Last updated on: March 20, 2014, 03:47h.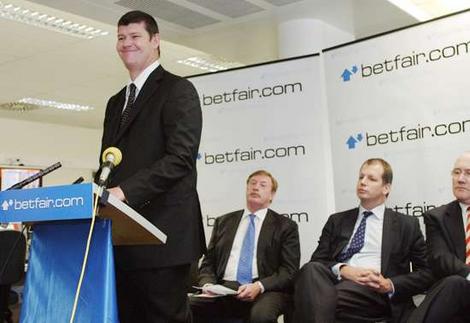 Looks like James Packer has his eye on the lucrative Australian online sportsbetting market. The chairman of Australia's high-profile Crown Ltd casino group is rumored to be buying up 50 percent of online betting exchange Betfair's Australian operation – namely, the 50 percent he doesn't already own.
The pioneering British betting exchange currently runs as a joint online operation with Crown in Australia, but sources at Fairfax Media – one of the country's largest media companies – reckon Betfair is ready to pull out of the market because of unsatisfactory returns; a market they fought tooth and nail to enter back in 2006. That would pave the way for Packer to take over, and crucially would allow him to get his hands on 100 percent of the company's Tasmanian bookmaking license. This would potentially allow him to alter the Betfair business model and drive it towards the more lucrative fixed-odds market.
Peer-to-Peer Sportsbetting Model
Betfair launched in the UK in 2000, as the first ever "betting exchange" – a network that facilitates peer-to-peer sportsbetting where the odds are not restricted by bookmakers. An exchange simply acts as the arbiter, allowing punters to set their own odds between each other, matching one bet to another. Thus, gamblers can often find better odds on these exchanges, despite the commission charged.
It's a model that has worked well in the UK for Betfair and its imitators; however, the company's Australian results are considered to be disappointing. While Betfair increased overall revenue by 8.6 percent to $54.9 million in 2013, this still resulted in a A$1.6m loss, the company's sixth in seven years, taking overall loss in Australia to A$47.3 million.
While Packer's interest in remodelling the company into a fixed-odds operation is still only the subject of speculation and rumor, it would certainly make sense from a financial perspective. While the bookmaking industry has been growing slowly in Australia, there does seem to be a marked movement away from traditional Australian tote (or parimutuel) betting towards fixed-odds betting. According to the Australian Racing Board, revenue from fixed odds for traditional Australian tote operators – like Tabcorp – rose 19 percent to A$2.2 billion in 2013, while fixed-odds turnover for online bookmakers rose at an even faster rate of 17 percent.
Let the Games Begin
A new low-cost online-only operator, therefore, with Packer's funds behind it, could mount a serious challenge to other operators in the sector. It would also send a clear message from Crown Ltd to the likes of Aussie online sportsbetting pioneer Matthew Tripp, who recently announced his intention to return to the sector, having sold his online wagering site Sportsbet to Paddy Power in 2011.
While Packer has been hugely successful in building up his land-based casino business into one of Australia's largest gaming and entertainment groups, he has always understood the importance of investing in online business enterprises. Before taking over the Crown empire on the death of his father, billionaire media mogul Kerry Packer, he was able to make a fortune from the dot.com boom, investing heavily in online classified sites such as SEEK and Carsales. He bought a 25 percent stake in SEEK for $33 million in 2003, selling six years later for $440 million.