Jake's 58 Casino Remains Shuttered Following 'Service Disruptions'
Posted on: October 18, 2023, 08:23h.
Last updated on: October 18, 2023, 09:15h.
Gaming operations at Jake's 58 Casino Hotel on New York's Long Island remain suspended Wednesday morning following "service disruptions" to the statewide video lottery central system.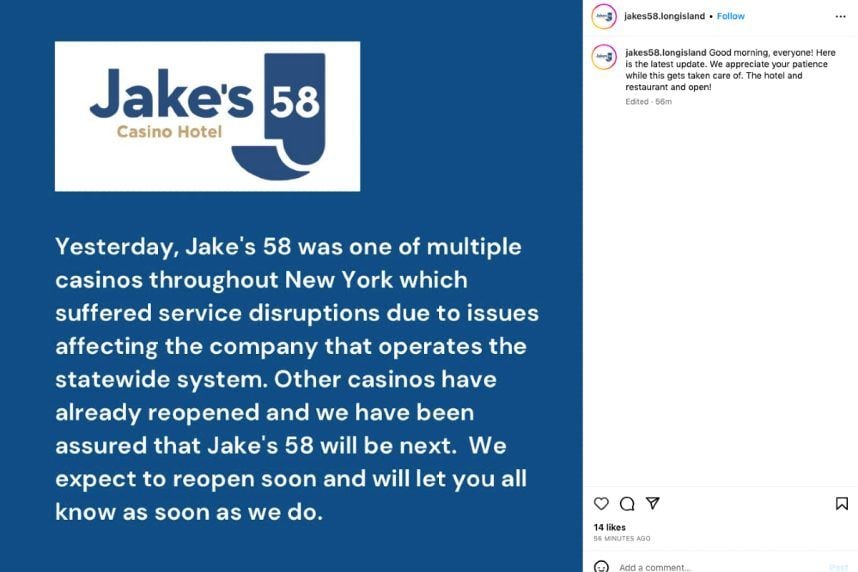 Jake's is one of nine casinos in New York offering video lottery terminals (VLTs). The slot-like machines differ because their results aren't based on an individual random number generator. Instead, it operates via a linked central lottery system. With a traditional Las Vegas-style slot, each spin's outcome is determined randomly and not influenced by outside factors like previous outcomes or results on other machines.
Conversely, VLTs operate on the lottery's central system and are managed by the New York State Gaming Commission. The system is programmed to specific payout and win rates, but whether a machine's next play wins or loses isn't determined by the actual terminal. Instead, the central system in Schenectady computes the outcome.
Jake's is home to more than 1,000 VLTs, but those machines were powered down Tuesday morning. The casino said in a statement that a tech glitch was incurred upstate at the lottery headquarters.
"Jake's 58 was affected by a service interruption early this morning," the casino said in a statement on Tuesday. "The gaming system provider is working to bring the system back online. Unfortunately, Jake's 58 Casino will be closed today."
Not Jake's Specific
Speaking with News12 Long Island, Suffolk OTB President and CEO Phil Boyle said the issue is out of Jake's hands. Suffolk OTB is the parent company of Jake's.
This is a statewide situation," Boyle explained. "The New York State Gaming Commission runs our slot machines. They're working on it, and as soon as they fix it, we're ready to go."
Boyle said he isn't aware of what caused the service disruptions, which also impacted other VLT casinos like Resorts World New York City in Queens.
All the other [VLT] casinos but Jake's are up and running, so I think we're next to reopen," Boyle said.
The casino boss couldn't provide a timeline for when he thinks gaming systems might be restored.
As for the possibility that the New York Gaming Commission was the victim of a cyberattack, Boyle said Jake's has a "tremendous IT and cybersecurity team." But he stressed that "this is not a Jake's situation, but a statewide" issue.
Video Lottery System
In 2020, Everi Holdings, a Las Vegas-based gaming manufacturer and casino service provider, extended its contract with the New York Lottery and State Gaming Commission to continue operating its video lottery central system. The contract runs through September 2029.
New York's video lottery casino industry dates back more than two decades. In 2001, state lawmakers authorized such gambling at state racetracks to allow them to become so-called "racinos."
New York legalized four upstate and three downstate Las Vegas-style casinos through legalization passed in 2013. The downstate licenses came with a 10-year moratorium, which expired this year. The New York Gaming Facility Location Board is expected to grant the downstate concessions next year.