Industry Experts Say Offshore Hurts Regulated Online Gambling
Posted on: May 22, 2014, 05:30h.
Last updated on: May 21, 2014, 12:28h.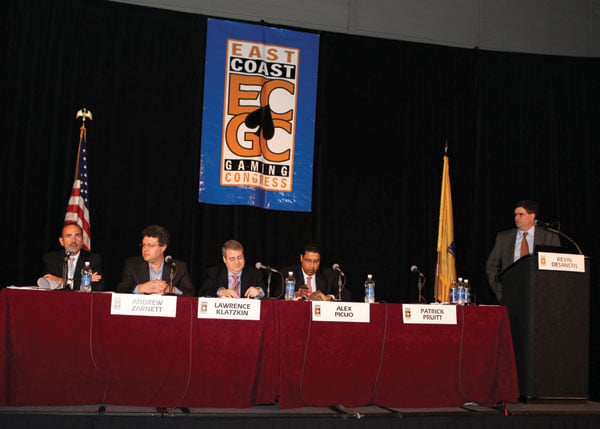 When Nevada, New Jersey and Delaware launched online gambling in their states, many heralded it as the dawn of the American Internet gambling industry. Of course, this wasn't entirely true: online casinos had been in the United States since the 1990s, and while the US government may have made it illegal for them to operate in the country, some offshore sites have continued to operate in America to this day. Now, some experts are saying their presence is one of the key factors holding back regulated sites across the country.
Competition from offshore sites that are still illegally operating in the country was one of several challenges cited for regulated gambling sites at the East Coast Gaming Congress in Atlantic City this week, where experts said that such sites are still the primary way that Americans wager money online.
"Internet gambling exists in all 50 states today," said David Rebuck, director of the New Jersey Division of Gaming Enforcement. "It's just not regulated."
New Jersey Targets Promotion of Offshore Sites
That statement comes on the heels of a letter sent by the New Jersey Office of the Attorney General last month to five sites that were promoting both regulated New Jersey sites and unregulated alternatives. In the letter, sent to sites such as RaketheRake.com, the owners of such sites were warned that they could face consequences if they didn't remove links to the overseas-based sites.
"This letter shall serve as official notice that your website, by offering links to sites which may be offering unauthorized online gaming, may be promoting activity that is contrary to New Jersey and federal law," said the letter, written by New Jersey Assistant Attorney General George N. Rover. "We request that you immediately remove any online gaming links that are not authorized under federal law or the law of any State. The State of New Jersey reserves the right to pursue appropriate civil or criminal sanctions against you in you fail to take the requested actions."
But despite such efforts, plenty of gamblers in the United States – even in the three states where regulated Internet gaming exists – choose to play at overseas sites. One reason may be that they can often be easier for players to use, particularly when it comes to payment processing.
"People who come online have 20 minutes in the den," said Eamonn Toland, president of Paddy Power's North American branch. "They don't have three hours to work out payments. If you can't capture them quickly and easily, they'll just go watch a movie or go do something else."
Industry Still in Infancy
Other issues addressed included the fact that many – perhaps most – people in New Jersey still don't know that Internet casinos are legal in the state. According to 888.com CEO Brian Mattingley, a survey conducted by his company found that only 10 percent of state residents were aware that online gambling was legal there.
But despite these challenges, most voices were upbeat about the future of New Jersey's online gambling marketplace, criticizing those who have been dismissive of the early returns from regulated sites.
"The people who say it's not doing well enough are like the two parents who look at their five-month-old and say, 'It doesn't speak any languages,'" said California Gambling Control Commisssioner Richard Schuetz. "Let's get our expectations in line."