Thailand Police Bust Illegal Casino With Ties to India
Posted on: May 3, 2023, 06:54h.
Last updated on: May 3, 2023, 03:20h.
A temporary casino operating in an established hotel in Pattaya, a city in Thailand's Chon Buri province, became the target of authorities this week. Police arrest more than 80 individuals after discovering the hotel was operating without a license.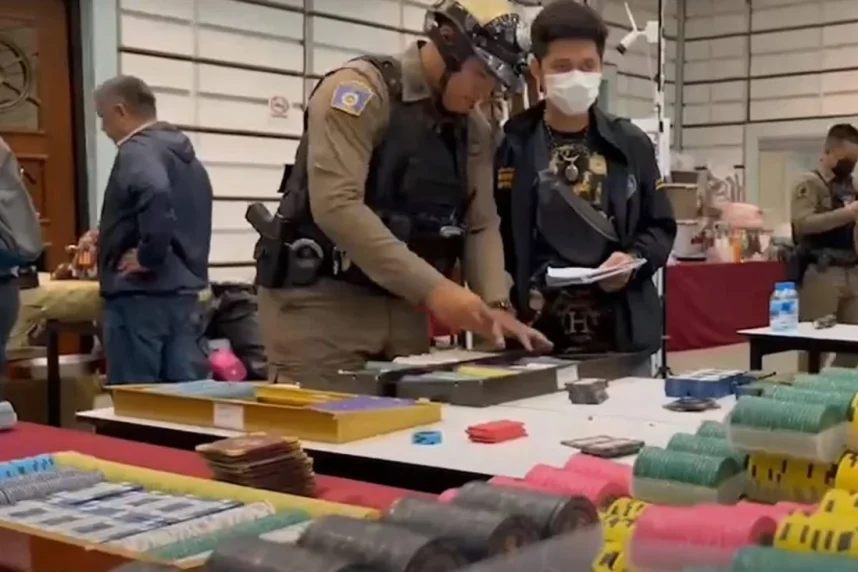 Thai law enforcement officials detained 83 Indian nationals, four people from Myanmar and six locals. Among those apprehended in the pre-dawn operation on Monday was Chikoti Praveen, a well-known figure and junket operator in India's gaming industry, according to the police. Several politicians were among those arrested, according to the Times of India.
The primary suspects in the case currently remain in custody. Some of the arrested gamblers have been released.
Despite allegedly having permission from the hotel to use the space, no hotel employees ever entered the makeshift gambling hall. The casino, which reportedly live-streamed the activity to India, handled hundreds of thousands of dollars before the bust, according to media sources.
Police were tipped off by a "concerned citizen" who reported the illicit activities in the hotel. Kampol Leelapraphaporn, the head of the local police force, stated that officers confiscated various items, including baccarat and blackjack tables, playing cards and chips, and a large number of Indian rupees.
Because gambling is still illegal in Thailand, except through strictly-controlled options, the penalty could be two years in prison and fines of as much as THB20,000 (US$587). The only legal gambling currently offered includes state-run lotteries and horse race betting. There's an effort underway to expand the country's gambling industry. But progress is slow.
Appealing to Indian Gamblers
The operations gaming equipment allegedly came from India, and its arrival, as well as the illegal operation, may have had support from the government. Thai police are investigating a rumor that government officials knowingly allowed the casino to operate in exchange for a bribe of THB2 million (US$58,740).
The establishment was apparently a very well-organized operation. Indian gamblers could purchase an all-inclusive package for THB50,000 (US$1,460) to visit the casino run by a Thai local.
The price included transportation, meals, and accommodations, but not gambling money.
High Profile Arrest
The establishment was further linked to India through the arrest of Praveen, a well-known name in the Indian gambling scene. Praveen is known to have helped organize gambling trips to Malaysia, Nepal, and other countries. He is well-known in Bollywood circles because of his high-profile lifestyle.
He is also believed to own a floor of the Big Daddy casino in Goa. VIPs and politicians regularly visit the location.
Praveen denies any involvement with the casino, claiming he had received an invitation to participate in a four-day poker event. Only 15 minutes after his arrival, the raid began.
That has led the gambling entrepreneur to claim that he was set up by competitors looking to take him out of the picture. Thai police released him and his entourage as the investigation continues.
Praveen has previously run into legal trouble because of his activity, which he regularly flaunts on social media. A year ago, police raided his house after a gambling trip and accused him of money laundering. In 2007, he was arrested for allegedly organizing a makeshift casino in the Indian city of Hyderabad in Telangana.