The Day That Changed Las Vegas in 2017: How a Mass Murderer Shook Up Everything We Know About Casino Security
Posted on: January 1, 2018, 10:00h.
Last updated on: December 15, 2017, 08:24h.
On October 1, 2017, high rolling gambler Stephen Paddock brutally murdered 58 people and injured 546 more when he opened fire on a country music concert on the Las Vegas Strip from his room at the Mandalay Bay Resort and Casino in Las Vegas. It was a day that would change the way casinos look at security forever.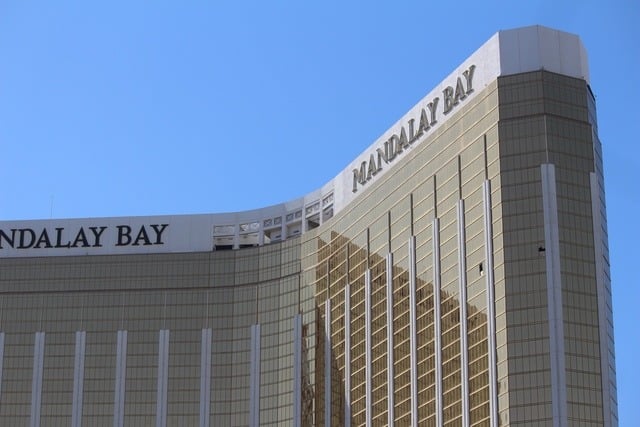 The motive of the gunman, a wealthy real estate investor and frequent Las Vegas gambler, remains a mystery.
Nevada's casino industry was forced to take a serious look at its security measures in the wake of the shooting. One expert described Vegas as a "soft target," adding that it was "a miracle" it hadn't happened before.
Despite the appearance of "anything goes," casinos are some of the most heavily surveilled commercial environments in America. A venue like Mandalay Bay would have spent millions on security. The entire building is estimated to have around 3,000 cameras. On the casino floor, the eye-in-the-sky is trained on tables and focused on spotting the tiniest sleight of hand. Big Brother is very much tuned in. But he's mostly watching the house's money.
Screening of Patrons 'Impossible'
How, in light of all this nonstop watching from above, was Paddock able to smuggle a cache of 23 rifles into his room on the 32nd floor of the hotel, including an AK47 and an AR-10 battle rifle? The truth is, the gunman was cunning and meticulous. This was not a man who had just suddenly flipped. The operation was well-planned, making the mystery of his undetermined motive even more perplexing.
He checked into his hotel room three days before the attack, bringing his arsenal of weapons in gradually, hidden in items of luggage.
Ed Davis, a security adviser to the American Gaming Association, told The New York Times that the essentially open nature of Vegas casinos make it "almost impossible" to conduct the kind of searches that can be performed at an airport. And casino security expert Steven Baker told Reuters that the logistics of screening every piece of luggage carried by each of Sin City' 42 million annual visitors were insurmountable.
Not to mention a bit of a downer for tourists ready to escape their normal lives, and drink, party, and gamble.
David Shepherd, a former FBI special agent in counterterrorism and security director for Las Vegas Sands Corp, suggested that the casino industry had to "start thinking like the Secret Service … start looking at tall buildings." But even he isn't sure how gaming operators balance creating a hospitable, welcoming environment with screening out potential harm-doers.
"How far do we have to take it?" he wondered aloud to Bloomberg.
Wynn Raises Questions
Steve Wynn had warned in an interview with KTNV Radio a year earlier that Las Vegas was a "target city" for a shooter. He stopped short of criticizing MGM security following the incident, but questioned why Paddock had been allowed to stay in his room for three days prior to the shooting with a "do not disturb" sign on the door.
It's the kind of behavior that would have triggered alarm bells among Wynn staff, the casino mogul said, over concerns for the guest's well-being, as much as anything else.
Wynn added that his company had stepped up security in the year prior to the shooting, with "covert security devices" installed at every entrance and up to 40 specially trained plain clothes armed guards deployed at each entry point to his casinos.
Manilla Massacre
Newly ramped-up security concerns don't only plague Las Vegas, of course. Casinos the world over face similar threats. On June 2, a deranged and armed gambler, Jessie Javier Carlos, walked into Resorts World Manila in the Philippines and proceeded to torch gaming tables and slot machine chairs already doused in gasoline, causing the death of 37 tourists and employees who were trapped and injuring 70 more.
Following heavy criticism of security procedures in the Philippine parliament, the resorts' license was temporarily revoked, while the operator, Travellers International Hotel Group, was forced to engage the services of security firm Blackpanda.
This is an organization more used to conducting counterterrorism operations than keeping casino patrons alive. The company bills itself, on its website, as "risk management and security solutions for emerging markets," presumably meaning Third World destinations.
Interestingly, the company uses a quote from famous Chinese military strategist Sun Tzu, who lived about 2,500 years ago, as its credo: "The greatest victory is that which requires no battle." It's a viewpoint that casino operators will aim to embrace as they face one of the greatest challenges for the industry – that of keeping patrons safe – moving into 2018.
Similar Guides On This Topic