Houston Texans Quarterback DeShaun Watson Suffers Torn ACL Lost for Season
Posted on: November 3, 2017, 03:00h.
Last updated on: November 3, 2017, 03:11h.
Houston quarterback DeShaun Watson suffered a torn anterior cruciate ligament in practice on Thursday and is reportedly out for the rest of the season.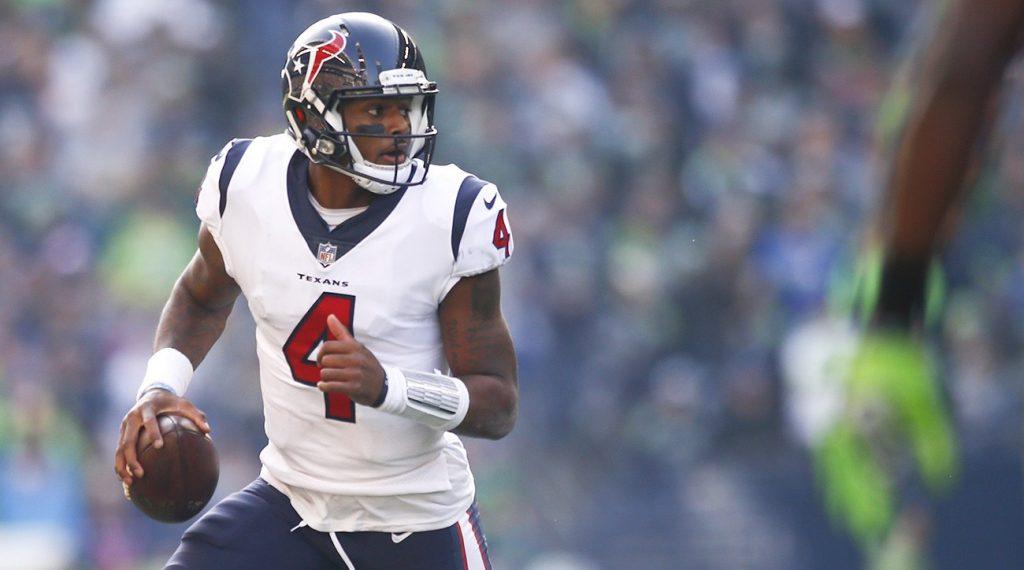 He injured his right knee in a non-contact drill on a grass field and witnesses said it appeared that he tripped or fell.
The loss of the rookie signal caller was immediately felt at sportsbooks. The Texans are hosting the Indianapolis Colts on Sunday. Before news of the injury Houston was a 14-point favorite. Thursday night the line had been slashed to seven. The over/under was also affected. It opened at 48, but has moved now to 46. The odds for the team to win the Super Bowl remain at 40-1.
Watson was having one of the best seasons of any offensive player making their NFL debut. The former Clemson standout, who led his team to the National Championship last year, was first in rushing yards among quarterbacks at 269 and was tied for first in touchdown passes with 19.
His quarterback rating of 81.9 led the NFL and is the highest for any player in his first seven career games in the last 10 years according to ESPN Stats & Information research. The team was averaging 30.7 points per game, the highest in the league. Last year they were 28th in that category.
Back Up Plan
Houston will now have to rely on second-stringer Tom Savage, who began the season as the starter but the was replaced by Watson midway through the first game against the Jacksonville Jaguars. Watson threw for their only touchdown in a 29-7 loss. Savage was 7 of 13 for 62 yards and had two fumbles.
Ironically they will be facing a team who lost their starter before training camp. Indianapolis QB Andrew Luck who underwent shoulder surgery in January was hoping to play later this year, but suffered a setback in his rehabilitation and was put on injured reserve Thursday by the Colts and won't see action this season.
His backup is second-year player Jacoby Brissett, who has been in the pocket since Week 2, when he replaced preseason starter Scott Tolzien. Under Brissett the team has gone 2-6 though has been 4-4 against the spread.
Understudies Provide Mixed Results
Two other reserves that were pressed into duty were Brett Hundley of Green Bay and Arizona's Drew Stanton. Hundley replaced star Aaron Rodger, who suffered a broken collarbone in Week 6 against Minnesota. Hundley lost his starting debut last week and also lost against the spread. The team is a 2 ½-point underdog when they host Detroit on Monday night.
Stanton had a week to prepare for replacing Carson Palmer, who suffered a broken left arm two weeks ago. Stanton replaced him and went 5 of 14 for 66 yards in their 33-0 loss to the Los Angeles Rams.
They had last week off and Sunday will face the winless San Francisco 49ers. They are on the road but are still a 2 ½-point favorite.