Houston Astros Remain World Series Favorites Despite Game 1 Loss to Washington Nationals
Posted on: October 23, 2019, 08:17h.
Last updated on: October 23, 2019, 10:24h.
The Houston Astros remain the World Series favorites despite losing at home in Game 1 to the Washington Nationals. But, of course, their title chances are lengthening in Las Vegas as a result of the opening defeat.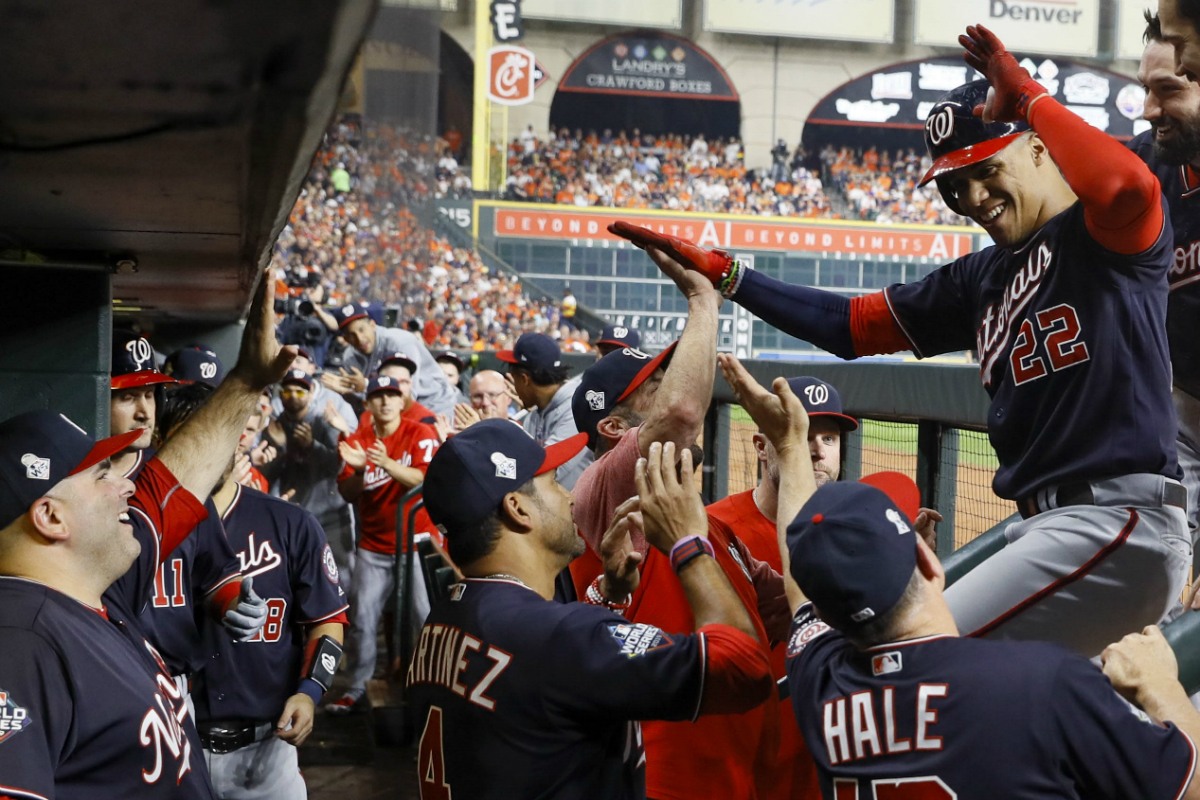 Prior to Tuesday night's first pitch, Houston was the biggest World Series favorite in more than a decade. FanDuel had the series line at Houston -240, Washington +200.
This morning, those odds are Astros -120, Nationals +100. On the new series price, a $100 bet respectively nets $83.33 and $100.
Houston starter Gerrit Cole was on a 19-game winning streak that dated back to May. But he wasn't himself Tuesday, giving up eight hits and five runs in seven innings worked.
I think he's been so good for so long that there builds this thought of invincibility and that it's impossible to beat him," Astros manager AJ Hinch said. "So when it happens, it is a surprise to all of us because we've watched for months this guy completely dominate the opposition."
The Astros offense added a run in the seventh and eighth, but fell one short, taking a 5-4 loss. Washington starter Max Scherzer labored through five innings, giving up five hits, two runs, and walking three in getting the win.
The Nats weathered a two-run first by the Astros. Left fielder Juan Soto led the way, going three for four, including a solo shot and two other RBIs.
Game 2
The Astros won't have to sit around long mulling their loss, and the Nationals won't be celebrating long, either. Game 2 gets underway tonight at 8:07 p.m. ET in Houston, with another star-studded pitching matchup the headliner.
Future Hall of Famer Justin Verlander takes the mound for the home team, while Stephen Strasburg, another viable candidate for Cooperstown once his career is complete, will try and keep the momentum going for the visitors, who are looking to steal two in Houston.
The game moneyline is at Washington +158, Houston -184. The Astros are 1.5-run favorites over the visitors, and the over/under is at seven runs.
Verlander played in the 2006 and 2012 World Series with the Detroit Tigers, and won the Fall Classic with the Astros two years ago.
Strasburg will be making his World Series debut, but the three-time All-Star has been dominant this postseason. The 31-year-old has given up just four earned runs in 22 innings against 33 strikeouts. He also tossed three critical innings in the National League Wild Card Game against the Milwaukee Brewers that kept his team's season alive.
World Series Props
With Game 1 in the bag – and a rather surprise start with the Nationals win – prop futures are naturally reacting.
Prior to Game 1, the shortest odds on the exact outcome of the World Series was Houston winning the best-of-seven series in six (+290). Now, that line has extended to +370. Houston in seven has emerged as the favorite at +330.
Washington sweeping the Astros has shortened from a long +2300 to +800.
Most Read