Hillary Clinton Frontrunner Status Reinforced at First Democratic Debate in Las Vegas
Posted on: October 14, 2015, 10:22h.
Last updated on: October 14, 2015, 10:27h.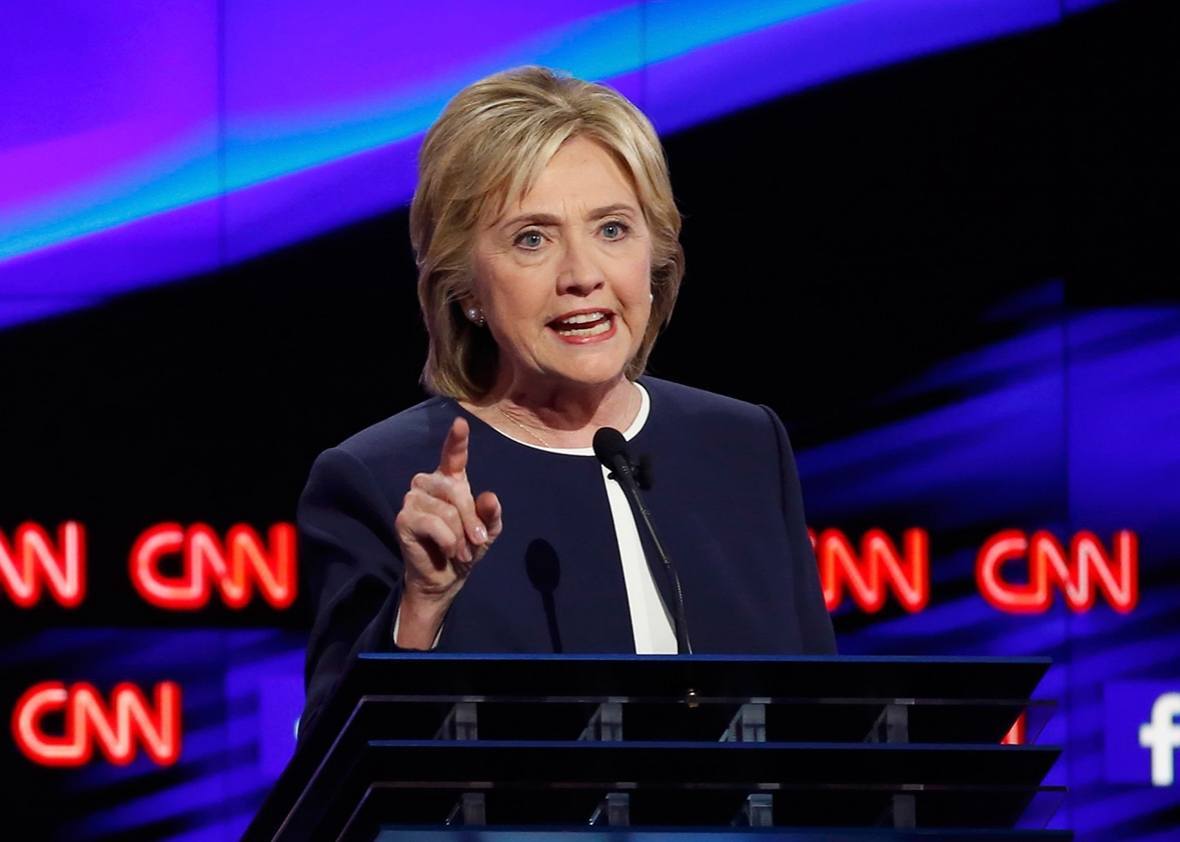 Hillary Clinton provided much-needed fuel for her campaign fire at last night's first Democratic debate at the Wynn Las Vegas.
The former Secretary of State and First Lady clearly demonstrated not only a strong grasp of the pressing issues, but also revealed a humorous personality many in the political left felt was needed to attract more mainstream voters. The debate aired on CNN from Steve Wynn's premiere property on the Las Vegas Strip.
In post-debate recaps on many networks, the overall opinion was that Clinton came out the winner over her four challengers, including leading opponent Senator Bernie Sanders (I-Vermont).
Clinton commanded the stage as she defended her positions on a variety of issues, from same-sex marriage and gun policies to her infamous and ongoing email scandal and support of the Iraq War.
"She was poised, she was passionate, and she was in command," CNN analyst David Axelrod said after the contest. "If I were her campaign I would be thrilled with what she did tonight."
Others disagreed. "#DemDebate was really boring," Donald Trump tweeted. "Hillary did what she had to do in the debate last night, get through it. Her opponents were very gentle and soft."
Not that anyone really expected the Donald to praise his key competition in the opposing party.
Ratings Surge
The Republican Party race for the White House has brought in record audiences for its two debates thus far, 23 and 24 million viewers tuning in for the CNN and Fox News broadcasts respectively.
CNN had predicted somewhat less dazzling ratings for the first Democrat square off. Sam Feist, the network's Washington Bureau chief, estimated that the audience would be "significantly smaller" compared to the GOP showings.
But overnight numbers for the televised discussion are surprisingly strong, with an estimated 11 percent of all American televisions and 10.7 million viewers watching the Clinton vs. the also-rans presentation.
Energized by Donald Trump leading the GOP ticket, the Democratic affair wasn't expected to be quite as successful, as Clinton is largely seen as the heavy favorite. Pulling in over 10 million viewers is considered strong by political insiders for a race that they consider essentially already decided.
Nevada Swing
Eyes across the country and around the world observed Clinton and Sanders make their cases along with challengers Martin O'Malley, Jim Webb, and Lincoln Chafee, but perhaps the most important voters sat right in front of the speakers at the Wynn Las Vegas theater.
Nevada has historically been a swing state, and one of utmost importance for those with presidential aspirations. The Silver State and home to the gambling mecca of America is largely politically conservative outside of Clark County and Las Vegas, where union voters tend to push towards Democrats.
Citizens of Nevada have successfully voted to elect Ronald Regan, George H.W. Bush, Bill Clinton, George W. Bush, and Barack Obama. In fact, the last time Nevadans favored a presidential candidate who lost was back in 1976 with Gerald Ford's failed reelection bid.
In the 2016 primary, Nevada will be the third state to vote, behind only Iowa and New Hampshire, adding further significance to the state's outcome.
According to Politico, Clinton is currently the heavy favorite there, with a 26.5-point lead over nearest opponent Sanders. That will presumably only increase when new polling is released following her successful debate performance.
Millions watched live and countless more will watch replays and online, because what happens in Vegas certainly doesn't stay in Vegas when it comes to politics.
Most Read