Hillary Clinton Campaigns Through Nevada, Condemning Donald Trump
Posted on: August 5, 2016, 03:00h.
Last updated on: August 5, 2016, 11:37h.
Hillary Clinton doesn't believe her GOP opponent Donald Trump is competent enough to assume the Oval Office. The Democratic presidential nominee made two stops this week in the all-important swing state of Nevada, where she spent a substantial amount of her time decrying Trump's business record and general disposition.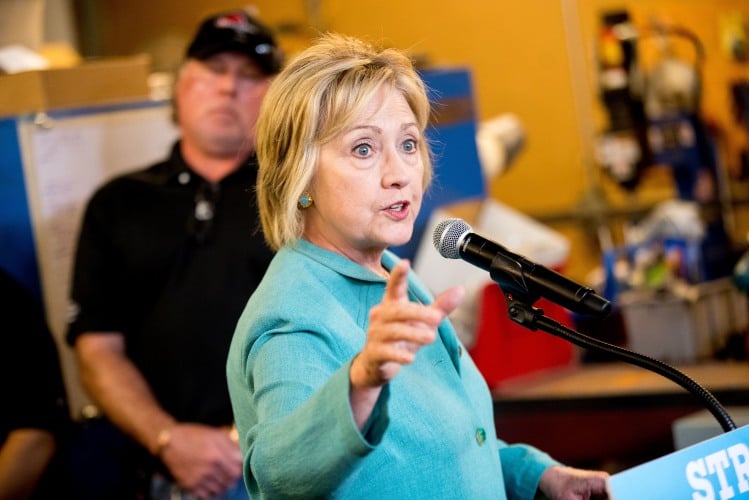 Appearing before a Las Vegas crowd on August 4, Clinton called Trump "temperamentally unfit" to be president. She also attacked his corporate record in both Atlantic City and Las Vegas.
"I went to Atlantic City and I met a number of small businesses, as well as workers, plumbers and painters, glass installers, marble installers, at one of his resorts. They finished the work . . . and they submitted their bill, and the Trump people said, 'No, we're not going to pay you,'" Clinton claimed.
Though Trump has been largely removed from the Trump Taj Mahal since 2009, when Trump Entertainment Resorts filed for bankruptcy, the property, and along with it the Trump casino brand, will shut down for good on Labor Day.
Before criticizing Trump, Clinton praised Nevada Senator Harry Reid (D) who introduced the Democratic candidate at the event. Reid, who's served in Congress representing Nevada since 1983, is pro-gambling, but has also expressed support for the Restoration of America's Wire Act (RAWA), the anti-online gambling measure, an unusual stance in the first state to legalize Internet poker in America.
Presidential Odds
Trump received a nice bump following the Republican National Convention (RNC) in late July, and slightly overtook Clinton in the national polls at that time. But following Clinton's own Democratic convention, and a most difficult week for Trump filled with controversial comments, Clinton is once again in a commanding position to become commander-in-chief.
The Real Clear Politics average has Clinton running 6.7 points ahead of Trump, and other polls show the former secretary of state with an even greater lead over the billionaire businessman.
And when money is factored in, the odds are stacked even more in Clinton's favor.
ElectionBettingOdds.com has Clinton's chances of becoming the 45th president at 76.0 percent to Trump at just 21.5 percent. PredictIt.org, a real-money wagering market, is selling shares of Clinton at 73 cents and Trump at 27 cents.
The wisdom of the masses has gained respect among political experts during this unconventional presidential cycle. With less than 100 days until Americans casts their votes, Clinton appears to have a good shot at becoming the next US president and the first female to hold the world's most powerful office.
"Do you want a president who stands for 'you're fired' or one who stands for 'you're hired'?" Clinton has asked.
Getting Personal
The former First Lady said Trump's record in Atlantic City is personal, because her father was a small business owner who ran a fabric printing company.
"I can't imagine if he had shown up at a place Trump owned and they said, 'Well, thanks a lot but we're not paying you.' Actually, that happened here in Las Vegas," Clinton revealed.
"He (Trump) refused to pay nearly $400,000 to a local Nevada drapery company, which had to close its factory," Clinton stated.
Of course, Trump's version differs from Clinton's.
Trump says the drapery work was inadequate and didn't meet expectations, and that's why the contract wasn't paid in full. The order was for the Trump Hotel Las Vegas, a project the New York-based mogul completed with fellow billionaire and Treasure Island casino owner Phil Ruffin.
"If they do a good job, I won't cut them at all," Trump told The Wall Street Journal about his project contractors. "I pay thousands of bills on time."