Here She Comes, Miss Gambling America: New Jersey Ready to Go Online
Posted on: November 25, 2013, 05:42h.
Last updated on: November 25, 2013, 05:42h.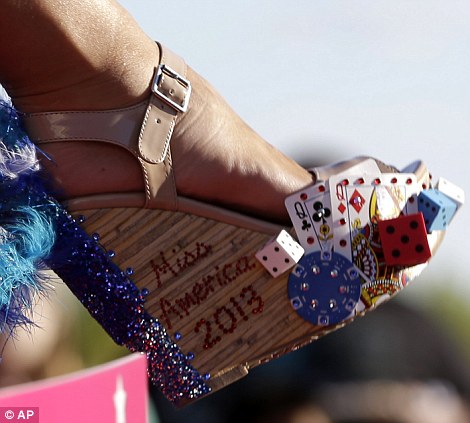 Just because the President of the United States doesn't realize that complex interactive websites that are designed to be used by millions of people need endless pre-checks, soft launches and re-checks, doesn't mean the casino executives preparing for New Jersey's online gaming launch on Nov. 26 are so cavalier.
Borgata Moving Carefully
Boyd Gaming – the company that owns Atlantic City's premier casino resort Borgata –  is taking its role moving the casino brand online very seriously, according to Boyd's executive vice president Bob Boughner.
"From our perspective, we have been, and will continue to be, very methodical, careful and thought out in this process," said Boughner. "At the end of day, we want to expand the Atlantic City market, both the casino and the real money online experience."
Boughner is no rookie at this, mind you; back in 2003, he spearheaded Borgata's image, creation and opening, and while the company has had its ups and downs, like so many Atlantic City casinos, it's done better in the revenue department than most.
"The Borgata is well-known in New Jersey and that market is our initial focus," Boughner said. Like most of the operators, he is unfurling minimal early marketing, until all the kinks have been worked out, and relying on the company's land gaming reputation to pull in initial players.
All the now-licensed gaming operators have been undergoing a five-day pre-launch test period this week, in anticipation of the statewide live launch on Tuesday. New Jersey's Division of Gaming Enforcement has been watching for any issues during the soft launch, which has only been open to approximately 500 invited players and during circumscribed play hours.
The goal of the testing is to ensure that things like deposit processes, geolocation systems, and player identity systems all work correctly; a few days into the soft launch, there were already some troubling issues with the geolocation tracking systems not recognizing players that were even 10-15 miles inside of New Jersey's state borders. While gamblers do not have to reside in the Garden State to play, they must physically be located there at the time they access the state's casinos games to qualify.
And New Jersey Makes Three
The launch will make New Jersey U.S. State #3 to offer legal and regulated Internet gambling; Nevada already has online poker, and Delaware went live a month ago with a range of casino games. The city's 12 brick-and-mortar casinos are all partnering with existing technology brands to bring their products to the Internet. While sites will offer a full range of games – from slots to blackjack and roulette – casinos are offering the specialized poker market their games under separate and specific sites.
Boyd has brought in Bwin.party – a European online gaming giant – as their Internet partner. The company will have four websites, one for Borgata casino games, one for Borgata poker specifically, and then two more generic "partygaming" sites, one each for casino games and poker.
Among the other well-known name brands that will be launching, Caesars Entertainment Corp. – a company that holds four Atlantic City land properties – will have a panoply of sites going, including one for Caesars, one for sub-brand Harrahs, and one for their World Series of Poker brand.
Meanwhile, the company who started it all in the U.S. – Stations Casinos, which kicked off Nevada's online poker earlier this year – feels well-prepared to deal with the new challenges to come in New Jersey.
"You'll see about five or six companies at the start," said Ultimate Gaming chairman Tom Breitling, speaking about the Atlantic City launch. With nine million in population in New Jersey, versus Nevada's under three million, those challenges could be daunting. But Breitling is confident his outfit is prepared.
"We've learned a lot in six months and we're still learning every day," he said.  "New Jersey is a different market, but the core issues are the same."
The Ultimate-Stations operators will be working in connection with the Trump Taj Mahal, as Stations has no East Coast presence per se.
New Jersey Lawmakers Push for International Operators Allowance
Meanwhile, New Jersey State Senator Raymond Lesniak (D-Union) is trying to push through legislation that would also allow non-American operators to set up their operating headquarters in the Garden State, a move that would require they pass background checks by the Division of Gaming Enforcement before they could be licensed. Although perhaps not quite as proctological in nature as their Massachusetts counterparts, the DGE could nonetheless be a tough bar to pass for overseas operators who may have looser standards regarding "ethical" gaming business behavior.
Making the proposed legislation even more complex, Lesniak – who was a key backer of the current online gambling laws – says these operators would only be able to accept bets from foreign players. The new bill, which has not yet been introduced to the state legislature, would ask for 15 percent sales tax for the state, with one proviso: taxes paid to other jurisdictions, presumably even other countries, would count as credits against any taxes due New Jersey.
"Why would companies want to set up operations in New Jersey?" said Lesniak at a recent Atlantic City news conference on the matter. "Well, we've got a great reputation for oversight and regulation. These companies, now located in Gibraltar or Isle of Man or any other offshore places, don't have the stability — the stamp of approval — that gives a lot of credibility to their product."
The New Jersey Online Gambling Market
How big is the potential Garden State Internet gaming market? One European industry research outfit, H2 Gambling Capital, says by 2014, New Jersey's online casinos could be netting $370 million for the state's coffers; they say by 2018, that number could jump as high as $526 million.
Just as importantly, H2 director Simon Holliday said during a recent Wells Fargo Securities-hosted conference that he doesn't foresee Internet gaming in the state as detracting from their land gaming ventures. He bases this on pre-Unlawful Internet Gambling Enforcement Act (UIGEA) behavior, noting that prior to 2006, the existence and popularity of offshore gaming accessed by American players  "did not materially cannibalize casino gaming revenues."
While that may be true, seven years, a major recession, and land gaming that frankly hasn't been doing that well for the past seven years anyway in Atlantic City may put a different spin on the whole situation. Obviously, it's all guesswork for now, but some industry analysts are hoping that the city's 41 percent drop in gaming revenues since '06 could finally see an uptick with online casinos there.
The current law calls for a 10-year test period, and a 15 percent operator tax, which is nearly double the 8 percent paid by land casinos in the state.