Harrah's Nebraska Opens Temporary Casino, WarHorse Lincoln Readying Sportsbook
Posted on: June 12, 2023, 08:23h.
Last updated on: June 12, 2023, 12:33h.
Harrah's Nebraska is opening inside the Platte County Agricultural Park, commonly called "Ag Park," at 9 a.m. local time on Monday morning.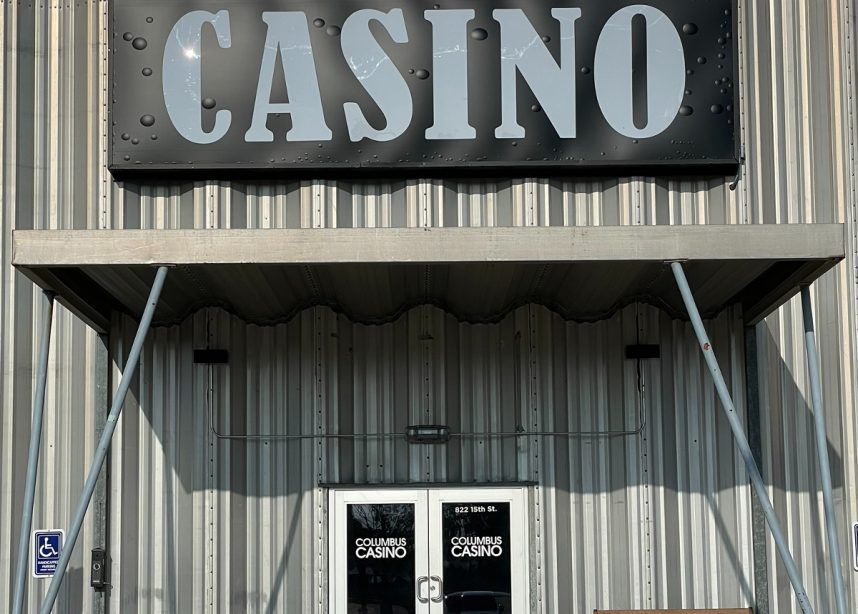 Caesars Entertainment's interim casino features about 200 slot machines and simulcast pari-mutuel wagering on horse racing.
In May, the Nebraska Racing and Gaming Commission (NRGC) found Caesars and its local investors in Nebraska suitable for licensure. The NRGC signed off on allowing the temporary gaming facility to open today following a final walkthrough on Sunday.
Harrah's Nebraska's provisional casino is inside the Ag Park grandstand. The facility is open from 9 a.m. through 1 a.m., seven days per week.
The temporary casino will operate as Caesars builds its $75 million permanent resort called Harrah's Columbus, NE Racing & Casino northwest of the city along Highway 81. The 40,000-square-foot casino is to feature about 500 slots, 14 live dealer table games, a Caesars Sportsbook, and a one-mile horse racetrack. An on-site hotel is also in the works.
Fair Attraction
Ag Park, like many racetracks across the US, has experienced a considerable decline in horse racing interest in recent decades. Ag Park has only 11 days of live racing scheduled this year.
The facility in recent years has become more about hosting special events and concerts, with the annual calendar highlighted by the Platte County Fair. Platte County officials say the fair will continue to be hosted on the Ag Park grounds. This year, the 160th Platte County Fair will run from July 19 through July 23.
The fair is highlighted by the annual competition to be called the Queen of Platte County. High school girls compete for a $1,000 scholarship and the honor of representing the county at events throughout the year.
WarHorse Lincoln Sportsbook
Harrah's Nebraska is one of five casinos being built in the Cornhusker State. Voters in 2020 passed a ballot referendum that amended the state constitution to allow Las Vegas-style commercial gambling at the state's licensed horse racetracks.
A condition of the law requires casino racetracks to continue hosting live racing, which is why Caesars is building a new track at its permanent resort. Harrah's Nebraska was the third temporary casino to open following WarHorse Casino Lincoln in September 2022 and Grand Island Casino at Fonner's Park in late December.
Officials at WarHorse Gaming, a company controlled by the Winnebago Tribe of Nebraska and the tribe's Ho-Chunk Inc. economic development arm, are finalizing its opening plans for its temporary casino's on-site sportsbook.
Lynne McNally, CEO of the Nebraska Horsemen's Benevolent and Protective Association, which is a partner in the WarHorse Gaming enterprise, announced the hiring of Jason Johnston to head up WarHorse's sportsbook operation. Johnston was formerly a manager at BetMGM.
Kambi Group will provide WarHorse with turnkey retail sportsbook services. Nebraska's commercial gaming referendum allows for only in-person sports betting.
Along with Lincoln, WarHorse Gaming is building a casino in Omaha. The Winnebago Tribe's partnership with the Horsemen's Benevolent and Protective Association additionally includes the opportunity to build a casino at the shuttered Atokad Downs in South Sioux City. WarHorse is first concentrating on the Lincoln and Omaha projects, which are to cost more than $300 million to build.