Seafood Buffet Prices Leave Gulf Coast Casino Gamblers Feeling Crabby
Posted on: September 5, 2017, 06:00h.
Last updated on: July 19, 2021, 03:11h.
Gulf Coast casino floors use their well-stocked seafood buffets to lure millions of guests inside their doors each year, with the hopes that the reasonably priced smorgasbords will turn diners into gamblers.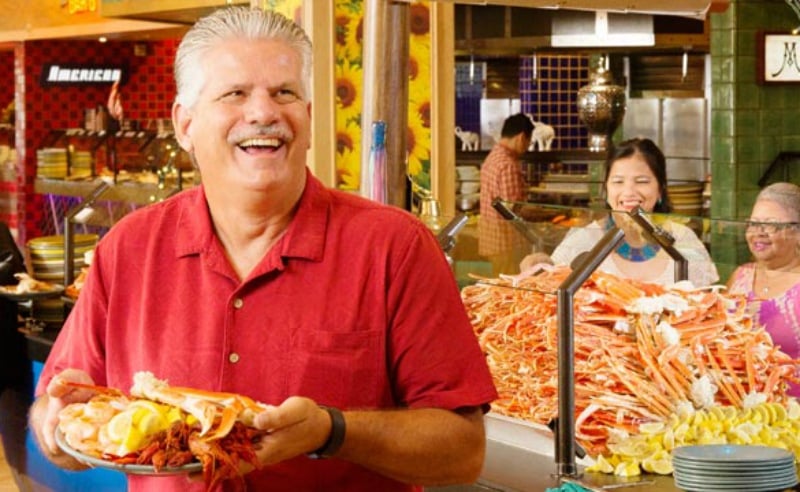 Countless guests begin their casino getaway in coastal Mississippi by downing a pound (or more) of Dungeness crab, but as harvest numbers decrease and demand rises, costs are forcing some seafood buffets to jump ship. According to the Sun Herald, a Gulf Coast news site, casinos are reducing the number of days crab legs are offered, while simultaneously increasing buffet prices.
Palace Casino Biloxi General Manager Keith Crosby told the Sun that the price for bulk crab legs rose from $5 a pound to $8.45 in a span of just two months. And that 69 percent premium is partially being passed on to customers.
Shelling It Out
Crab legs are now reserved for Friday and Saturday nights at the Palace, with prices increased by $2 per person to $29 (although still $27 with the casino's rewards card).  
"Sadly, I don't think it's going to get better," Crosby explained. "That's what it costs. What we are charging is still a good deal."
Other casinos have actually lowered their general buffet prices for non-crab eaters. IP Casino's Back Bay Buffet said its dining price has been reduced to just under $25, with guests given the option of buying a pound of Dungeness or snow crab for $5, or two pounds for $9.
But for Gulf Coast casino seafood buffet patrons, who drive from all regions of Mississippi, Louisiana, and Alabama to find a good bargain for an all-you-can-eat style meal, the add-ons and higher prices for crabs certainly won't be well received.
Don't Blame Hurricanes
Large casino operations must, of course, place food orders well in advance to keep everything in stock. So recent weather events like the Category 4 Hurricane Harvey that ripped through the region wouldn't be impacting dining costs just yet, regardless. But it turns out that rising seas actually aren't the culprit when it comes to rising food costs. Instead, it's something far more common: good old supply and demand.
The rising cost per pound of snow and Dungeness crabs is twofold. The cherished crab consumed at Gulf Coast casinos isn't found in the nearby Gulf of Mexico, but predominantly in the Gulf of Alaska.
Strong competition for crab, which are also found off the shores of Washington State, Oregon, and Northern California, has developed due to a developing taste for the crustaceans in Japan and China. The New York Times recently published a report showing how the two Asian countries have a continued strong appetite for seafood, and it's leading to overfishing. That, in turn, and pushed them more towards American seafood products, which are now also depleting as a result.
Proving that point, Alaska's Dungeness harvest this past summer was reportedly the worst in decades. Commercial fisherman pulled in 1.3 million pounds, the lowest haul in 30 years. The historical average is 2.7 million pounds, according to Alaska Public Media, a branch of the National Public Radio.
But for the average gambler, trying to recoup their slot machine losses with a meal they wouldn't get at home and unaware of the politics and ecology behind it all, it's bound to be a a plain-and-simple disappointment.
Similar Guides On This Topic