Guinness World Record for Exorbitant Crown Cocktail is Shaken, Not Stirred, as Back Story Emerges
Posted on: July 4, 2015, 10:00h.
Last updated on: July 3, 2015, 02:54h.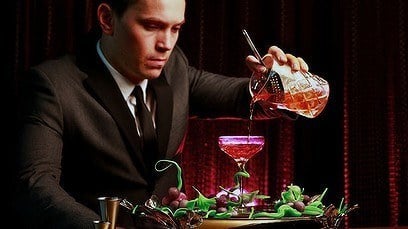 The Crown Casino in Melbourne may be stripped of a Guinness World Record due to a bizarre tale of a cheating Kiwi millionaire, a $32 million casino scam, a narrowly averted PR disaster, and the world's most expensive free cocktail.
The saga begins in September 2013, at the Crown Casino's Club 23, a bar co-owned by Crown owner James Packer, legendary retired cricketer Shane Warne, and former WSOP Main Event champ Joe Hachem.
Australian media and officials from the Guinness Book of Records had gathered to witness high-roller businessman Giang Nguyen imbibe the world's most expensive cocktail.
"The Churchill," was made with 1858-vintage Croizet Cuvee Leonie cognac, a measure of Chartreuse VEP Vert (a French herbal-infused liqueur created by monks) and splash of Angostura Bitters, among other ridiculously expensive and somewhat odd ingredients. The drink is so named because it was purportedly the beverage of choice for PM Winston Churchill and President Dwight Eisenhower as they planned the D-Day landings during WWII.
Not a Cheap Date
The price tag was AU$12,500, roughly US$9,500, hence all the hullabaloo and the guy from Guinness with the clipboard keeping watch.
But oddly, as present media made note, Nguyen looked uncomfortable, took one sip, declared it to be "good" and hurried off into the night, leaving about $8000-worth of vintage booze unsipped. The question is why.
Rewind to February of 2013. Crown announced via press release that New Zealand millionaire James Manning would be the man to cough up five figures for its impossibly luxe new cocktail. Manning had been lured to Crown by a member of the VIP services staff, the department that's charged with attracting and retaining high-rolling whales.
The plan was that Manning would come to Crown, gamble big and lose big, before obliging the casino by taking part in their little publicity stunt. What could possibly go wrong?
What Crown didn't know was that Manning was a skilled cheat and card counter, and had employed someone on the inside to signal information to him. Using a technique that the casino has not fully elaborated upon, Manning took Crown for $32 million in just eight hands of blackjack.
"We could not believe what he had won and some of the bets he placed were very, very suspicious," a former Crown executive told the Sydney Morning Herald. "Those eight hands, in particular … he bet against the odds and won, so one of our surveillance guys decided to take a closer look."
PR Disaster
A closer look revealed that Manning and his accomplice, the guy from the VIP department who had invited him in the first place, no less, were in cahoots, operating a complex scam to cheat the casino.
Manning was immediately turned out of his room in the middle of the night and barred for eternity from the property. As the vast majority of the money had not yet been paid out, Crown chose not to press charges, but it left the PR department in a bit of a pickle.
"Having James Manning done for a gambling heist just before the event was not in the script," said a former member of Crown's PR team. "We had the cognac, we had the event organized, we just didn't have a buyer. We were in an awful bind."
The truth is, then, that Nguyen was a shill, a friend of the management, bussed in at the last minute. The publicity stunt was all for show and the Crown would reimburse him the full sum the next morning.
Essentially, Nguyen got a sip of the world's most expensive cocktail for free from Crown, and he wasn't even a top model or Mariah Carey.
Most Read