Goa's Beached Floating Casino Could Be Written Off for Not Floating
Posted on: August 21, 2017, 06:00h.
Last updated on: August 21, 2017, 08:50h.
Then M V Lucky 7, a vessel that was destined to be Goa, India's sixth floating casino until it became beached on a sandbank last month, is in danger of being declared "a nuisance" by authorities and written off for good.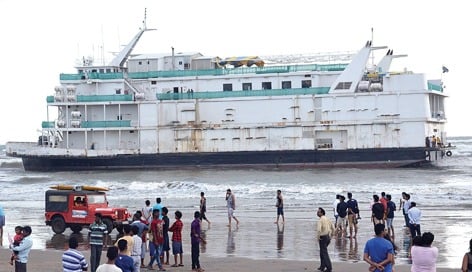 The unfortunate M V Lucky 7 was on route to the Mandovi River, where it planned to anchor and open for business as "Big Daddy Casino," but on July 23 it ran aground during stormy weather on Mirimar Beach, where it has languished unhappily ever since.
Now the District Disaster Management Authority (DMA) wants it moved and is threatening to impose a blanket ban on any future casino operations if it isn't towed away within days.
"The DMA has taken a serious view of the matter," a source told the Times of India. "As such, the authority is considering declaring the vessel a nuisance as its continuous presence at Miramar beach will endanger to wildlife and could cause environmental damage."
One Controversial Owner
The decision to license M V Lucky 7 was unpopular one, particularly when it was discovered the ship was owned by Golden Globe Hotels, a company controlled by former minister for the state of Haryana, Gopal Kanda.
Kanda became a tabloid sensation when he was arrested in 2012 on charges of sexual exploitation and aiding abetting suicide after an air-hostess who worked at Kanda's MDLR airlines took her own life.
She named Kanda in her suicide note, claiming harassment. The charges were later dropped.
There have been fresh calls to arrest Kanda for negligence as it has been suggested his company has put profit before safety by attempting to rush the ship to the Mandovi River so it could open for business during the monsoon season when the stretch is closed to navigation.
No-Goa
According to the Times of India's source, a local salvage firm is conducting an on-board inspection of the 5,000-odd ton vessel and will either tow it away or cut it out in pieces.
"The vessel in the current circumstances is getting weaker," said the source. "After it managed to refloat, the vessel should have been taken out immediately but a long delay resulted in a gushing hole at its bottom.
"The hole has got wider because of which water has entered the engine room and other parts of the ground floor. New cracks are also visible."
Should the MV Lucky 7 ever make it in one piece to the Mandovi River at Panaji City, where all Goa's floating casinos are based, it's unlikely to be anchored there for long. The Goan government has ordered that the casinos find a new place to anchor or risk losing their licenses because their presence is blocking the movement of ships through the channel.
Similar Guides On This Topic