George Foreman Challenges Actor Stephan Seagal to Fight
Posted on: October 4, 2017, 05:00h.
Last updated on: October 4, 2017, 05:54h.
Let's get ready to stumble! Or bumble, because 68-year-old George Foreman challenged 65-year-old actor and martial artist Steven Seagal to a 10-round senior citizen boxing match in Las Vegas.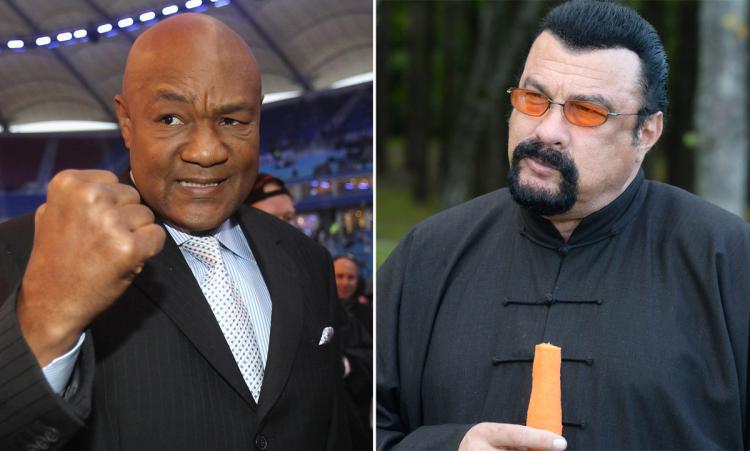 The former heavyweight champion issued the proposition on his Twitter account Monday.
While Foreman's idea was quickly mocked on social media, he appeared serious. His first tweet a day ago proposed the idea and that generated a firestorm of responses. He followed his initial post with another clarifying the rules.
"Steven Seagal, I challenge you One on one, I use boxing you can use whatever. 10 rounds in Vegas," Foreman said.  He later added, "No weapons hand to hand only."
The man who fought Muhammad Ali and Joe Frazier also suggested that Mayweather Promotions could have the contract for the fight and work on getting pay-per-view rights.
Offshore gambling site Bovada has already posted odds for the bout making Seagal the early favorite at minus-300. Foreman is at plus-200. No proposition bets yet on who is the first one to have a heart attack.
Ultimate Publicity Stunt
The inspiration for why Foreman would come up with this competition was not disclosed, but speculation is that it is response to Seagal's close ties with Russian President Vladimir Putin. The now dietary challenged star of such action movies as "Under Siege" and "Hard to Kill," was given a Russian citizenship last year and is an admirer of Putin. It also could be from his recent remarks criticizing NFL players who took a knee during the National Anthem.
Regardless of the motives people on social media have embraced the concept and are hoping against hope it comes to fruition.  A Twitter account called @senseisteven accepted the challenge, saying "Sign the contract and let's do it George!"
This momentarily fooled Foreman, who replied "it's on everyone." A follower of his quickly told him this was a fake account. Other responses to the idea have been creatively witty.
Funny MMA made a traditional fight poster that proclaimed the match "The Geezers at Caesars." Another poster said the two could duke it out with George Foreman Grills. Yet another showed a video meme of a person giving the now rotund Seagal a carrot with the caption "The training begins."
Record for Oldest Fighter
If accepted by Seagal it would be the first fight between two recipients of social security and would shatter the Guinness Book of Records entry for world's oldest boxer. American Mike Palmer, who was almost 58 when he entered the ring in 2015, had the distinction, but British cruiserweight Steve Ward fought at 59 to a man 24 years younger. He was defeated in the third round when 35 year old Jody Meikle scored a technical knockout.
"I always fight younger guys, but now I am going to go for boxers who are closer to my age," he said after the bout. "The best guy won on the day – he was too strong for me, but at least I got the record."
Ward has never publicly boxed again, which opens the door for Foreman to set the new age mark for geriatric pugilists.