Genting Cruise Line Makes Maiden Voyage to Japan's Okinawa
Posted on: April 7, 2017, 05:00h.
Last updated on: April 7, 2017, 11:23h.
Genting Dream Cruises has made its maiden voyage to Okinawa. The ship owned by the Malaysian gaming conglomerate first set sail last November, but this week it harbored in Japan for the first time.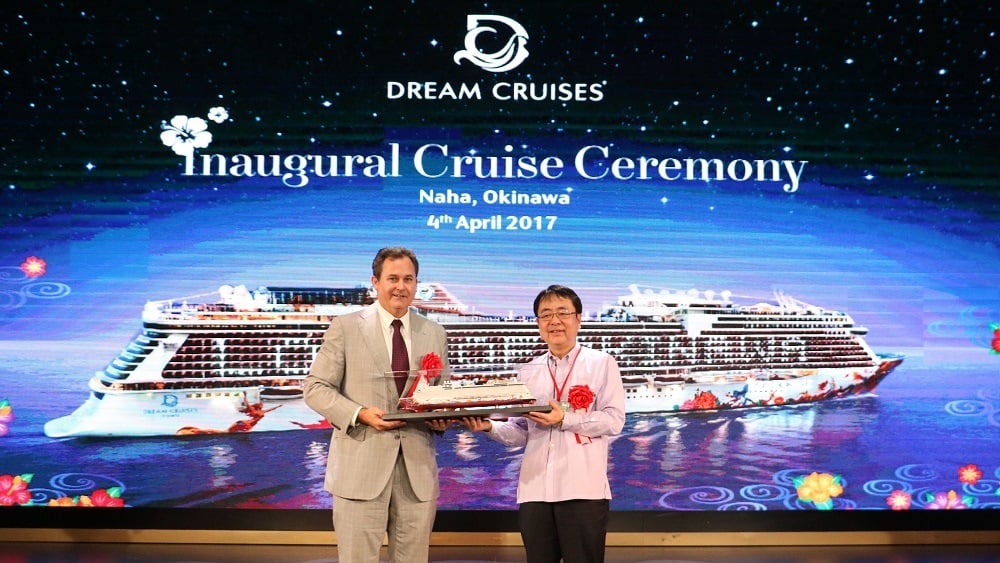 One of the largest gaming companies in the world, the Malaysia-based Genting Group owns and operates casino resorts in its home country, as well as in the United States, United Kingdom, Singapore, China, Philippines, Caribbean, and South Korea. It owns dozens of land-based gaming properties, but Genting's newest investment is on the high seas.
Dream Cruises has ports in the Chinese cities of Guangzhou and Hong Kong, and travels to a variety of Pacific Ocean destinations including Malaysia, Thailand, and Indonesia. This week, it added Japan by way of Naha, the capital city of Okinawa.
Genting says the ship features all the comforts of authentic Asian hospitality. Though the company is known for gambling, the Genting Dream is a non-gaming vessel.
In addition to Dream Cruises, Genting also owns Star Cruises, the third largest cruise line in the world behind only Carnival and Royal Caribbean.
Japan Casino Odds
In December, Japan's National Diet passed legislation to authorize two land-based integrated resorts, a monumental development for the country that has long opposed commercial gambling. At the bequest of Japanese Prime Minister Shinzo Abe to make the Asian nation more tourism friendly, the legislature agreed to allow gambling to come onto its shores.
Casino companies around the world immediately began working on their proposals. Seen as the holy grail of untapped gambling markets, MGM, Las Vegas Sands, Galaxy Entertainment, Melco Crown Entertainment (formerly Melco Crown), and others are expected to make multibillion-dollar pitches to acquire one of the coveted casino licenses.
The conglomerates are looking for local partners and hyping their mammoth investments in hopes of luring Japan regulators to their side. But Genting Group might have the best scheme running.
With gaming properties established on three continents, and fully operational cruise lines that can transport visitors from various Asian countries to Japan, Genting's pitch might be too sweet to resist.
The Diet is currently in the process of deciding on the legal regulatory framework for gambling and deciding where the venues might be permitted. Along with Osaka and Tokyo, Okinawa is thought to be a likely integrated resort destination.
Cruise Control
Genting isn't the only entity getting in the water and cruising the Pacific Ocean. Last month, the North Korean government announced it was looking for foreign investors to come aboard in developing a cruise line that would bring passengers to Mount Kumgang, one area of the heavily restricted country where tourists can sometimes enter.
The Kumgang Special International Tourism Zone is seeking a $20 million partner to build a ship that would "be equipped with various facilities to allow 1,000 travelers to do cultural and safe travel in the sea," the Korean government explained in poor English. So far, no takers.