Net Worths of Gaming Industry Billionaires Decreased $9.3B Last Year, Industry Lands 26 People on Forbes List
Posted on: March 8, 2019, 09:00h.
Last updated on: March 8, 2019, 09:41h.
The gaming industry is responsible for 26 of the world's 2,153 billionaires. That's according to Forbes, which this week published its annual list of the richest people ranked by their estimated net worths.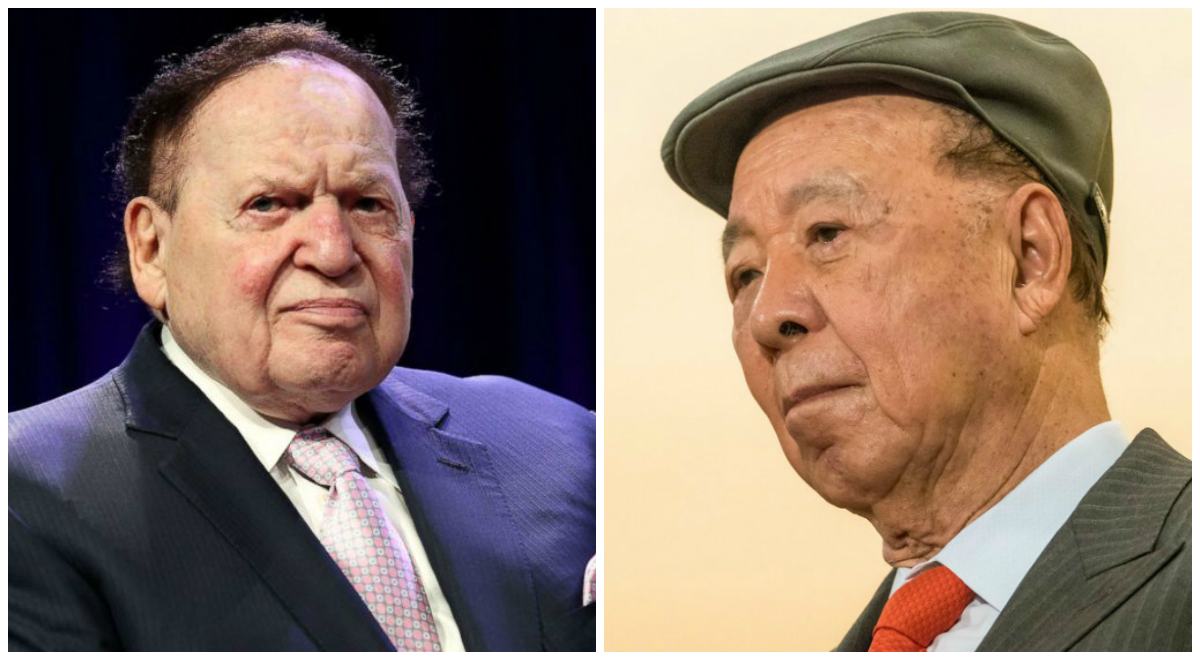 Las Vegas Sands founder and CEO Sheldon Adelson once again led the industry, his fortune now estimated at $35.1 billion. However, that's down from $38.5 billion a year ago.
Adelson, 85, recently revealed he is battling non-Hodgkin's lymphoma. The casino tycoon ranks the world's No. 24 richest person.
Hong Kong's Lui Che Woo is a distant second at $14.6 billion. The 89-year-old Galaxy Entertainment boss was worth $20.1 billion at this time last year.
Johann Graf, owner of the Novomatic Group, which owns casinos and manufactures gaming equipment, is third at $8.1 billion. Bet365 CEO Denise Coates is fourth at $6.5 billion, and Pansy Ho fifth at $4.6 billion. Ho is one of Macau founding father Stanley Ho's children. She owns a major interest in MGM Resorts' operations in the Chinese enclave.
Amazon's Jeff Bezos remains the world's richest person, with his fortune at $131 billion.
Gaming Losses
Casino.org compared the Forbes 2019 list to the previous year and determined that gaming's billionaires collectively lost $9.3 billion last year.
Only six of the 26 billionaires saw their net worths increase in 2018. The largest gain came from Coates, who is $1.5 billion richer. Her salary alone was $280 million, which garnered plenty of criticism.
The biggest loser was Lui, whose net worth decreased by $5.5 billion. Along with Adelson losing $3.4 billion, other gaming industry billionaires who saw their values decline by at least $500 million include Pansy Ho (-$700 million), James Packer (-$500 million), Chang-Woo Han ($-600 million), and Manuel Lao Hernandez ($-1.5 billion).
Despite the $9.3 billion loss, the 26 gaming industry billionaires are still communally worth $125.3 billion – or $5.7 billion poorer than Bezos.
2018 Difficult Year
The second half of 2018 was a difficult time on Wall Street. Indexes fell across multiple sectors, and the gaming industry was hit hard, too.
The Vaneck Vectors Gaming ETF (exchange-traded fund) fell 26 percent in 2018. The fund includes 42 gaming industry stocks including Adelson's Sands, MGM Resorts, Lui's Galaxy, and Wynn Resorts.
All six of Macau's licensed casino operators – Sands, MGM, Galaxy, Wynn, Melco Resorts, and SJM Holdings – are included in the gaming ETF. The world's richest gambling hub is coming off a $37.5 billion win in 2018, which marked the Chinese Special Administrative Region's second consecutive year of growth.
China continues its ongoing trade negotiations with the US, the yuan has weakened, and the mainland economy is slowing. Analysts at JP Morgan believe Macau casinos will pay a small price for the uncertainty.
Citing "anemic gross gaming revenue (GGR) momentum" and "soft margins," JP Morgan analysts DS Kim and Sean Zhuang are forecasting a one percent decline in GGR in 2019.