Gamblers with Phil Ivey Ties Sue Foxwoods for Millions
Posted on: August 15, 2014, 05:30h.
Last updated on: August 14, 2014, 10:11h.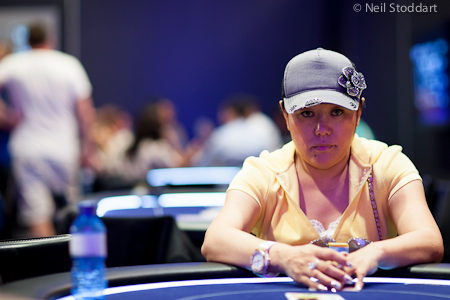 Phil Ivey edge-sorting pal Cheng Yin Sun is one of three gamblers suing Foxwoods Casino Resort for over $3 million in withheld winnings. Although Ivey is not directly involved in the Foxwoods case, Sun and Ivey are both currently the subject of a court case brought by the Borgata in Atlantic City, which is seeking to recover $9.6 million it paid out to the pair following a stint at the mini-baccarat tables in 2012.
Both cases involve the use of edge-sorting, and the debate over its legality, or lack thereof; an issue that is fifty shades of grey, as far as the law is concerned. The Borgata says the practice is cheating and is illegal under state gaming law; Sun and Ivey say it isn't.
Edge-sorting is a technique in which the gambler is able to determine the value of a card by observing subtle manufacturing flaws and asymmetries in the pattern on the back, and the skilled edge-sorter can turn the odds in his or her favor to the tune of six or seven percent.
Is it cheating? Well, there's the rub, and we're likely to find out soon, as the theories of both parties are tested in courts on both sides of the Atlantic. The gamblers claim that they are using pure skill to caress the odds in their favor (and edge-sorting is no mean feat, requiring freakish abilities of observance), while the casinos are claiming it's fraud, pure and simple.
$1.6 Million in Stakes Held Back
As well as the Foxwoods and Borgata cases, Ivey is also suing London's Crockford's Casino, which has withheld $12.1 million following Ivey and Sun's visit there, also in 2012. The latest case makes no mention of Ivey, however, and is brought by Sun and two associates, Long Mei Fan and Zong Yang Li. The trio claims that the money owed to them by Foxwoods comprises $1.1 million in winnings and their $1.6 million in stakes.
"Basically, edge-sorting is possible because some brands of playing cards are not cut symmetrically across their backs and some players are gifted with eyesight keen enough to tell the difference," says the suit. "If Foxwoods and Foxwoods management knew that plaintiffs were edge-sorting and let them practice their form of advantage play anyway, intending to keep their losses if they lost but not honor their winnings if they won, this would be intentional fraud."
Unprecedented
The cases are fascinating because they are completely without precedent, as expert in gaming law Maurice VerStandig underlined recently.
"Edge sorting falls somewhere between card counting and weighted snake eyes, and the law is yet to figure out just where," he said. "There is no real precedent for cases like this, and when the judicial system cannot find precedent, it goes in search of analogy, something that does not much help here, either, because edge sorting is not truly analogous to anything…"
While Sun's name differs on the court documents from the Foxwoods case to those of the Borgata, here spelled Cheung Yin Sun instead of Cheng Yin Sun, Marvin Vining, a lawyer representing the Foxwoods plaintiffs, has confirmed they are one and the same.
"I can confirm that Cheung Yin Sun was also Phil Ivey's playing partner in mini-baccarat sessions that gave rise to the Borgata lawsuit in New Jersey and the Crockfords lawsuit in London," said Vining. "She played with different playing partners at Foxwoods, and the circumstances of all three lawsuits are slightly different. But the Foxwoods plaintiffs did employ essentially the same type of edge-sorting strategy as involved in the other two lawsuits."
Foxwoods has yet to file a response to the suit.
Most Read