Fremont Street Draws More Tourists and More Cops
Posted on: August 1, 2014, 05:30h.
Last updated on: October 11, 2022, 04:18h.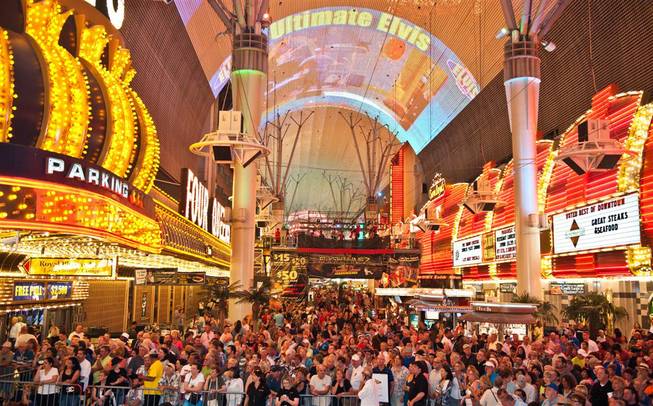 As Las Vegas continues to bounce back from the economic downturn, with the Strip posting its fifth annual revenue increase in a row, Sin City's Fremont Street area downtown is experiencing a renaissance as well. In fact, the recent regeneration of Fremont Street and its environs is attracting so many visitors, Metro Police are being forced to rethink the way they police the entire city of Las Vegas.
"We were very focused on Las Vegas Boulevard [the Strip] for a number of years because that's where we were seeing the infusion of people," Sheriff Doug Gillespie told Metro's Fiscal Affairs Committee this week. "But the dynamics have changed downtown. Now a lot more people are wanting to come downtown on a more regular basis."
It's not just that the people are coming there in droves; the very nature of the tourism has changed, too. While the area surrounding "Glitter Gulch," as it used to be known back in Elvis's day, was once a little rough around the edges, it's now becoming a hub of art and culture. Bail bondsmen and pawnbrokers have been at least somewhat replaced with galleries and vintage clothing shops, as well bars, clubs and restaurants.
Millennials Descend
This means that, in short, people are spending less time in the casinos and more time outside. Sidewalks are packed, often with drinkers, and this requires a completely different kind of law enforcement and a higher police presence on the street.
Downtown Area Command Captain Shawn Anderson told the committee that the best solution is more police visibility, which from last month he has been able to implement, thanks to new overtime funding.
"It made a tremendous difference," he said. "The business community says it's like night and day."
Anderson said the deluge of visitors began to appear starting in 2012, and he believes it represents a new demographic for Las Vegas, "the millenials" who favor events like the First Friday Arts and Food Party and attending the theater at the Smith Center for the Performing Arts over traditional gambling. Oh, and let's not the forget the cash cow that is the recently passed Electric Daisy Carnival (EDC), a kind of latter-day Woodstock, but for a much more well-heeled, young, and sometimes not-so-young crowd.
"It's the (Electric) Daisy Carnival … The millennials are not going to sit in a casino behind a slot machine," he said. "They are going to pub crawl. We're seeing this type of massing increase so that more Fridays are starting to look like this, Saturdays are starting to look like this and even midweek we're seeing it downtown," he added.
100,000 Visitors Per Night
The committee heard that 100,000 people might visit downtown between noon and 4am, and that's up from the 60,000 or 70,000 a few years ago. As well as increasing police presence, Anderson said that heavy stanchions have been strategically placed on Fremont East to prevent people loitering, while ordinances have been enacted to curb drinking, such as prohibiting liquor store booze from being consumed on the street. People are also now regularly checked for ID as they enter Fremont Street.
The influx of revelers may mean the police have their hands full, but it also indicates that Las Vegas' diversification and regeneration projects, implemented during the economic downturn, are working. The city got a scare during the recession, when gambling revenue plunged, and it realized it needed to diversify its entertainment offerings away from purely traditional gambling. And, while they may be little raucous on a Friday night, the city's ability to attract the millennial "party people" bodes well for its long-term economic future.