'Freak' Accident During Del Mar Training Session Results in Two Horse Deaths
Posted on: July 18, 2019, 08:24h.
Last updated on: July 18, 2019, 08:28h.
Two horses died in what horsemen and an animal advocate called a "freak" accident at the Del Mar Thoroughbred Club Thursday in southern California.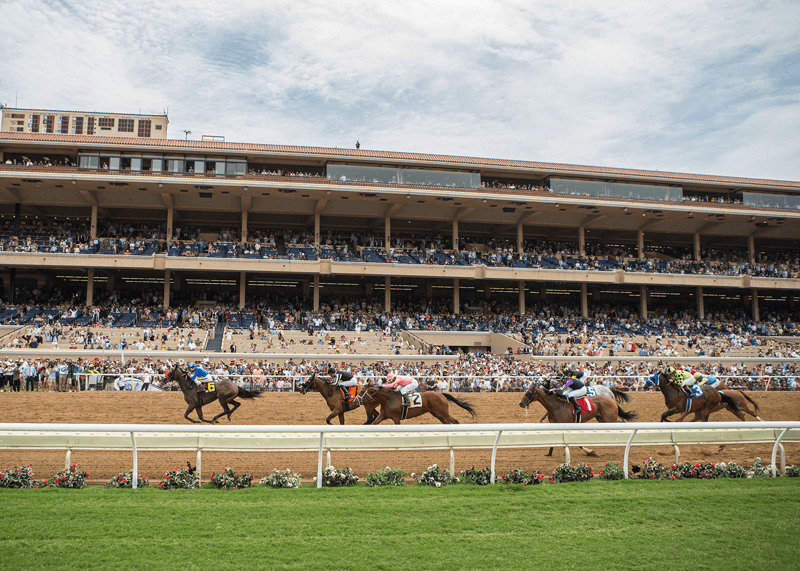 The incident, which happened the day after the San Diego County track opened its summer meet, comes as horse racing has come under increased scrutiny after 30 horses died at Santa Anita over a six-month period stretching to late last month. Many horsemen who race at Del Mar also run at the Arcadia, Calif. course located near Los Angeles.
The preliminary information regarding Thursday's death indicates that it may have just been an unfortunate accident. It occurred during an early morning training session and involved a pair of unraced horses.
The track announced Charge A Bunch, a 2-year-old colt, unseated its rider and seconds later struck Carson Valley, a 3-year-old gelding, on the dirt track's backstretch. Both horses died on the track from their injuries.
"From their injuries, it appears the horses collided head on," said Dr. Rick Arthur, the equine medical director for the California Horse Racing Board (CHRB) in a news conference. "The attending veterinarians on the scene believe both horses sustained cervical fractures. That will be confirmed with the necropsies that will be conducted on both horses per standard CHRB practice."
Assael Espinoza, who was aboard Carson Valley, suffered a bruised lower back and went to a nearby hospital. Geovanni Franco, thrown from Charge A Bunch, did not suffer an injury, track officials said.
Animal Rights Groups Divided
As Santa Anita continued with its racing season, elected officials and groups like the Humane Society of the United States (HSUS) called on the track to stop its meet due to the number of fatalities.
However, Valerie Pringle, the equine protection campaign manager for HSUS, told Casino.org it's too early to cast any blame on what happened at Del Mar. She noted that horses can throw their riders. A horse can throw even an experienced rider such as herself.
Certainly, it's very sad that two more horses have died related to racing, but I think really does fall under the category of a freak accident just given the nature of horses," she said.
Pringle wasn't alone in her assessment of the incident. Both Bob Baffert, Carson Valley's trainer, and Carla Gaines, the trainer for Charge A Bunch, called it a "freak" accident in their separate statements. Gaines said she'd never seen anything like what happened in her 30-year career as a trainer.
PETA released a statement after the incident calling for Del Mar and other California track to release information about incidents where horses dismount their riders. They also called on the CHRB to investigate.
"Saying that deaths are inevitable in racing is like saying a swim team can't compete without drowning," said Kathy Guillermo, the animal welfare group's senior vice president. "If racing can't be done without horses dying, it shouldn't be done at all."
Statement regarding this morning at Del Mar. pic.twitter.com/9Qypy3NWZC

— Carla Gaines Racing (@cgainesracing) July 18, 2019
Steps Taken to Bolster Safety
Due to the events at Santa Anita, Del Mar and the CHRB announced ahead of the meet a number of measures they would take to increase horse safety. Those included a five-member panel of veterinarians that would review each horse's medical, training, and racing records. That panel can scratch a horse if it sees an issue with a horse.
In addition, the track announced veterinarians would be positioned at elevated observation posts during morning workouts on the track. They can remove any horse from training and request an examination to determine the horse's fitness for racing. Morning riders have also been banned from using the crop during workouts.
Previous measures the track has taken include reducing the number of race days, giving workers more time to prepare the track. They also announced the adoption of the international standard for drug usage, which bans horses from receiving race-day treatments.
"High interest in this year's Triple Crown races is one sign that the audience for our game is still strong," said Joe Harper, Del Mar's CEO in a San Diego Union-Tribune guest op-ed last week. "I believe Californians share my love of horses and horse racing — but they rightfully want to know that we're doing all we can to keep horse and rider safe."
Interest Growing in Horse Safety Bill
The increased attention to horse safety has helped federal lawmakers in pursuing a bill that would nationalize racing standards. In March, US Reps. Paul Tonko (D-New York) and Andy Barr (R-Kentucky) re-introduced the Horseracing Integrity Act. Last month. US Sens. Kristen Gillibrand (D-New York) and Martha McSally (R-Arizona) introduced a companion bill in the Senate.
Pringle noted that the 2017 version of the House bill ended up getting just 131 cosponsors in 18 months. Four months after Tonko and Barr brought back the bill, it already has 135 cosponsors.
"The spate of deaths and the media focus on them has helped to drive interest in protecting race horses," she said. "People are looking for a remedy."