Justify Trainer Bob Baffert Denies NY Times Allegations of Doping 2018 Triple Crown Colt
Posted on: September 12, 2019, 07:21h.
Last updated on: September 13, 2019, 01:46h.
A report by the New York Times late Wednesday rocked the horse racing world, when it stated 2018 Triple Crown winner Justify failed a drug test after the Santa Anita Derby that should have excluded the colt from the Kentucky Derby. On Thursday, trainer Bob Baffert categorically denied his horse intentionally received a dose of Scopolamine.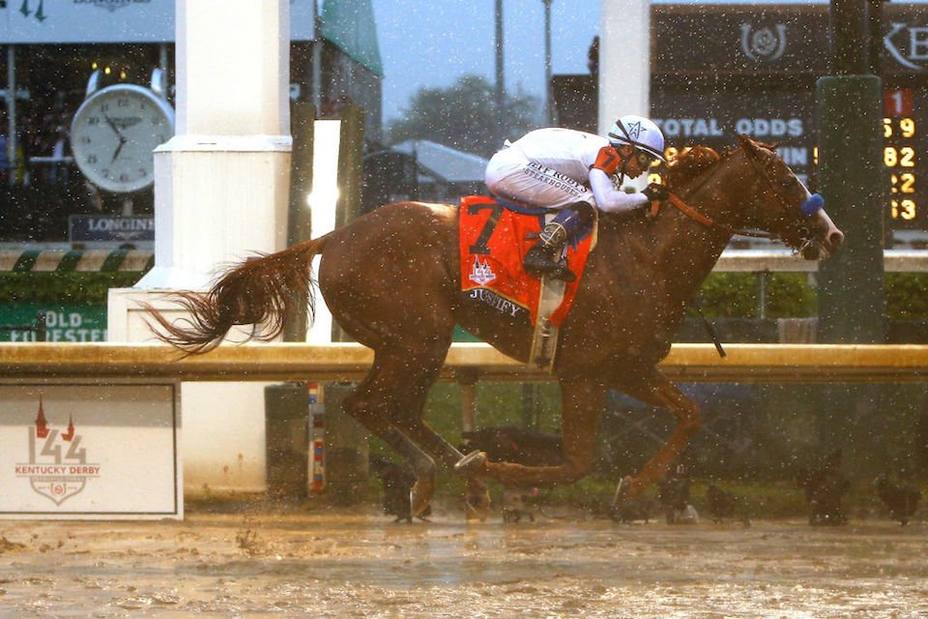 "Justify is the one of the finest horses I've had the privilege of training and, by any standard, is one of the greatest of all-time," Baffert said in a statement. "I am proud to stand by his record, and my own."
Baffert's attorney also shared a copy of a letter the sent to Times reporter Joe Drape and said his account was sensationalistic. W. Craig Robertson told Drape there was "no doubt" that Justify consumed the banned substance from eating hay in California. Jimson Weed, containing Scopolamine, is used in horses to treat intestinal issues, according to the Racing Medication and Testing Consortium (RMTC). It often gets intertwined with hay and grass. That allows it to get in a horse's feed supply.
According to the RMTC, Scopolamine falls within a lower-level class of drugs that "may influence performance," but generally in a limited manner. The recommended penalties include a $1,000 minimum fine and the possible disqualification of the horse from the race in which it was tested.
Had Justify been disqualified after the Santa Anita Derby, he likely would not have earned enough qualifying points for the Derby.
Later Tests Show Justify Clean
Baffert said that Justify was tested after the Kentucky Derby, Preakness Stakes, and Belmont Stakes. In each instance, the colt passed a drug test, and the trainer called on the racing commissions in Kentucky, Maryland, and New York to release Justify's test results.
Kevin Flanery, the president of Churchill Downs Racetrack, added in a statement that Justify also showed clean on the pre-race tests the Louisville track administers for the Derby starters.
Robertson said the test in question in the Times article showed Justify had 300 nanograms in his system. Each nanogram is a billionth of an ounce.
"This is one of the problems with modern day testing," said Robertson. "It has become so sensitive that we can now detect trace amounts of substances that are only consistent with environmental contamination – not intentional administration – and clearly have no pharmacological effect on a thousand pound animal."
That claim was supported by former California Horse Racing Board (CHRB) Chairman Chuck Winner, who issued a statement to media outlets saying Justify and six other horses in different barns at Santa Anita ingested the substance.
Reactions Question Horse, Board
Some have already called into question the legitimacy of Justify's Triple Crown. He was the 13th horse to achieve the historic accomplishment, and he was the first to win the Derby since Apollo in 1882 to have not raced as a 2-year-old.
Others, though, call into question the actions of the board. According to the Times, Baffert did not receive his initial notification of the failed test until a few days before the Derby, more than three weeks after the Santa Anita Derby. The CHRB eventually settled the matter in an executive session meeting a couple months after the Belmont, Justify's final race.
In many cases, horse racing boards across the country include stakeholders who may have to consider taking action against an owner, trainer, or jockey with whom they have a business relationship.
Patrick Cummings, executive director of the Thoroughbred Idea Foundation, a privately-funded thoroughbred industry think tank, told Casino.org the incident shows the sport needs more transparency and an approach that garners trust from all industry stakeholders.
That includes the bettors, whose wagers provide the funding to carry on the sport.
The status quo has not been sufficient for a very long time, and it shows in the metrics used to measure our business," he said. "If we want our sport to be taken seriously, if we want betting customers to support racing with their continuous investment, if we want proper incentives for owners and breeders, we need to regulate our sport to a level well beyond where we are today."
At least one person used the incident to note, with sarcasm, the inconsistencies in how the government regulates horse racing as interstate commerce, as compared to betting on other sports.
"So we can bet interstate on horses, where the regulator knew a horse was cheating and did nothing to stop it, but we are supposed to take a ferry to bet on sports, because the mob might have booked action 50 years ago?" Masaru Kanemoto, a sports handicapper and author, posted on Twitter.