After Santa Anita's Latest Death, Stronach Group Bans Hall of Fame Trainer Hollendorfer from All Its Tracks
Posted on: June 23, 2019, 04:58h.
Last updated on: June 28, 2019, 09:35h.
UPDATE (12:45 pm ET): Late Saturday night, Ed Allred, owner of Los Alamitos Race Course, said Hollendorfer would be welcome to stable and race his horses at the in Orange County track, provided the California Horse Racing Board suspends the trainer.
"We do not feel Hollendorfer should be a scapegoat for a problem which derives from a number of factors," Allred said in a statement posted on the track's Twitter account.
—
The Stronach Group (TSG) announced on Saturday trainer Jerry Hollendorfer would no longer be allowed to race at its tracks, effective immediately, after a horse from the Hall of Famer's stable died at Santa Anita during training earlier in the day. It marked the 30th fatality at the Southern California track over the last six months and the fourth from his stable.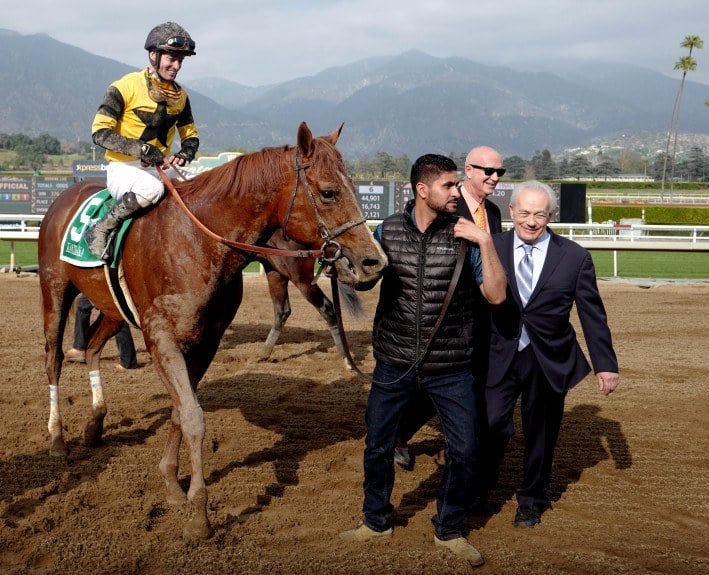 Hollendorfer's American Currency broke an ankle bone while on the training track. In addition to the deaths at the Arcadia track, two more Hollendorfer-trained horses died at Golden Gate Fields, a TSG facility near Oakland, during that track's meet last winter.
After Santa Anita shut down its racing card for three weeks in March to examine the track and the necropsies of the horses who died, TSG revealed a series of new policies designed to improve safety at its tracks. Those measures include restrictions on both medications given to horses and the jockey's use of the riding crop. Since racing resumed on March 29, nine horses have died at Santa Anita, which will end its meet on Sunday. Two of those nine were Hollendorfer horses.
In a statement, TSG said anyone who fails to follow the new measures will not be welcomed at any of its tracks.
We regret that Mr. Hollendorfer's record in recent months at both Santa Anita and Golden Gate Fields has become increasingly challenging and does not match the level of safety and accountability we demand," the company said.
TSG also owns tracks in Florida, Maryland, and Oregon, including Gulfstream Park in Hallandale, Fla., Baltimore's Pimlico Race Course, and Laurel Park in Laurel, Md.
Hollendorfer Responds
According to Equibase statistics, Hollendorfer has started 33,522 horses in his 40-year career with earnings of $199.7 million. He's won 7,617 times and had horses finish in the top three, or in the money, 54 percent of the time. Prior to the ban, he ran 160 horses at Santa Anita with 26 winners and earnings of nearly $2.4 million.
In an interview with the Daily Racing Form, the trainer felt TSG's decision was premature and extreme as he had more than 100 horses in training. The ban forces him to remove all of his horses currently at TSG tracks.
"I'm trying to work out a plan now," he said. "The only thing I have to say is every time anyone loses a horse, the whole backstretch loses. That's the way everyone feels.
"I've been doing this for almost 40 years, and I've started more than 33,500 horses that have been under my care in my career. I haven't, in my opinion, had that many problems."
Mike Marten, public information officer for the California Horse Racing Board (CHRB), told Casino.org the board would investigate American Currency's death.
"This investigation is prompted by statute, not TSG action," he said.
Racing in 'State of Crisis'
The 30 deaths at one of American racing's most prestigious tracks has cast a spotlight both on it and the sport in general. Politicians, including US Sen. Dianne Feinstein (D-Calif.) and California Gov. Gavin Newsom, had previously called for Santa Anita to end its meet early due to the fatalities. Earlier this month, the CHRB also requested the track to shut down.
While animal rights groups, such as PETA and the Humane Society of the United States (HSUS), have been critical of the deaths, they also have noted TSG is taking steps to improve horse safety.
"That's a start but it's not nearly enough," said HSUS CEO Kitty Block and Sara Amundson, president of the society's legislative fund, in a statement last week. "We shouldn't be waiting for crisis to strike before acting to ensure the safety of racehorses. Horseracing is in a state of crisis, and we need urgent nationwide reform."
HSUS has continued its push for reforms at a national level, calling on Congress to pass the Horseracing Integrity Act, which would create national safety standards for racing. Currently, each of the 38 states establishes their own standards, including those for the use and timing of medications given to horses.
The deaths have also had a significant business impact on Santa Anita. On Saturday, only 6.705 people watched the track's 10-race card, down from 17,403 for a 12-race card on the same day a year ago. While there were two fewer races, both cards featured three stakes events. Attendance at in-state off-track betting parlors dropped from 6,256 to 5,476.
Saturday's betting handle, which also includes all wagers from across the country, of $10.6 million, down 27.9 percent from the same day last year.