Four NCAA Basketball Coaches Arrested in Bribe and Kickback Scandal
Posted on: September 26, 2017, 05:27h.
Last updated on: September 26, 2017, 05:35h.
The FBI arrested four assistant college basketball coaches on fraud and corruption charges Monday, exposing what Acting US Attorney Joon Kim of the Southern District of New York called "dark underbelly of college basketball."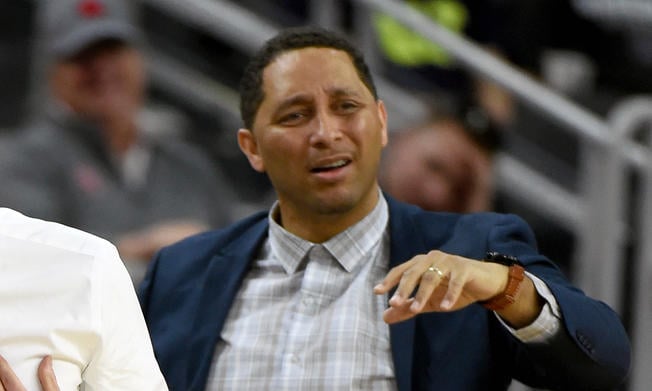 Former NBA star Chuck Person of Auburn, Oklahoma State's Lamont Evans, Arizona's Emanuel "Book" Richardson, and USC's Tony Bland were caught allegedly taking thousands of dollars in bribes to steer NBA-destined college stars toward certain sports agents and financial advisers, authorities said.
Also named in a separate but related indictment were two executives with Adidas, an NBA agent, the president of an Amateur Athletic Union program, a financial advisor, and an owner of a custom clothier for athletes.
Breach of Trust
Kim, who led the prosecution of gambler Billy Walters for insider trading, held a press conference Tuesday afternoon outlining charges against the 10 people indicted as a result of the FBI's fraud probe.
"In exchange for bribes ranging from $13,000 to almost $100,000 each," he said, "these coaches allegedly pushed particular managers and advisers on the players and their families."
The FBI also claimed these individuals were giving the four assistant coaches kickbacks for help getting access to student-athletes, as well as directing high school students to Louisville and the University of Miami, two schools that have a sponsorship deal with Adidas.
Over a two-year period, the FBI used an undercover agent to amass audio recordings, written communications, corroborating testimony, and financial data to produce a mountain of evidence.
In one case, according to the indictment, Bland met former sports agent Christian Dawkins and an undercover FBI agent in a Las Vegas hotel room on July 29 where the USC employee told the two he had the necessary influence with players to send direct them their way, but would require money for himself and players' families to do so.
USC Athletic Director Lynn Swann issued a statement attempting to distance the school from the alleged crimes. "We were shocked to learn this morning through news reports about the FBI investigation and arrests related to NCAA basketball programs," he said, "including the arrest of USC assistant coach Tony Bland."
All Day I Dream About Sponsorship
In another example described in the nearly 200-page complaint, financial planner Munish Sood and Dawkins "conspired to illicitly funnel approximately $100,000" from a company to one All-American basketball player.
In another, Person accepted $91,000 in bribe money from a financial adviser who got new high-dollar clients by being sent players that Person coached and were headed to the NBA.
Kim also described how the families of three high school players were paid thousands of dollars to allegedly commit to playing basketball at Louisville and Miami, two schools with relationships with Adidas, while also agreeing to sign endorsement deals with the sportswear company upon turning pro.
"The picture painted by the charges brought today is not a pretty one," Kim said. "Coaches at some of the nations top programs soliciting and accepting cash bribes. Managers and Financial advisors circling blue chip prospects like coyotes and one of the world's largest sportswear companies secretly funneling cash to the families of high school recruits."