FIBA World Cup: Canada, Germany, Serbia, USA Reach Medal Round
Posted on: September 7, 2023, 10:28h.
Last updated on: September 7, 2023, 11:34h.
Team USA is the betting favorite to win a gold medal in the 2023 FIBA World Cup at -165 odds, followed by Canada (+340), Serbia (+800), and Germany (+900). Four countries remain in the men's basketball FIBA World Cup, which has reached the medal round and semifinals in the Philippines.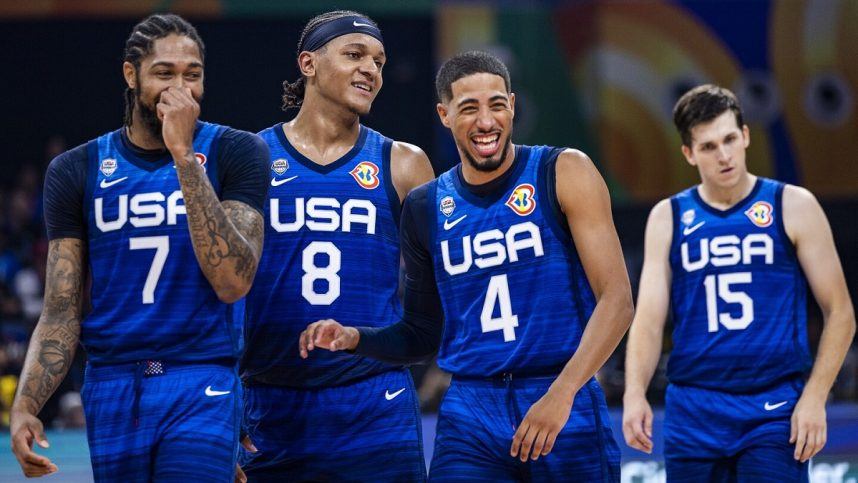 USA and Germany meet on Friday in Manila in their semifinal matchup. Canada and Serbia also square off on Friday, with the winner advancing to the gold medal game on Sunday.
When the quarterfinals were set last week, Team USA was the favorite to win the gold medal at -125 odds. Canada was the second favorite on DraftKings' FIBA World Cup futures board at +450 odds.
Australia, Spain, and France — three pre-tournament betting favorites — failed to advance to the quarterfinals. France did not even make it out of pool play. France was -125 odds to win Group H, but they were upset by Canada and Latvia.
Spain was the defending FIBA World Cup champion and 2022 EuroBasket champion. Spain began their title defense as the seventh favorite on the board to win the FIBA World Cup at +2000 odds. However, Spain did not have point guard Ricky Rubio on the roster, who stepped away from the team prior to the tournament to focus on his mental health.
Greece had a tough draw in Group C with Team USA. The Greeks knew they were toast once Giannis "Greek Freak" Antetokounmpo skipped the World Cup because he has yet to recover from knee surgery.
Team USA -165
The Americans were embarrassed at the 2019 FIBA World Cup when they finished in seventh place. Head coach Steve Kerr did not want a repeat of that disastrous performance. Kerr added multiple playmakers to this year's squad including Jalen Brunson (New York Knicks), Anthony Edwards (Minnesota Timberwolves), and Tyrese Haliburton (Indiana Pacers).
Edwards leads Team USA with 17.3 points per game. Brunson is fourth on the team, averaging 10.0 points per game, and he's second in assists with 3.8 per game. Haliburton leads the Americans with 5.0 assists per game.
Team USA utilizes a swarming, trap-heavy defense.
We have so many guys with speed and quickness and ballhandling ability," said Kerr. "It's always easier to attack a defense that's not set than one that's set. So that's been a theme for us."
At least 11 players on Team USA average 12 minutes per game in the tournament, and only three play more than 20 minutes per game. With so many talented NBA players on his squad, Kerr installed an up-tempo vibe that caused problems for opponents.
USA crushed Italy in the quarterfinals with a 37-point blowout. They are 5-1 heading into the semifinals, with a sole loss against Lithuania.
Josh Hart, a swingman from the Knicks, has been an invaluable contributor. He began the tournament on the bench, but Kerr inserted Hart into the starting lineup to get him more court time. Hart leads Team USA with 6.0 rebounds per game.
Austin Reaves from the Los Angeles Lakers earned the trust of LeBron James in the NBA Playoffs, and the guard continued his hot shooting for Team USA. Reaves averages 11.0 ppg, but he's knocking down 50% of his 3-point attempts.
https://www.youtube.com/watch?v=eVuY_50bhnw&ab_channel=FIBA-TheBasketballChannel
Canada +340
Canada is the surprise team at the 2023 FIBA World Cup. A group of close-knit NBA players has put the gritty Canucks within striking distance of a gold medal.
Canada was +1400 odds to win the FIBA World Cup when the tournament began, but a trio of NBA stars – Shai Gilgeous-Alexander (Oklahoma City Thunder), R.J. Barrett (New York Knicks), and Dillon Brooks (Houston Rockets) – elevated Canadian basketball on a global stage. Canada is now +340 odds to win the FIBA World Cup as the second favorite on the futures board behind the Americans.
Other NBA players on Canada's roster include Lug Dort, Nickeil Alexander-Walker, Kelly Olynyk, and Dwight Powell.
Gilgeous-Alexander is an NBA All-Star, and he finished fifth in MVP voting after averaging a career-high 31.4 points per game with the Thunder this season. The standout from Hamilton, Ontario is easily the best player on Canada, and he makes a compelling argument to earn the FIBA World Cup MVP and player of the tournament.
Canada reached the quarterfinals when they edged out Spain by three points and ended Spain's reign. Gilgeous-Alexander dominated Spain when he dropped 36 points against the defending champs.
In their quarterfinals match, Canada defeated Slovenia 100-89, and Gilgeous-Alexander exploded for 40 points. Slovenia was led by NBA All-Star Luka Dončić from the Dallas Mavericks, but Canada's Barrett and Brooks harassed Dončić all night. A frustrated Dončić was ejected after getting whistled for two technical fouls after the NBA All-Star argued calls with officials.
Thanks to their deep run at the FIBA World Cup, Canada locked up a spot in the Paris Olympics.
Serbia +800
Serbia's Nikola Jokic led the Denver Nuggets to their franchise's first NBA championship in June. Although Jokic returned home to Serbia after the Nuggets celebrated with a victory parade in downtown Denver, the two-time NBA MVP made a difficult decision to skip the FIBA World Cup. He needed rest and wanted to spend time with his family.
Even without Jokic, Serbia still had a strong team, with NBA players such as Bogdan Bogdanovic (Atlanta Hawks), Nikola Jovic (Miami Heat), and Filip Petrusev (Philadelphia 76ers).
Serbia blew out Lithuania in the quarterfinals, thanks to 25 points from Bogdanovic and 22 points from Petrusev.
Serbia squares off against red-hot Canada in the semifinals, and they're +800 odds to win the gold medal.
Germany +900
The Wagner brothers, Franz and Mortiz, played in the NBA together on the Orlando Magic last season. Germany's roster includes NBA players Daniel Theis (Indiana Pacers) and Dennis Schroder (L.A. Lakers)
Schroder turned heads in the FIBA World Cup with his tenacious play on both ends of the court.
Franz, the youngest Wagner brother, rolled his ankle against Japan and sat out several games. He returned to the lineup and scored 22 points to lead Germany to a narrow two-point victory against Latvia in the quarterfinals.
Germany's probably been the best team in the tournament overall," added Kerr, head coach of Team USA. "They're connected, really well coached and have a lot of continuity and have a very strong team, physical team."
Team USA will do everything in their power to neutralize Schroder in their semifinals matchup and take the ball out of his hands. Schroder will try to shrug off his worst outing of the tournament. He shot 4-for-26 from the floor and missed all eight of his 3-point attempts against Latvia.
Germany heads into the semifinals with a perfect 6-0 record, but they're long shots on the board to win the FIBA World Cup at +900 odds.