Fanatics Opens First In-Stadium NFL Sportsbook at Commanders' FedExField
Posted on: January 20, 2023, 03:52h.
Last updated on: January 20, 2023, 08:16h.
The NFL's first in-stadium sportsbook has been opened by an entity that wasn't even engaged in gaming or sports betting only a couple of years ago.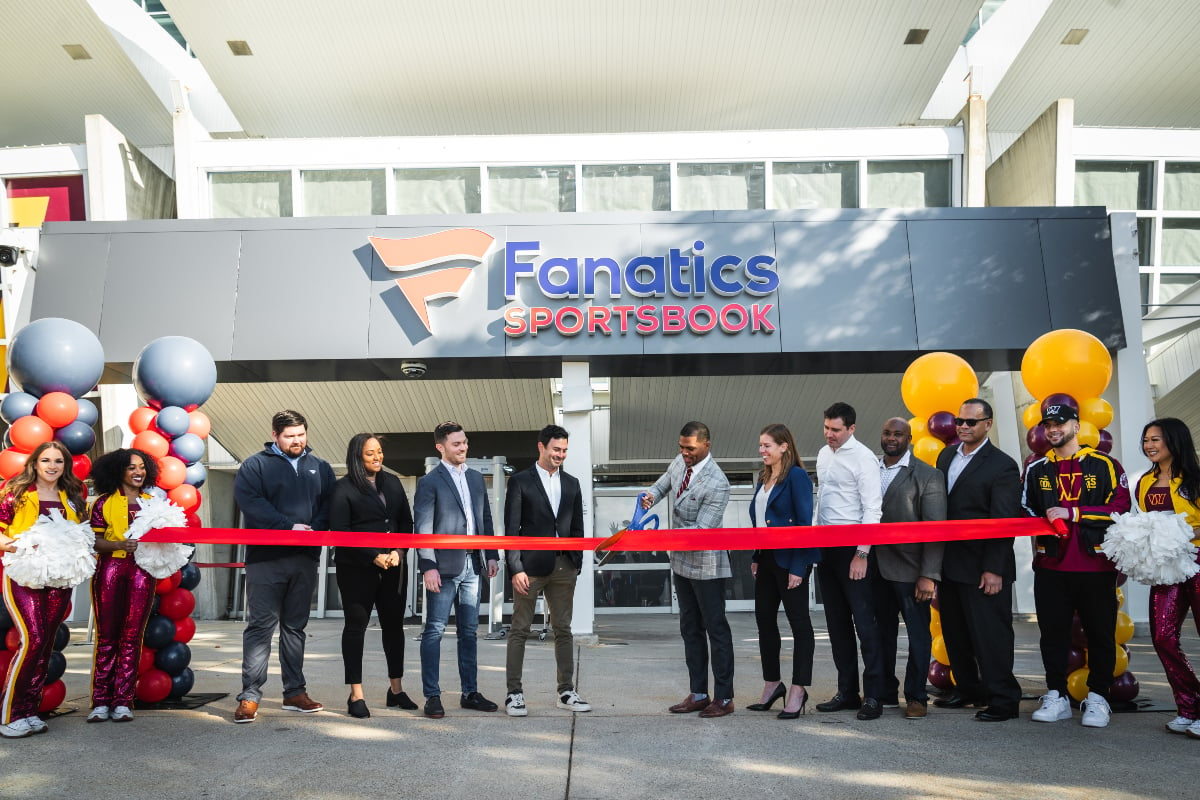 Fanatics, the global brand best known for its licensed sportswear, collectibles, and other sports merchandise, made history today by opening the first sportsbook inside an NFL stadium. Fanatics pivoted into iGaming and sports betting in 2021 after raising more than $625 million — bringing the company's valuation north of $18 billion — to venture into the emerging online gaming and sports gambling space.
Fanatics Betting and Gaming, the firm's online and retail sports betting division, plans to open sportsbooks in most legal sports betting states this year. Its first book opened today in Maryland at FedExField, home of the NFL Washington Commanders.
The Fanatics Sportsbook at FedExField is a 5,000-square-foot facility featuring eight betting windows, 21 self-service wagering kiosks, two giant LED video walls, and 38 television screens. A full-service restaurant and bar additionally complement the sportsbook.
The Fanatics Sportsbook is accessible via its own entrance, located at Gate H off of Garrett Morgan Road and FedEx Way. The sports betting venue is open seven days a week from 10 a.m. to midnight.
The first bet today was a $20 parlay at +167 odds on the Washington Wizards and Washington Capitals winning their next games. The bet was placed by Commanders "2022 Fan of the Year" Chris Bryant. If the bet wins, Bryant will receive a $52.40 payout.
Game Day Betting Off-Limits
It was less than five years ago that an in-stadium NFL sportsbook would have been a seemingly implausible concept. The NFL strongly opposed sports betting at the time, but the US Supreme Court's decision issued in May 2018 changed everything.
The landmark SCOTUS ruling found that the 1992 Professional and Amateur Sports Protection Act (PASPA) — a federal law passed in 1992 that had limited single-game sports betting to Nevada — was in violation of anti-commandeering interpretations of the US Constitution. The court's opinion gave states the right to determine their laws and regulations on sports betting.
Today, more than 30 states have authorized sports gambling, with one being Maryland. The NFL had little choice but to embrace wagering on its games. It's a bet that has paid off for the NFL, as ratings have soared over the past two seasons.
While the NFL has eased its hesitation to gambling — casinos and sportsbooks are now allowed to advertise inside stadiums and certain designated gaming firms are permitted to run commercials during television breaks — the league has retained some restrictions. One of those limitations is that in-stadium sportsbooks, defined as sports betting lounges located past the stadium's ticket gates, must not accept wagers during home game days.
In compliance with the NFL's Commercial Gambling Policy, Fanatics says its FedExField sportsbook will be open during Commanders' home games, but bets won't be accepted. Instead, the facility will be open for food and beverage service, and NFL merchandise will also be available for purchase.
Commanders Provide Market Access
Fanatics entered Maryland's sports betting industry by partnering with the NFL Washington Commanders. Maryland's sports betting law, passed in 2020, qualified the state's professional sports stadiums and arenas for sportsbook licenses.
The stadiums' sports betting partners can additionally seek online wagering privileges.
Fanatics is expected to seek online sports betting permission eventually. Once the book does, the in-stadium sportsbook could serve as a critical marketing tool to sign-up new bettors on game days who could then place a legal wager on their mobile device inside the stadium.
Most Read