F1 Cancels Las Vegas Grand Prix Practice, Kicks Fans Out
Posted on: November 17, 2023, 12:11h.
Last updated on: November 19, 2023, 04:39h.
Formula 1 was forced to cancel the first practice session of its Las Vegas Grand Prix on Thursday night, only eight minutes after it got underway at 11:30 p.m. The culprit was a loose manhole cover on the track that got sucked up by Carlos Sainz's $15 million Ferrari, doing extensive floor damage to the car.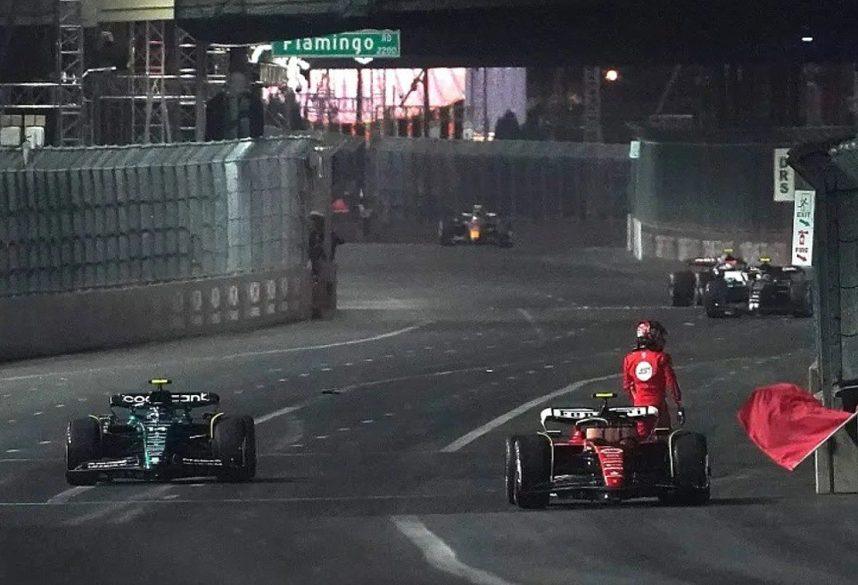 F1's governing body, the FIA (Federation Internationale de l'Automobile), determined that the concrete frame around the manhole cover had failed.
The incident forced a red flag to be issued while marshals removed Sainz's damaged F1 car and crews frantically checked all of the frames along the 3.8-mile track.
According to F1.com, Sainz was handed a 10-place grid penalty after the damage forced him to install new power unit components.
Alpine's Esteban Ocon, who finished fifth in the truncated session, also reported hitting a manhole cover that necessitated a chassis change.
Fans Kicked Out
All necessary repairs to the track were made in time for the second practice session to proceed as scheduled at 3 a.m. Friday. However, after waiting two hours, fans were ejected from their seats at 1:30 a.m.
Given the lateness of the hour and logistical concerns regarding the safe movement of fans and employees out of the circuit, LVGP made the difficult decision to close the fan zones prior to the beginning of Free Practice 2," F1 wrote in a statement.
Repairs to Sainz's car were made in time for him to participate in the second session, which was held in front of empty grandstands. He was beaten by teammate Charles Leclerc by 0.517 seconds.
Max Verstappen, who has been favored to win Saturday's main event, came in sixth.
Mercedes team chief Toto Wolff played down the incident, telling reporters that "it's happened before, it's nothing," while McLaren CEO Zak Brown said that he didn't think "corners were cut."
Ferrari team principal Frédéric Vasseur, meanwhile, called the situation "just unacceptable."