Drake Reportedly Loses $1.3M Payout on Logan Paul Boxing Match
Posted on: October 16, 2023, 03:29h.
Last updated on: October 16, 2023, 12:46h.
As his fabled curse continues, the renowned rapper Drake reportedly lost out on a substantial win this weekend. He told his social media followers that he allegedly placed an $850K bet on Logan Paul to emerge victorious against Dillon Danis in Saturday's boxing match with a KO. Instead, Drake reportedly missed out on $1.35 million in potential winnings after Danis was disqualified.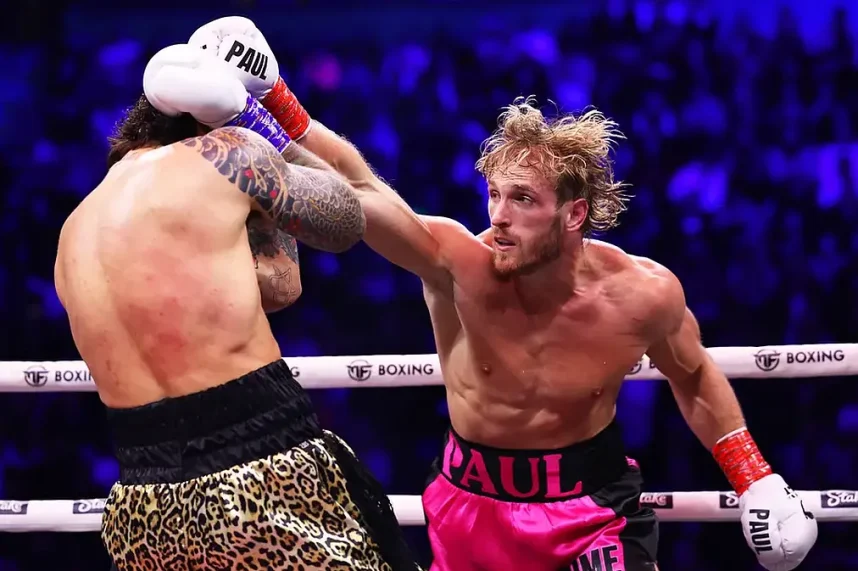 The bet was purportedly made on the online gambling platform Stake.com, where Drake is an ambassador. While the details of the bet are speculative, the rumored success adds a new layer to Drake's ventures beyond the music industry.
This triumph comes in the wake of a less fortunate gambling streak for the rapper. Reports suggest that Drake faced substantial losses in bets last year, tallying up to more than $4 million. Some reports say he wagered more than $2 billion in two months. The ups and downs of celebrity gambling aren't uncommon, and Drake's recent win highlights the unpredictable nature of sports betting.
Drake Backs the Paul Brothers
Earlier this year, the rapper reportedly placed bets on Jake Paul, Logan's brother. It was a highly anticipated bout against Tommy Fury in February that, unfortunately for Drake, led to a million-dollar loss when the younger Paul brother lost.
Drake's willingness to engage in substantial bets on both established and emerging figures in the boxing world showcases the evolving intersection of entertainment, sports, and betting. While the rapper's financial gains and losses in the betting realm add an element of intrigue to his public persona, there have been rumors that many online betting platforms cut deals with their ambassadors and other social media personalities to fix the numbers.
The platforms will allegedly give the personality digital credits with which they can place their wagers. The amounts of the bets and the winnings, or losses, are only visual effects that have no real monetary value.
There's no concrete evidence that this is the case with Drake and Stake.com. As the details continue to unfold and the world awaits confirmation from Drake or his representatives, this latest chapter in the rapper's gambling journey adds an extra layer of fascination to his multifaceted career.
FanDuel had Paul at -490 to win the bout, with Danis getting +400. However, Drake could have won big if he had bet on Bodog. The platform reportedly had Danis at odds of +500 to attempt a guillotine, and +800 to get disqualified.
DQ Before TKO
Paul and Danis attracted attention for the boxing match they had at the AO Arena in the city of Manchester, England. Both had a score to settle as a result of their long-running war of words, which started in 2018 when Danis verbally attacked Paul following a bout the latter had just completed.
After years of verbal sparring, the two finally got into the ring on Saturday to settle their differences.
The fight went sideways in the sixth round when Danis apparently forgot in which sport he was fighting. The Mixed Martial Arts (MMA) fighter, making his debut in the boxing ring, fell to the canvas and then tried to put Paul into submission with a guillotine.
While acceptable in the octagon, it's against the rules in boxing. Paul responded with a quick succession of blows that hit his opponent's face until the referee stepped in and broke them up.
At the same time, both corners exploded. Trainers and security crew came out of everywhere and started their own melee in the ring. The judges disqualified Danis and handed the victory to Paul.
Danis was almost certainly going to lose anyway. Paul had dominated every round up to that point and was closing in for the kill shot. He could have landed a blow to Danis that would have resulted in a TKO or KO if it weren't for his opponent's loss of cognitive functions.
What's next for the MMA fighter is clear and perhaps more his speed. He tweeted on X Sunday morning, "UFC next."