Messi Cements GOAT Status With Eighth Ballon D'or as Oddsmakers' Favorite
Posted on: October 31, 2023, 03:52h.
Last updated on: October 31, 2023, 11:03h.
Lionel Messi has done it again. The Argentine soccer GOAT clinched his eighth Ballon d'Or, confirming the predictions of oddsmakers, who had him listed as the clear favorite to keep his record achievement alive.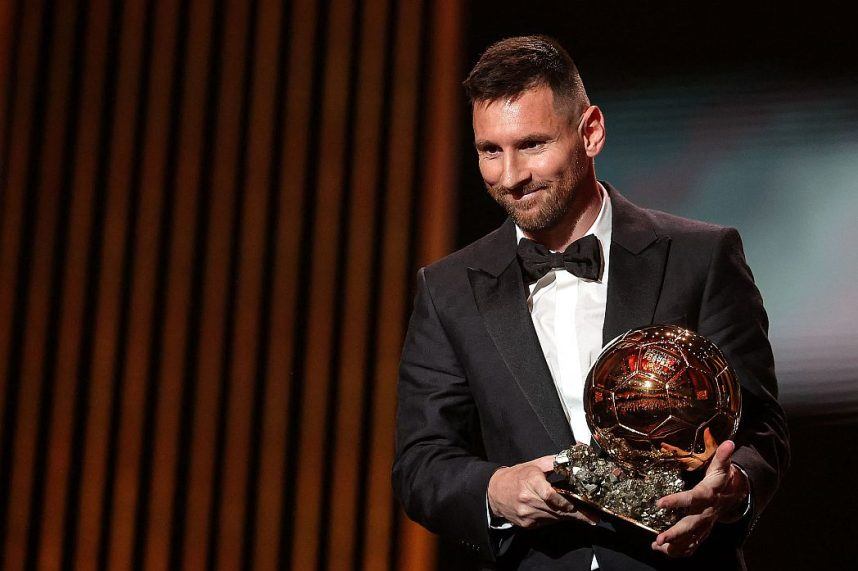 In what turned out to be his final year of eligibility because of his recent move to Inter Miami in the MLS, Messi continues to leave an indelible mark in the world of soccer. The decision to switch leagues and join Inter Miami effectively bars him from future nominations for the Ballon d'Or. But he's already cemented his place in soccer history.
Messi's closest competition in the Ballon d'Or run is Cristiano Ronaldo, who has five. If he still plans on retiring in 2026, it's virtually impossible Ronaldo will catch up.
The Unstoppable Messi
The awards ceremony unfolded on Monday night at the historic Theatre du Chatelet in Paris. Presenting the trophy to Messi was his boss, Inter Miami co-owner and former English soccer phenom David Beckham.
https://twitter.com/ballondor/status/1719104753093755246
Messi's Ballon d'Or victory is the crowning achievement of a season marked by exceptional success. He showcased his prowess in European soccer by claiming the Ligue 1 title and the Trophies de Champions with Paris Saint Germain.
The Argentine maestro and former FC Barcelona star also played a pivotal role in securing the FIFA World Cup for his homeland, Argentina. Surpassing formidable competitors like Erling Haaland of Manchester City, who secured second place in the odds, and Jude Bellingham, who secured the third spot, Messi once again demonstrated why he is considered one of the greatest soccer players of all-time.
Among the 30 finalists vying for the Ballon d'Or, notable names included Rodri, Kevin De Bruyne, Kylian Mbappé, Vinicius Junior, Karim Benzema, and Harry Kane.
But Messi was the huge favorite to win, getting odds of around -2500 on most sportsbooks. Haaland had odds of +900 and Bellingham was getting +4000.
The night wasn't a complete disappointment for Haaland. The Norwegian player took home the Gerd Muller Trophy, an award given to the best striker of the season.
Bonmatí Triumphs for Spain
In the realm of women's soccer, Spain's Aitana Bonmatí claimed the Ballon d'Or. Her remarkable contributions were showcased during Spain's Women's World Cup triumph just two months ago.
Bonmatí not only played a crucial role in securing the title, but also left an indelible mark individually, scoring three goals and registering two assists. Her stellar performance earned her the Golden Ball, an accolade reserved for the World Cup's best player.
Bonmatí's influence extended beyond the international stage. Her impact was felt at Barcelona, where she played a pivotal role in securing a double triumph for the team last season. Barcelona clinched its eighth Liga F title, solidifying its dominance domestically, and also triumphed in the Women's Champions League for the second time.
The 25-year-old was also the favorite with oddsmakers in the women's race. She was getting odds of -150 ahead of the ceremony, a significant advantage over Real Madrid's Olga Carmona and her +800. In third was Man U's Mary Earps, with odds of +1000.