DraftKings Launches in Ireland, Austria
Posted on: October 10, 2017, 12:00h.
Last updated on: October 10, 2017, 12:28h.
DraftKings continued its piecemeal global expansion by launching a daily fantasy sports platform simultaneously in Ireland and Austria this week, bringing the countries the operator now serves to five.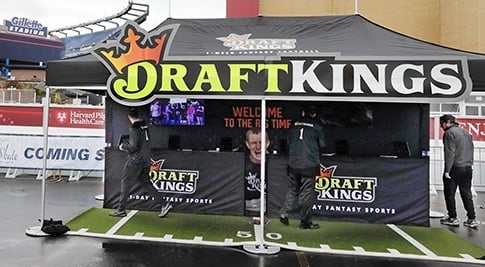 As well as the US, its core market by far, DraftKings also offers contents to the UK, Germany and the tiny Mediterranean island nation of Malta, where it holds its European license.
While the focus for both new markets is heavily on soccer, with contests available for seven different national soccer leagues, DraftKings will also offer contents on all sports currently available on its US platform, including NFL, MLB, NBA, CFL, NHL, Golf, NASCAR, eSports and Mixed Martial Arts.
Sports Cultures
"Both Ireland and Austria have strong sports' cultures and dedicated followers of professional teams and leagues. Austrian sports fans in particular have a strong affinity for American football. Each year, the largest NFL Super Bowl party in the EU takes place in Vienna," said DraftKings in an official statement.
"Ireland has an engaged professional sports fan market, as well as a long history of season-long fantasy football, with golf and soccer on the rise in recent years. Additionally, MMA is an extremely popular sport in Ireland, particularly given the success of homegrown hero Conor McGregor."
Is There a DFS Market in Europe?
While DraftKings claims its European expansion is "underpinned by its success in the UK and Germany," the jury is still out on whether there is a market for DFS is Europe, where bona fide sports betting is largely available.
FanDuel didn't think so, and pulled out of the UK market in August, just before the start of the domestic soccer season.
In July 2015, the DraftKings firm raised around $300 million in investment, money it said would go to aiding its international expansion throughout Europe, Asia, and Latin America in 2016.
But the what really expanded in 2016 were DraftKings legal and regulatory troubles at home, along with the ballooning costs associated with fighting its cause in numerous states. It launched in the UK and Germany in 2016, albeit with little marketing and the brand remains largely unknown.
DraftKings said, in the UK, September 2017 saw 51 percent year-over-year growth in entry fees and 31 percent year-over-year growth in new customers. Meanwhile, in Germany there was 46 percent growth in registered customers in September, the largest monthly growth to-date.
The company neglected, however, to disclose the size of its player base in either country and just how many customers are represented by these figures.
Similar Guides On This Topic