DraftKings Apologizes for 9/11-Themed Parlay 
Posted on: September 11, 2023, 02:13h.
Last updated on: September 11, 2023, 04:26h.
Online sportsbook DraftKings apologized Monday after offering customers the chance to bet on three New York-based teams on the anniversary of the Sept. 11 terror attacks.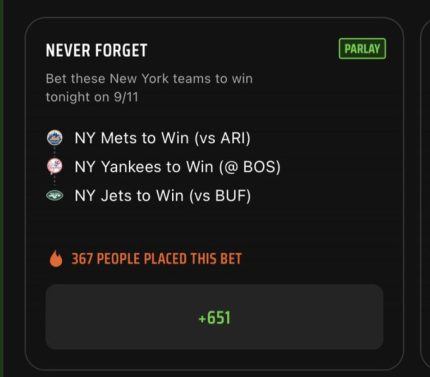 "Bet these New York teams to win tonight on 9/11," DraftKings advertised, according to screenshots posted on social media.
The offer of +651 for the Mets, Yankees, and Jets to win their games Monday was headlined, "NEVER FORGET."
DraftKings later pulled the parlay and apologized.
"We sincerely apologize for the featured parlay that was shared briefly in commemoration of 9/11.  We respect the significance of this day for our country and especially for the families of those who were directly affected," the company said.
Gaming Commission Calls Ad 'Reprehensible' 
The parlay offer attracted quick condemnation in New York, where the World Trade Center fell 22 years ago.
This was reprehensible," a spokesman for the New York State Gaming Commission told Casino.org in an email Monday. "We expect all licensees to exercise sensitivity."
DraftKings is the second-largest of the nine sportsbooks operating in New York, according to financial data collected by the gaming commission.
Parlays such as the one offered by DraftKings are legal under New York regulations, and licensees have broad discretion over how to market or advertise those parlays. Aside from some bad publicity, it appears DraftKings is unlikely to face any regulatory repercussions for the 9/11 parlay.
New York Post Opines 
The New York Post labeled the bet "tone deaf" and pointed out that DraftKings wasn't even offering good odds on the parlay. Fair value for the same three-way bet would pay +682 on FanDuel, compared to the +651 offered by DraftKings.
"This pre-made parlay could've used a different name, perhaps not referencing a national tragedy where thousands of Americans lost their lives," the Post's Eric Richter wrote.
New York-based writer Tom Ley, editor-in-chief of Defector.com, had a more philosophical take on the controversy.
It can be hard to understand how, 22 years after the 9/11 attacks, something like the Never Forget Parlay can be conceived and freely shared. How is it that with two decades worth of groan- and apology-worthy 9/11 posts piled up behind them, brands and the people that speak for/as them online are still finding ways to stack it a little higher?" he asked in a post Monday.
"The answer is that the Never Forget Parlay is not actually a faux-pas. Its existence is easy to comprehend when viewed as what it is: not some aberrant expression of mourning, but the natural product of American culture's perverse grieving process."