Downtown Las Vegas Casino Workers Set to Strike June 1
Posted on: May 27, 2014, 05:30h.
Last updated on: May 26, 2014, 02:54h.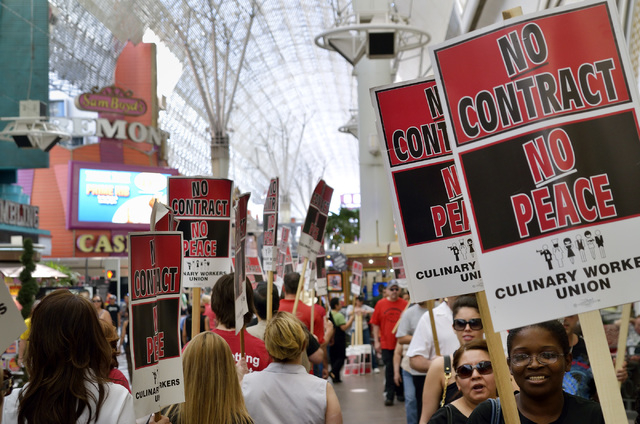 The Culinary and Bartenders Union (Local 226), which represents over 55,000 casino workers in Las Vegas and Reno, has called for strike action starting on June 1st against nine downtown casinos. The threat has been brewing for some time, and follows 18 months of deliberations between the union and the casinos on issues such as health benefits, better wages, and a guaranteed work week.
As a result, union members have been working for a year with unsettled contracts and took the decision to strike two months ago, but this is the first time an official date for the action has been announced.
"Strike is a Last Resort"
Over 2,000 cooks, cleaners, bartenders, wait staff, cocktail servers, porters, and others are expected to leave their posts and form picket lines outside Binion's, El Cortez, Four Queens, Fremont, Golden Gate, Las Vegas Club, Main Street Station, Plaza, and The D. However the union has said there is still a possibility that a settlement will be agreed upon and the strike abandoned. Union leaders have meetings scheduled with casino bosses and Local 226 spokesperson Bethany Khan believes that an agreement can still be reached, as the union did with the Golden Nugget last month.
"A strike is a last resort, and we would prefer a settlement, we would prefer a contract," she said.
In a press release, leader of the Culinary Union Geoconda Arguello-Kline said: "Our members downtown deserve to earn a decent living by working hard under a fair contract. They should not be left behind as hundreds of millions of new investments pour in for downtown revitalization."
Union "Saber-rattling"
However, associate professor of labor relations and employment law at UNLV, Bill Werner, told the Las Vegas Review-Journal that the threat may be little more than "saber-rattling" on behalf of the union, adding that Boyd Gaming is likely to strike a deal soon, which will likely force smaller casinos to follow suit. Boyd Gaming spokesman David Strow declined to be interviewed on the matter.
"There have been very few times when downtown casinos have taken on a strike that didn't start on the Strip," Werner said. "There's no reason to believe there is some issue downtown that has got them at absolute impasse that doesn't exist anywhere else on the Strip. That issue would have shown itself by now.
"They're down to the last few things," he added. "But every contract negotiation comes down to the last few things, and then they typically get settled."
However, union members appear serious enough; they formed an informational picket in Fremont Street last month and have signed up for strike benefits and picket shifts. The last time unions representing Las Vegas casino workers opted for major strike action, it resulted in members of five unions picketing the Frontier Casino for six years, although that was 20 years ago.
Prep cook Chad Neanover recently told media: "I'd strike for as long as I have to strike," explaining that without his benefits he'd struggle to support his two kids and to pay for his wife's diabetes medication.
Patricia Montes, a housekeeper at Four Queens said: "We are the backbone of downtown Las Vegas, and we ask that the community support us by not crossing strike lines."
We suppose by "community," she means tourists who have saved up all year to come blow their wad in Las Vegas, so good luck with that one.