Donald Trump Receives Presidential Support From Fellow Billionaire Sheldon Adelson
Posted on: May 9, 2016, 11:09h.
Last updated on: May 9, 2016, 11:22h.
Donald Trump is rich. Sheldon Adelson is a lot richer.
Trump is estimated to be worth $3 to $10 billion, depending on who's counting, and the New York businessman has largely self-funded his primary campaign. But now that he's the presumptive GOP nominee for the 2016 presidential election, his costs are likely to rise exponentially, and he's no longer averse to taking in donations.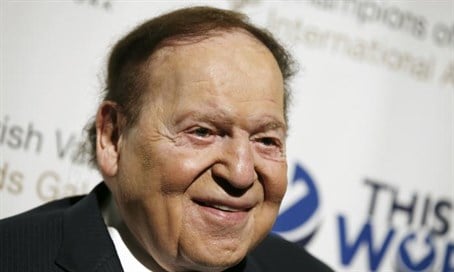 Perhaps the most pivotal Republican financier is Adelson, the Las Vegas Sands owner who is worth some $30 billion.
Adelson has no qualms about opening up his personal vault to fund conservative candidates, either. During the 2012 presidential cycle, Sheldon and his wife Miriam shelled out upwards of $100 million through personal donations and political action committees to GOP runners.
Late last week, Adelson lent his official support to Trump.
Speaking at a World Values Network event in New York City, a Jewish organization whose mission is to promote Jewish culture in politics and media, Adelson reportedly got behind the GOP nominee. According to The New York Times, the casino tycoon said of Trump, "I'm a Republican, he's a Republican. He's our nominee."
Little Memory of Little Marco
Adelson has largely remained quiet throughout the primary process, a development that has surprised many in the political arena. Though he isn't outspoken in the same way Trump has been and has no Twitter account, the 82-year-old lets his money do the talking.
Speculation varies as to why he's been sitting on the sidelines as the 17 Republican Party candidates duked it out. One theory could that Sheldon preferred Florida Senator Marco Rubio, while Miriam wanted to support Texas Senator Ted Cruz.
Pundits believed Rubio's apparent willingness to be molded by donors found favorability in Sheldon's eyes, not to mention the Floridian's support of Adelson's RAWA anti-online gambling measure.
Adelson is unequivocal when it comes to a potential president being pro-Israel. The Venetian and Palazzo owner wants his candidate to share in keeping the American ally and Middle East democracy safe.
While Trump danced around the issue at times and said he'd be "neutral" on the Israel and Palestine conflict, Adelson says he now believes the GOP frontrunner would be "good for Israel" should he become president.
A Billion Here and There
With this November's election shaping up to be Trump versus Democrat Hillary Clinton, the political heavyweights are finally going public with their endorsements. Trump has a long road ahead in uniting the Republican Party, but he's off to a strong start when it comes to the GOP's long list of so-called "one percenters."
Billionaire Carl Icahn has been friends with Trump for decades and has publicly expressed his support, and New York City grocery store owner John Catsimatidis has stated he believes Trump can get Republicans to rally around him.
The Donald has also made plenty of enemies along the way, of course. The Bush family says it will not support Trump, the Koch brothers are staying mum, and Paul Singer has donated to anti-Trump efforts.
But when it comes to the casino industry, the Republican bigwigs are betting on the favorite. In addition to Adelson and Icahn, Steve Wynn will vote Trump.
And love him or hate him, it's also worth noting that Dan Bilzerian will likely occasionally use his Instagram account over the next seven months to push Trump support. In December, Bilzerian posted, "In an age of . . . political correctness, you have to respect the people who remain unfiltered @realDonaldTrump."
It takes one to know one. Bilzerian has been noted as being somewhat unfiltered himself on an occasion or twenty.