Donald Trump and Jeb Bush Duke It Out At Second GOP Debate, Casino Issues Come Under Fire
Posted on: September 17, 2015, 12:10h.
Last updated on: September 17, 2015, 12:13h.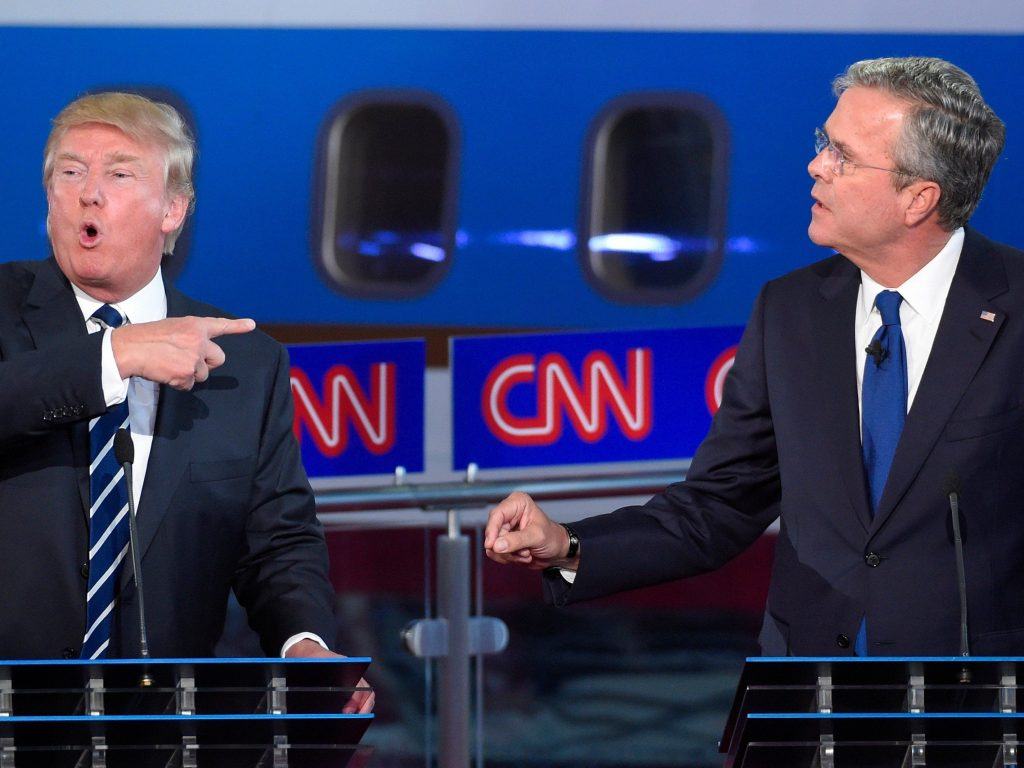 Donald Trump continued his ratings boom at the second GOP debate last night, and casinos briefly made a cameo in the fiery topics that came up.
In all, eleven Republican candidates vying for the presidency of the United States met at the Ronald Reagan Library in Semi Valley, California on Wednesday night to discuss foreign policy, immigration, and a host of other issues.
And in a surprising twist for gamblers across the country, two of the leading candidates brought up a seldom-discussed topic during the debate: casino gambling.
Business tycoon Donald Trump, who is leading in early polling, and former Florida Governor Jeb Bush, who is seen by many as the favorite to win the GOP nomination, sparred over casino expansion in the Sunshine State and whether Trump had tried to build a casino there.
Casino Spat
The topic came up after a question directed at Trump. Moderators asked the Donald to expand on statements he had made about the influence of major donors on other candidates, when compared to his self-funded campaign.
After Trump's response, they then asked Bush to talk about whether he was a "puppet" for his donors, a charge he not only denied, but turned around on Trump.
"The one guy that had some special interest that I know of that tried to get me to change my views on something, that was generous and gave me money, was Donald Trump," Bush said. "He wanted casino gambling in Florida."
That led to a short back and forth in which Trump repeatedly denied ever seeking a casino in Florida, while Bush stuck to his claim.
"You wanted it and you didn't get it because I was opposed to casino gambling during and after," Bush said. "I'm not going to be bought by anybody."
"I would have gotten it," Trump interjected while Bush was still speaking. "I promise, if I wanted it, I would have gotten it."
Record Shows Trump Wanted Florida Casinos
The exchange immediately provoked questions about who was telling the truth. According to most sources, it appears that in this case, the facts are mostly on Bush's side.
In Florida, there is a long history of Trump expressing interest in opening a casino. As early as 1994, Trump shared some reservations about casinos coming to the state, but said he would jump at the opportunity if it happened.
"As someone who lives in Palm Beach, I'd prefer not to see casinos in Florida," Trump told The Miami Herald that year. "But as someone in the gaming business, I'm going to be the first one to open up if Floridians vote for them."
Trump was then involved in efforts to work with the Seminole Tribe of Florida in 1998 and 1999, which wanted to build casinos in the state. In 1998, Trump Hotels & Casino Resorts wrote a $50,000 check to the Florida Republican Party.
Around the same time, Bush was running his campaign for governor, and was strongly anti-casino, a position he maintained throughout his time in office. Trump pulled out of his deal with the Seminoles before Bush took office.
Ultimately, that was enough for fact-checking site Politifact to rate Bush's assertion of Trump's efforts as mostly true. While the outspoken business tycoon may not have directly petitioned Florida for gambling expansion, he certainly seemed to be interested in operating casinos in the state if they became available, something those in the state's gaming industry said is no secret among them.
"Donald Trump has tried almost every year to have a casino, even before Jeb was governor," Mardi Gras Casino President Danny Adkins told Politico. "It's not even a secret."