Contractor or Employee? DFS Million Dollar DraftKings Winner Takes Some Heat
Posted on: September 21, 2016, 11:10h.
Last updated on: September 22, 2016, 01:19h.
DraftKings sponsored pro Al Zeidenfeld won the week two NFL "Millionaire Maker" contest on the DFS site last Sunday, and the win is creating a new pool of daily fantasy sports (DFS) skeptics.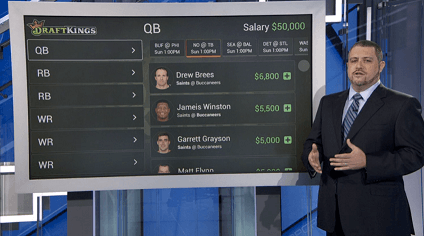 The $20 contest entry attracted 277,286 teams, for a prize of over $5.5 million. Zeidenfeld took the top spot by scoring 221.32 points, and claimed the $1 million guaranteed first-place prize.
But since he's also a DFS analyst who co-hosts "The Edge," a fantasy football podcast presented by DraftKings, some critics are raising concerns over transparency regarding employees and affiliates competing on the sites.
Zeidenfeld also provides DFS insights to ESPN, a television network that has previously held partnership agreements with the DFS platform.
But the daily fantasy sports expert seemed to brush off his detractors.
"I'm happy as a clam," Zeidenfeld tweeted. "Sometimes you just have to do what you can to try and fight through all the misinformation."
By the way, he's also a poker player who's had some success as a tournament player, though none of it recently.
According to The Hendon Mob database, he has 14 live tournament cashes for a total win of $146,715. But the Californian's last noted poker cash was in 2013, and all his previous scoops go back to 2009. His biggest cash was in 2007, when he took home $46,410 in a World Poker Tour event, but with a $25,500 buyin, that means his 93rd place finish didn't even double him up.
Similar But Different
In 2015, DFS was an emerging online business model that was predominantly known by the general sports viewing public for its incessant advertising. The commercials for DFS leaders DraftKings and FanDuel came one after another, but the contests were mostly simply a nuisance for fans sitting on the sidelines.
That all changed when Ethan Haskell, a DraftKings employee, won $350,000 on rival site FanDuel in October of 2015. Haskell was accused of using confidential knowledge to select his roster with the best players, ones who coincidentally weren't being heavily selected by competitors.
He was eventually cleared of any wrongdoing, but the controversy brought DFS to the forefront of gaming regulators and Empire State politicians.
Numerous other states quickly acted and mandated that employees of DFS companies could not participate in the contests. And DraftKings and FanDuel released new governing rules to prevent their work force from playing fantasy sports online.
In the New York DFS law, a "prohibited player" includes "any spouse, child, brother, sister or parent residing as a member of the same household in the principal place of abode of any member, officer, employee or agent of an operator."
Zeidenfeld lives in Los Angeles, and therefore isn't bound to the New York law. California considered DFS legislation in 2016, but no bill was passed.
Defensive Tackle
Still, Zeidenfeld's big score has put DraftKings on the defensive.
In a statement to sports news site Deadspin, DraftKings explained, "Al Zeidenfeld is an expert DFS player who is an independent contractor and brand ambassador, he shares his tips and expertise with the DFS player community. He is not a DraftKings employee, and does not have access to contest data or any other non-public company information."
It's worth noting that Zeidenfeld didn't just play one $20 entry and win a million bucks. In fact, Zeidenfeld played the maximum 150 entries, with his total cost coming in at $3,000.
But turning $3,000 into $1 million is an investment return of over 33,000 percent. Not bad for a Sunday.