Official Says Gulfstream Park Should Close, Obey COVID-19 Emergency Order in Broward County, Fla.
Posted on: March 24, 2020, 10:26h.
Last updated on: April 3, 2020, 12:39h.
Horse racing is scheduled to resume Wednesday at Gulfstream Park in Florida. At least one local official has questioned whether the Hallandale Beach track should run its card as the community tries to control the spread of COVID-19.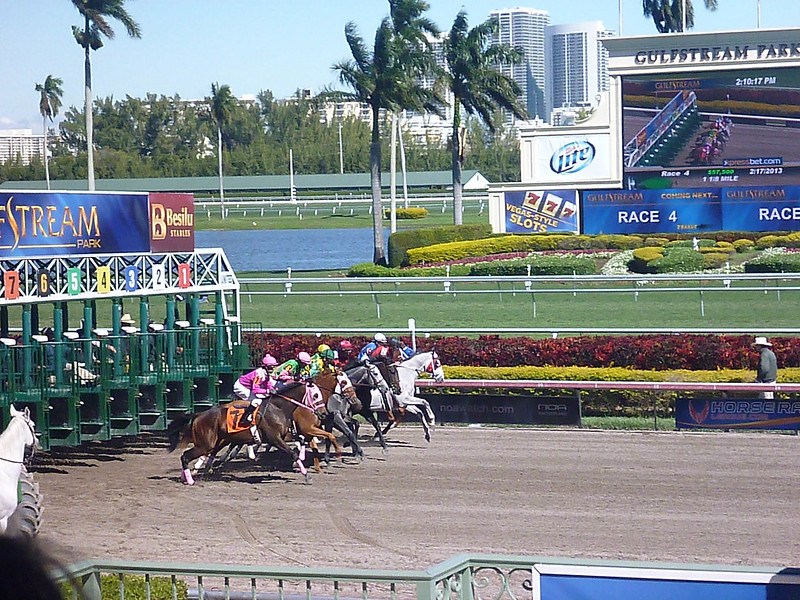 The South Florida Sun-Sentinel reported Tuesday that the track, owned by The Stronach Group, has threatened legal action if officials requested it to abide by an emergency order that took effect Monday in Broward County.
Hallandale Beach Vice Mayor Sabrina Javellana told the paper that Gulfstream officials said they'd take the matter to court. Undeterred, she said the track needs to adhere to the order that ordered all nonessential commercial businesses to close.
Messages to Hallandale Beach, Broward County, and Gulfstream Park representatives were not returned Tuesday evening. However, Javellana reiterated her stance as critics confronted her about it on Twitter.
Sir, I am solely concerned about the health risk this poses to the employees involved and going against CDC recommendations. All national sports and the Olympics have been postponed, it's not ludicrous to think horse racing events should be as well.," she said on the social media site.
Since March 13, the track has raced without allowing fans in the grandstand in an effort to abide by crowd size restrictions recommended by health officials.
Broward County's order comes as southeast Florida has become a hot spot for the coronavirus. According to a coronavirus tracking website operated by Johns Hopkins University, there have been 312 confirmed cases of COVID-19 in the county located just north of Miami as of Tuesday night. That includes three deaths.
Other Tracks Closing Due to COVID-19
The question of whether Gulfstream should close comes as other tracks across the country have shut down live racing because of the novel coronavirus.
Earlier on Tuesday, Charles Town Races in West Virginia announced it suspended live racing. That decision came in the wake of an order Gov. Jim Justice issued on Monday that closed non-essential businesses in the state.
Over the weekend, Fair Grounds Race Course in New Orleans announced it would end its meet a week early after the conclusion of Saturday's races.
According to Equibase, the only other tracks besides Gulfstream currently running or planning to run this weekend are Fonner Park in Nebraska, Golden Gate Fields in California, Oaklawn Park in Arkansas, Santa Anita Park in California, Tampa Bay Downs in Florida, Turfway Park in Kentucky, and Will Rogers Downs in Oklahoma.
Kentucky Derby Prep Scheduled for Saturday
Should Hallandale Beach or Broward County officials shut down Gulfstream Park, it could have implications on the Kentucky Derby prep schedule.
The Florida Derby is scheduled to take place at Gulfstream on Saturday. Even though the Kentucky Derby has since been moved to Sept. 5 because of COVID-19, the Gulfstream race remains one of the more lucrative races on the prep schedule.
The 1-1/8-mile race with a $1 million purse is expected to draw several top contenders for the rescheduled Run for the Roses, including Tiz the Law, who dominated in Gulfstream's Holy Bull on Feb. 1. The Barclay Tagg-trained colt has been one of the favorites in early rounds of Kentucky Derby futures betting.