CEO Steve Wynn Steps Down After Weeks of Sex Scandal Rumors, Stock Price Rebounds on News of Resignation
Posted on: February 7, 2018, 08:00h.
Last updated on: February 7, 2018, 08:25h.
Wynn Resorts Chairman and CEO Steve Wynn has submitted his resignation to the company he founded, amid an expanding sexual misconduct scandal that was hurting both the company's stock prices and convention business. The company issued a statement early Tuesday evening confirming Wynn's departure.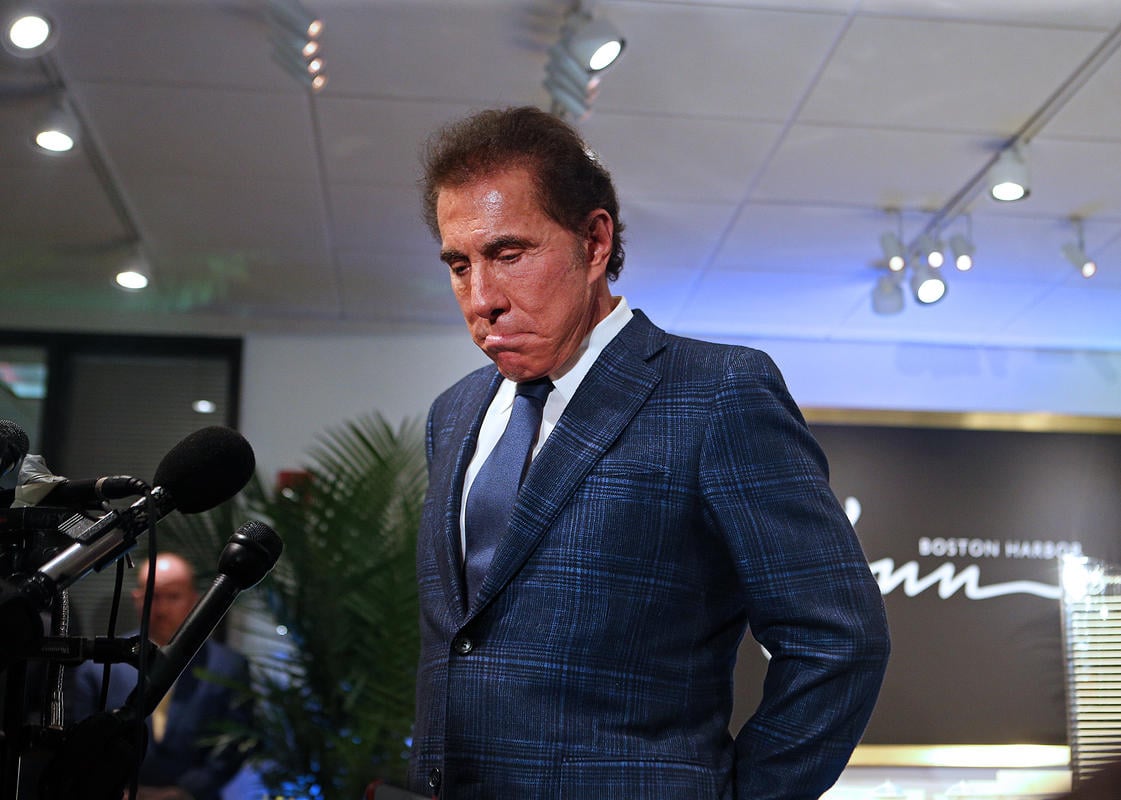 The 76-year-old, credited with playing the most significant role in developing modern Las Vegas, told Wynn Resorts that he can no longer be effective as CEO and chairman due to the "avalanche of negative publicity."
"As I have reflected upon the environment this has created, one in which a rush to judgment takes precedence over everything else, including the facts, I have reached the conclusion … to step down as CEO and Chairman of the Board of Wynn Resorts, a company I founded and that I love," Wynn said in a company-issued release.
Wynn Resorts President Matt Maddox will now assume the role of CEO.
Mighty Fall from Grace
The statement praised its founder, with board member Boone Wayson using terms such as "industry giant," "philanthropist," "beloved leader," and "visionary" in describing the now-disgraced tycoon. The company went on to say that Wynn "transformed the city into an economic powerhouse," and "designed, built, and operated the most iconic resorts on the Las Vegas Strip."
Steve Wynn continues to deny the sexual allegations against him, which first came out publicly with a January 27 Wall Street Journal exposé that detailed claims of many years of inappropriate sexual behavior with female Wynn Resorts employees, and that allegedly dated back decades at his other casinos as well.
Stripping Down the Wynn Scandal
January 26: The Wall Street Journal publishes a story (updated the following day) about Steve Wynn's alleged sexual misconduct. The most condemning account is a 2005 claim that the billionaire forced a female manicurist working at Wynn Las Vegas to have sex with him. He reportedly later paid the woman $7.5 million from his own funds.
January 27: Wynn announces his resignation as finance chairman of the Republican National Committee (RNC).
January 29: The Republican Governors Association (RGA) cancels its 2020 annual conference previously scheduled to be held at Wynn Las Vegas, and returns a $100,000 contribution made by Steve Wynn.
January 30: Gaming regulators in Macau, Nevada, and Massachusetts all publicly confirm their respective agencies are investigating the scandal, and considering whether disciplinary action is warranted.
January 31: The Massachusetts Gaming Commission says it was unaware of the $7.5 million settlement when it approved Wynn Resorts request to build an integrated casino resort near Boston. The failure to disclose could be grounds for license revocation, under Section 12 of the Massachusetts Expanded Gaming Act.
February 1: University of Iowa, which had recieved a $25 million donation from Wynn in 2013 to create the Stephen A. Wynn Institute for Vision Research to support research into blindness, announces it will strip the Wynn name from the institute.
February 2: New rumors emerge that the $7.5 million settlement was tied to a paternity suit. No evidence, however, suggests that Wynn fathered a child with the manicurist.
Massachusetts lawmakers begin developing a backup plan if the state's gaming commission finds Wynn unsuitable as a license holder.
Wynn Resorts hires prominent law firm O'Melveny & Myers to assist in handling the sexual harassment claims.
February 5: The Las Vegas Review-Journal admits the newspaper killed a 1998 story regarding alleged sexual misconduct by Wynn. The never-published piece focused on two Mirage cocktail servers who claimed female employees were pressured into "accommodating" VIP guests in their rooms.
February 6: Steve Wynn resigns as CEO and chairman of Wynn Resorts.
Share Price Tumbles, Then Bounces Back
Not helped by a series of high-profile sexual misconduct scandals in the past year, from Harvey Weinstein to former US Senator from Minnesota Al Franken, Steve Wynn quickly became persona non grata everywhere from institutions to which he had donated millions to political alliances.
Shares of his company had fallen from $200 to $163.22 at the close of trading on Tuesday, a more than 18 percent decrease. The drop cost Wynn himself, a billionaire, about $440 million.
Financial analysts saw no options other than for Wynn to resign to right the boat before it completely capsized. With $2.4 billion committed to the Boston resort, the company couldn't gamble with having its license revoked due to its CEO's personal behavior.
Whether Wynn Resorts can continue without its namesake leader depends on who you ask. Morgan Stanley and Deutsche Bank feel that the stock selloff has largely been an emotional response, and that the casino company's revenues can continue to rise in 2018.
But CNBC stock guru Jim Cramer said that, "Without him, it's just another chain with no leader. I can't see anyone else running them (the casinos) as well as Steve Wynn runs them."
Investment firm Bernstein agreed this week, with analysts there saying, "Mr. Wynn is the Wynn. Without him, … Wynn Resorts is a different operation."
On Wednesday, the morning after the resignation announcement, Wynn Resorts stock surged more than eight percent in early trading, showing industry confidence that the leader made the right move in stepping down.