Casino Mergers and Acquisitions in 2017: Matches Made in Heaven (and a Few Made in Hell)
Posted on: December 28, 2017, 02:00h.
Last updated on: November 30, 2017, 03:43h.
Casino mergers and acquisitions shook up the gaming industry over the past 12 months. Some of Las Vegas' most notable conglomerates sold properties and reshuffled their portfolios. Gaming operators and manufacturers joined forces, while one online consolidation effort failed to materialize when a major stockholder balked at the alliance.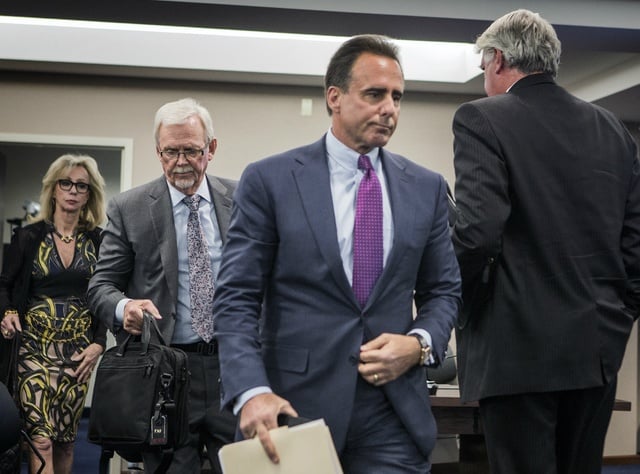 The start of 2018 will look very different for the casino and gaming industries, compared to 365 days ago. Here's a look back at the market's biggest business mergers and acquisitions over the past year.
Praise for Caesars
The biggest merger in 2017 should come with an asterisk, as the multiple entities involved were all linked to one major parent organization: Caesars.
In October, the Nevada-based gaming corporation that owns and operates over 50 mostly US-based casinos and hotels, announced it was formally exiting Chapter 11 bankruptcy protection. Dubbed the "largest and most complex bankruptcy in a generation," the corporation merged two of its operating units, and formed a real estate investment trust (REIT).
Caesars Entertainment will continue to operate the company's gaming floors and own most of its resorts. However, the REIT will own 18 properties, including Caesars Palace Las Vegas, the operator's kingpin resort on the Strip. The REIT will lease the gaming floors back to Caesars, and deliver earnings to creditors who weren't paid back during the bankruptcy.
Tavern, slot route, and casino operator Golden Entertainment's acquisition of American Casino and Entertainment in June was another key transaction for the industry. The $850 million deal put the Stratosphere and two Arizona Charlie's casinos under the Golden banner.
And in Connecticut, the state's two Native American gaming operators, the Mashantucket and Mohegan Sun tribes, aligned to jointly build a satellite facility, with the goal of keeping gaming dollars from flowing north to MGM Springfield, which is slated to open in 2018.
Merging Left
Not every casino merger was a success, however. Crown Resorts and Melco Resorts, led respectively by billionaires James Packer and Lawrence Ho working jointly as Crown Resorts Entertainment, went their separate ways this year after Crown employees were detained in China on charges of promoting gambling. Ho said the Australian company was "deliberately spitting" on Chinese law.
DraftKings and FanDuel, the two biggest daily fantasy sports (DFS) companies that are estimated to control at least 90 percent of the market, tried to merge in early 2017. But the US Federal Trade Commission (FTC) squashed those plans on grounds that it would create a monopoly.
Sports behemoth William Hill's largest shareholder, Parvus Asset Management, demanded that the company seek a buyer, but balked when the bookmaker found a prospect. William Hill and Amaya (now known as The Stars Group) proposed a merger, but Parvus intervened, eliminating Amaya by saying it  was an "overvalued asset."
Australian betting giants Tabcorp and Tatts Group had also considered joining forces in a deal that would have been valued at $11 billion. But a successful legal challenge by the Australian Competition and Consumer Commission (ACCC) prevented that merger from moving forward.
Under New Management
Major properties in Atlantic City and Las Vegas that switched hands in 2017 included:
Trump Taj Mahal: Carl Icahn unloaded the Atlantic City property to Hard Rock International for just pennies on the dollar at $50 million.
Fontainebleau Las Vegas: Icahn also sold Fontainebleau, but at a substantial profit. He paid $150 million for the unfinished property in 2010. In August, he sold it for $600 million.
SLS Las Vegas: Sold to The Meruelo Group for an undisclosed price, rumors have swirled that the new owners may bring back some of the casino's former Sahara branding.
Las Vegas Palms: Red Rock Resorts/Station Casinos snapped up the off-Strip Las Vegas property for $312.5 million.
Similar Guides On This Topic