Caesars Sends Skill-Based Games Packing from AC Properties After Failing to Meet Profit Markers
Posted on: June 13, 2017, 01:00h.
Last updated on: June 13, 2017, 12:23h.
Caesars' first-ever skill-based gaming experiment, involving slots-video game hybrids, appears to be a bust. The machines are being pulled from the gaming floor in its New Jersey casinos after failing to earn their keep.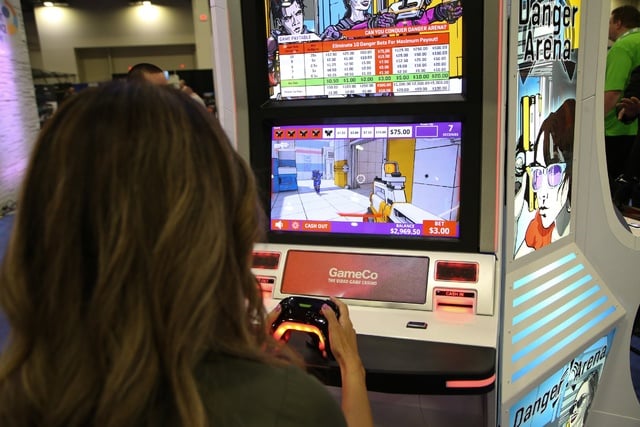 When Caesars launched the video gaming machines (VGMs) at three of their Atlantic City properties back in November, the move was hailed as a possible transformational moment in the history of casino gaming.
First-person shooter "Danger Arena," created by GameCo, was the initial title to hit the casino floor, marking the beginning of the industry's grand experiment to engage with the disinterested Millennial generation.
Bad Report Card
The experiment appears to have gotten an F. All 21 gaming stations installed in Harrah's Resort, Caesars and Bally's in AC have been removed, because, according to Caesars, the machines failed to bring in enough profit to cover their vendor fees.
Caesars told the Press of Atlantic City this week that it had not given up on skill-gaming, however, and remains committed to exploring it as a viable means of reaching Millennials.
"We all understood that we were learning and experimenting," said Melissa Price, senior vice president of gaming enterprise for Caesars Entertainment. "It was a big learning experience for all of us. People have to come find the games in a sea of 1,500 slots.
"If I put a game in the middle of the sea of slots, it just looks the same. Potential players just walk right past," she added.
Trying to Find That Millenial Hot Button
The buying power of Millennials, or those born between 1980 and 2000, is expected to overtake the Baby Boomers' by 2020, according to the Press of Atlantic City. This demographic is visiting Las Vegas in greater numbers than ever before, but not, apparently, to gamble. For a generation brought up with high-tech video gaming, the one-dimensionality of casino slots, in particular, fails to capture their imagination en masse.
According to the Association of Gaming Equipment Manufacturers, the amount wagered on slot machines had fallen from a 2007 high of $355 billion to $291 billion in 2014.
Skilled-based gaming machines employ a similar financial model to traditional slots, but the key difference is that players can reduce the house edge by being more adept at a certain game. Previously, everyone playing a casino slot had to have exactly the same chance of winning, by law.
Blaine Graboyes, CEO of GameCo, told the Press of Atlantic City that there were no hard feelings over the pulling of the machines and that his company would continue to work with Caesars and other operators in finding a formula that works.