Caesars to Launch Skill-Based Gambling Next Month
Posted on: September 11, 2016, 10:00h.
Last updated on: September 9, 2016, 03:34h.
Caesars Entertainment may become the first gaming company in the world to introduce new skill-based video gambling machines (VGMs) to their casino floors in California and Vegas this October.
That's if Atlantic City doesn't get their own video gambling machines first.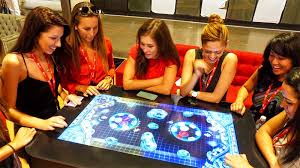 Last year, both Nevada and Atlantic City altered their gaming laws to permit the introduction of the new hybrid games, which incorporate elements of slots gaming and video gaming, in an effort to lure millennials to the casino floor.
GameCo has announced that its debut VGM, "Danger Arena," will appear in the casinos of Atlantic City sometime this year.
It hoped to be the "world's first," but Caesars' October rollout now seems to be the favorite to grab the title.
Gamblit Partnership
The casino giant is partnering with developer Gamblit, and announced that it would debut six gaming positions with room for four players at each inside of its Harrah's casino in Southern California.
The plan is to then field trial positions at its Nevada properties shortly afterwards.
"Each gaming position will contain multiple themes and cutting-edge skill-based games, including a Match 3 game and word matching game," explained Caesars in a press release.
"Future releases on Gamblit's gaming positions include popular 'gamblified' versions of hit #1 smash video games Catapult King, which gained over 35 million downloads, and INTO THE DEAD, which has over 60 million downloads."
Social Experience
The idea is to combine the kinds of games young people play on their phones, like first-person action, racing, fighting and puzzle games, within a similar financial model to traditional slot machines.
The big difference is that while previously everyone had to have an equal chance for an equal payout, VGM's can offer variable payouts, or slightly better odds for skilled players.
Casinos hope it will make the casino floor "cool" again. And meanwhile, while slots are essentially solitary experiences, VGMs are built to encourage interaction from groups of players.
According to the Association of Gaming Equipment Manufacturers, the amount wagered on slots machines has fallen from a 2007 high of $355 billion to $291 billion in 2014.
"Gamblit's product is unlike anything seen on casino floors today," said Melissa Price, Senior Vice President of Gaming at Caesars Entertainment. "Both the positions and the engaging games themselves are sleek, competitive and social, providing a unique opportunity for players to compete head-to-head, play together against the house, or in single-player games in a differentiated gaming experience.
"Together, Caesars and Gamblit are changing the gaming industry, bringing the social and competitive spirit of online gaming to casinos," she added.