Caesars' High Roller Ferris Wheel Short On Revenue Numbers  
Posted on: March 15, 2015, 10:50h.
Last updated on: March 16, 2015, 12:33h.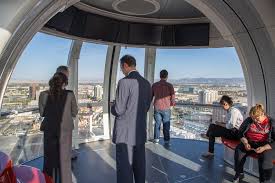 Caesars Entertainment's High Roller Ferris wheel at the Linq is not quite yet in a deflationary spiral, but it isn't proving to be the money maker that the company had hoped for either. The 550 foot attraction, which towers over the Las Vegas Strip, is billed as the world's tallest observation wheel.
It opened almost a year ago as part of a $550 million redevelopment of the area between the Flamingo and the Linq, formerly the Imperial Palace, and represents a recent trend as Vegas seeks to diversify its entertainment offering away from traditional gambling.
It's hardly revolutionary: the new generation of visitors prefers a Ferris to a roulette wheel, the thinking goes; except that they don't, apparently.
Caesars said this week that while numbers were up 10 percent on the previous quarter to just under 5,000 daily riders, it was still way short of expectations; the company had predicted that the ride would be attracting between 8,000 and 11,000 visitors per day, or 3 to 4 million a year.
Convincing around 10 percent of the Strip's 41 million annual visitors might yield up to $60 million in yearly revenue, the company had hoped.
Happy Half Hour
These figures were extrapolated partly by looking at the 2010 figures for similar attractions. Almost four million visited the London Eye that year, while the Empire State Building had 3.5 million visitors, and 700,000 people climbed the Stratosphere in Vegas.
However, Caesars outgoing Chairman and Chief Executive Officer Gary Loveman admitted that the company had underestimated the amount of groups and corporate visitors the ride would attract, adding that this is now being addressed through a broader marketing outreach.
The vast majority of riders so far have been leisure tourists or locals, Loveman explained.
Along with Groupon deals, airline package discounts and half-price tickets for locals, Caesars has begun offering an open bar during the 30-minute ride in a "Happy Half Hour" package, an option that now accounts for a quarter of all bookings.
$1.01 Billion Q4 Losses
Meanwhile, shares in Caesars Entertainment fell 7.9 percent to $10.15 in extended trading after the company reported a $1.01 billion Q4 loss. The company's biggest division, Caesars Entertainment Operating Co, has filed for bankruptcy protection as the company struggles to reorganize its industry-high debt of over $25 billion.
Meanwhile, Caesars has been involved in months of negotiation and litigation with its low-level creditors, who argue that its restructuring plan, worked out with its major creditors, unjustly protects the company's interests at the expense of their own.
Despite all this, Loveman remained upbeat: "Ongoing strength in the interactive business, new hospitality offerings and sequential improvement in same-store regional results were key drivers of our fourth quarter performance despite the continuation of exceptionally unfavorable hold at Caesars Palace."