Borgata to Host First Skill-Based Gambling Event: A Free-Throw Shooting Tournament
Posted on: February 18, 2015, 11:34h.
Last updated on: February 18, 2015, 11:36h.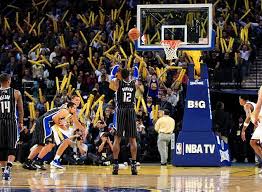 Atlantic City casinos have been looking for new and innovative ways to attract more gamblers to their venues in a world where there is a lot more regional gambling competition than there was a decade or two ago.
That's why the New Jersey Division of Gaming Enforcement (DGE) agreed to let casinos start offering games with skill elements as a part of the "New Jersey First" program that wants to bring innovative games to the state before they appear elsewhere.
Now, one casino is taking that concept to its logical extreme by offering a contest based on nothing but skill.
The Borgata will host a basketball free-throw shooting tournament on March 21, a contest that anyone can enter and that will award prizes to the winners.
The event doesn't require players to pull any levers, roll any dice or hope for the right cards to come: they only need to line up and shoot better than their opponents in order to advance to the money rounds.
$20 Entries, $10,000 in Prizes
Each participant will put up $20 to buy into the tournament. Players will then shoot in three 90-second rounds in an attempt to qualify for the round of 16, after which the tournament will proceed in a head-to-head elimination bracket. The top four finishers will make the money and split a prize pool of $10,000, with the winner taking $5,000.
"This is a first step, something we've never been able to do until now," said Borgata senior vice president Joe Lupo. "A year from now, you'll probably see a lot more of these skill-based tournaments or even games on the casino floor."
Officials Say Contest is First In the Nation
Reading this news, it's natural to wonder what's so innovative about this. After all, skill-based competitions are played for money all of the time: people compete in sports for money all of the time, and real-money contests like chess tournaments are regularly held in casino resorts on a consistent basis.
The difference here, however, is that the casino itself is offering the contest as an official casino event, rather than allowing someone else to hold a competition in a hotel or arena.  That makes this the first ever such contest offered by a licensed casino in the United States, say New Jersey officials.
"We appreciate the progressive thinking of the [DGE] as well as their encouragement as we begin to introduce social and skill-based gaming options to a new generation of players," said Borgata president and COO Tom Ballance.
The American Gaming Association (AGA) also had positive things to say about the Borgata's experiment.
"It's smart for them to be creative and try to find new ways to provide what consumers want, given the highly competitive nature of the region," said AGA spokesman Chris Moyer.
In order to participate in the tournament, players simply need to be of gambling age (21 or older) and have a valid Borgata players' club card. That means that even those with extensive basketball experience, perhaps even professionals, could play in the tournament in an attempt to take down the $5,000 top prize. When asked if LeBron James could enter, Lupo gave a clear response.
"Definitely," he said. "In fact, I wish he would."